The Truth About Joe Biden's Whispers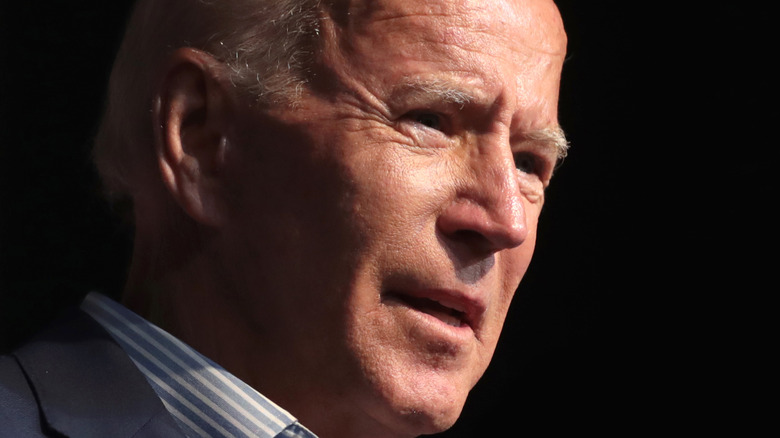 Shutterstock
President Joe Biden and the way he speaks has been a topic of media conversation for years and became even more prominent during the 2020 presidential campaign as many on social media and in more conservative media tried to take his stutter and proclaimed his cognitive abilities were failing and he was not fit to be president.
According to The Atlantic, Fox News host Steve Hilton said the following over a montage of the future president stumbling over words during the 2020 campaign, saying: "As the right words struggled to make that perilous journey from Joe Biden's brain to Joe Biden's mouth, half the time he just seemed to give up with this somewhat tragic and limp admission of defeat."
Biden has had a stutter since childhood, according to PBS, but even as a boy he didn't let his stutter pull him down. Now, another one of Biden's speech traits has become fodder for conversation and that's his habit of almost whispering when trying to make a point.
Joe Biden's whispering is part of who he is as a politician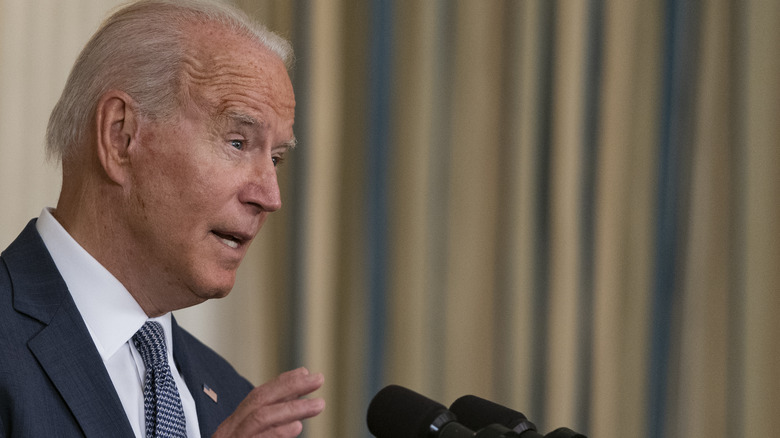 Bloomberg/Getty Images
At a Wisconsin event promoting his sweeping infrastructure bill in July of 2021, President Joe Biden was giving a speech in full voice, according to the Associated Press, but then leaned onto his lectern and lowered his volume to a near-whisper, saying: "Hey, guys, I think it's time to give ordinary people a tax break. The wealthy are doing fine."
The AP describes another Biden moment in which he was talking to the press about getting more help to families in need when he leaned down and whispered, "I got them $1.9 trillion in relief so far. They're going to be getting checks in the mail that are consequential."
Speech experts have an explanation for Biden's whisper that has nothing to do with creepiness the AP reports late night comedians tout nor a decline in cognitive abilities that conservative news outlets surmise.
"It's an intimate form of communication," Vanessa Beasley, an associate professor of communication studies at Vanderbilt University told AP, adding: "I think it's a symbolic gesture to a kind of intimacy and familiarity."
Another speech expert, Robin Lakoff, a professor emerita of linguistics at the University of California, Berkeley, said that Biden's whisper is not even a true whisper because he is using his vocal cords. She referred to it more as a stage whisper, saying: "A true whisper is something you wouldn't be able to hear very well."
The White House weighs in on President Joe Biden's apparent whisper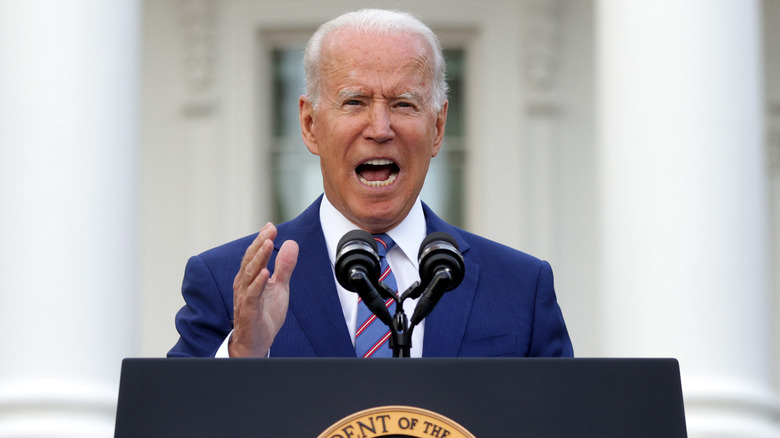 Alex Wong/Getty Images
Members of the White House communications team came out defending and explaining Biden's habit of lowering his volume to make a point.
"Under President Biden's leadership, COVID cases have plunged by over 90%, we've achieved an historic level of job creation, the economy is growing at its highest rate in 40 years, and we've achieved a breakthrough on the world stage to stop the offshoring of American jobs," said deputy press secretary Andrew Bates, according to AP.
He then added, in a Biden-like whisper, "And this performative criticism is just the latest acknowledgement by Republicans that he's running the table on them while they're grasping for a case to make."
Just because Biden uses a stage whisper to make a point doesn't mean he's not a president who can speak loud and clear when the moment calls for it, as he did on July 4, 2021, with his Independence Day speech to the nation.
"On this sacred day, I look out to those monuments on our National Mall, and beyond them, into the hearts of our people across the land and I know this," he said, voice rising as he neared the conclusion of his speech. "It's never, ever been a good bet to bet against America. Never. We just have to remember who we are. We are the United States of America. And there's nothing — nothing — we can't do if we do it together."