What's Going On With Eddie Murphy's Son And Martin Lawrence's Daughter?
Eddie Murphy's son and Martin Lawrence's daughter are officially an item. According to People, news of Jasmin Lawrence and Eric Murphy's relationship was confirmed in an Instagram post shared by Jasmin on Sunday, June 11, in which she wished Eddie Murphy's oldest son a happy birthday and revealed they are dating. 
"Happy birthday, my love! I'm so incredibly blessed to know you, to love you, and to have you by my side. Cheers to many more blessings, laughs, and beautiful memories! I love you so much," Jasmin wrote in a caption alongside photographs of the happy couple. 
Elsewhere, Eric also appeared to have confirmed his relationship with Jasmin in a heartfelt Instagram post he shared back on June 24. In a caption uploaded alongside a snap of the pair, Eric wrote, "Head over heels in LOVE with YOU."
As Page Six reports, the origins of Jasmin and Eric's relationship is currently unclear. However, their fathers have enjoyed many years of friendship, having appeared in the 1992 romantic comedy "Boomerang" and the 1999 comedy "Life" together. 
Eric and Jasmin have followed in their father's footsteps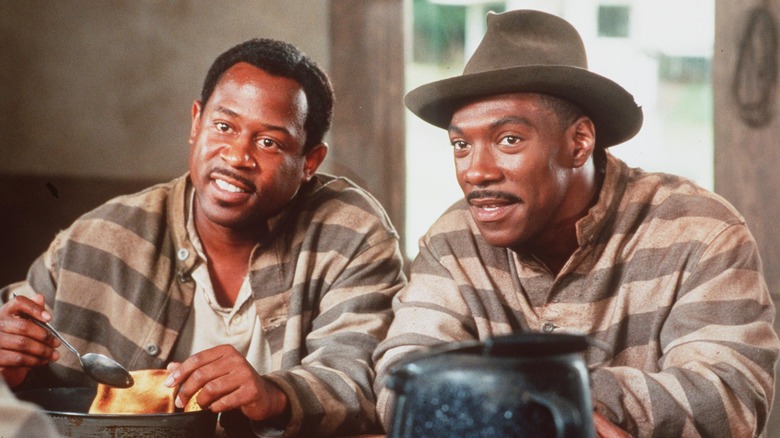 Getty Images/Getty Images
According to People, Eric is the oldest child of Eddie Murphy and the actor's ex-girlfriend, Paulette McNeely. Eric is one of the "Nutty Professor" star's ten children, who are aged between two and 32 years old and were born through his relationships with McNeely, Nicole Murphy, Tamara Hood, and Spice Girls' Mel B, otherwise known as Melanie Brown. 
Elsewhere, Jasmin is the oldest child of "Big Momma's House" actor Martin Lawrence and his ex-wife, Patricia Southall. As Page Six reported, Lawrence also has two other daughters, Iyanna and Amara, who he shares with his second ex-wife, Shamicka Gibbs.
Per The Daily Mail, both Eric and Jasmin appear to have followed their parent's footsteps into the entertainment industry, with Jasmin making an appearance in her father's hit movie "Bad Boys for Life" in 2020. Elsewhere, Eric is currently signed to Avalon Entertainment and works as a writer and voice actor, and is in the early stages of developing his very own animated series.