The Best Sunscreens For Acne-Prone Skin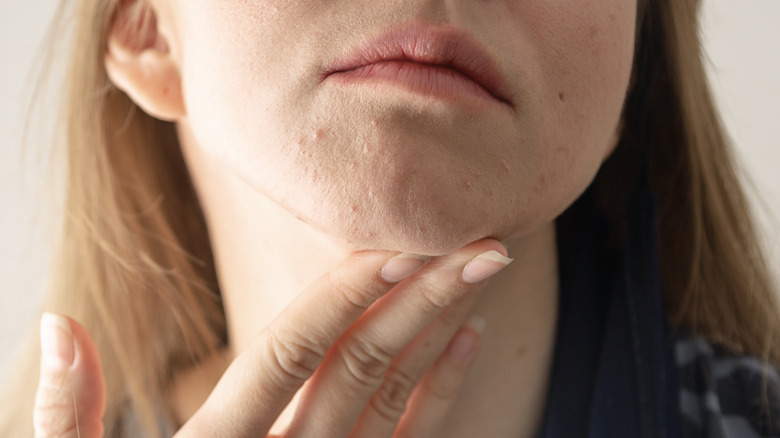 Shutterstock
We may receive a commission on purchases made from links.
When the sun is shining and the weather is warm, the first thing we should do is grab the bottle of sunscreen. No matter if it's winter, spring, summer, or fall, it's important to always put on SPF when you're going to be outdoors in order to protect your skin from UVA and UBV rays. Some people think that you only need sunscreen when you're laying directly in the sun, tanning, or laying by the pool, but it's actually important for you to apply sunscreen 365 days a year (via The Chicago Tribune).
Many people who have sensitive skin or are prone to breakouts struggle with finding sunscreen that works with their skin. Lotions and other oil-based products can cause build ups within the skin and enable severe acne breakouts and blemishes. Therefore, many people with acne avoid sunscreen, which can backfire and harm their skin further. That's why it's super important to read all labels of your products and see what's in them, to make sure they'll both help your skin and protect it at the same time!
Sunscreens to try if you've prone to breakouts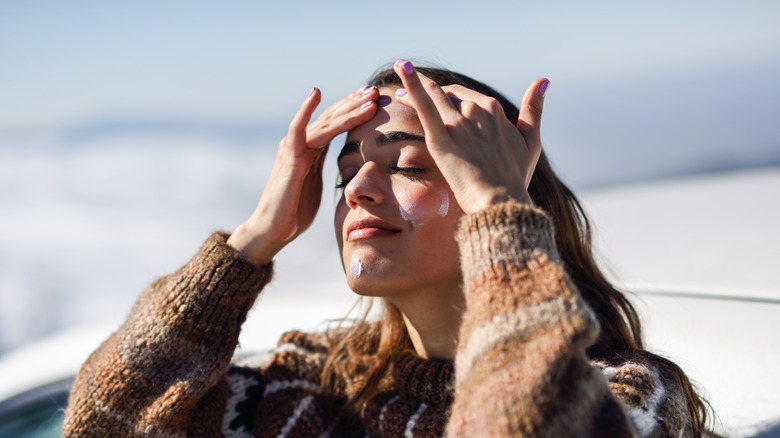 Shutterstock
The first thing you'll want to consider when trying to find SPF that works with your acne-prone skin is mineral sunscreen. There are two different types of sunscreen — mineral and chemical. Mineral sunscreen protects your skin from rays by creating a physical barrier, while chemical sunscreen does so through a chemical barrier (via CeraVe). Using a mineral based sunscreen will keep your flare ups down by decreasing the chemical reactions with your skin.
Ensuring that your sunscreen is oil free is also vital to making sure you can curb those breakouts. One sunscreen that can be useful for acne-prone skin is EltaMD UV Clear Facial Sunscreen. The lotion is listed as "#1 Dermatologist Recommended" on Amazon and is also mineral-based, oil-free, and fragrance free (via Amazon). 
Cetaphil is another brand that is recommended for sensitive skin, and their sunscreen is perfect for those looking for a light, chemical-free formula. The sunscreen is also free from fragrance, parabens, avobenzone, oxybenzone, octinoxate, and PABA (via Amazon).
In addition, Neutrogena has a sunscreen that is specifically targeted for those with acne-prone skin. Their sunscreen is oil-free and non-comedogenic, so it won't cause breakouts or clog pores, despite how many times you reapply (via Amazon). 
The most important thing about sunscreen is that you wear it to protect your skin, so make sure to read every label and even look through reviews on sites like Amazon to see which brand works best for people who have breakouts and flare ups, too.