How Alec Baldwin And Hilaria Baldwin Really Met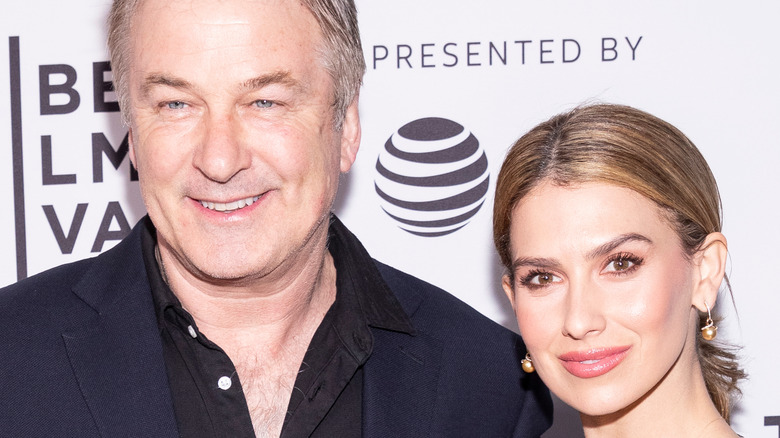 Shutterstock
For four decades, Alec Baldwin has been entertaining audiences both on the small and big screen. His career began back in 1980 when he landed a role on the NBC daytime soap opera "The Doctor." He soon made it into primetime soaps on "Knots Landing." Movie roles followed, as well as more television roles and a career-changing bit impersonating former President Donald Trump on "Saturday Night Live" (via Biography). 
Of course, as many people can recall, Alec has also had an interesting personal life - that often unravels for the public - as he is a father seven times over, with his marriage to Hilaria Baldwin producing six of these children (via Insider).
Baldwin's first wife was actress Kim Bassinger. The pair wed in 1993 and had one daughter, Ireland Eliesse. Alec and Bassinger divorced in 2001 and, eventually, Baldwin found love again with his second marriage to Hillary, but how did this pair meet?
Alec and Hilaria met in a very normal and conventional way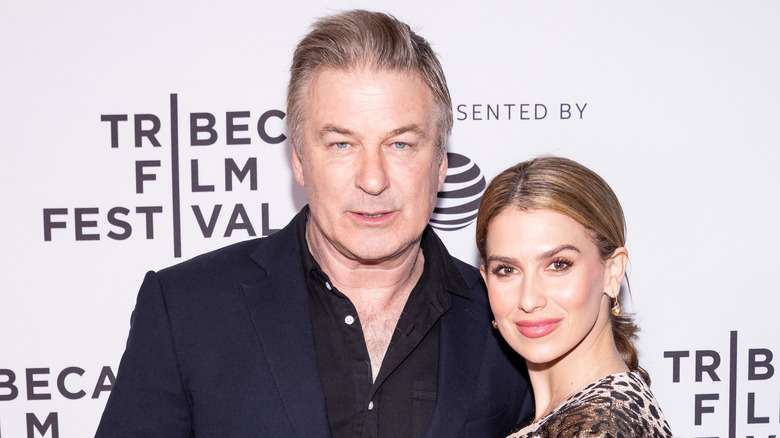 Shutterstock
It was 2011 when Alec Baldwin first set eyes on the woman who would be his second wife. He was out to dinner with friends at the now-closed New York City eatery, Pure Food and Wine, when he spotted a woman he just had to meet. Alec used what some may consider a classic line when he introduced himself but it worked.
As Hilaria Baldwin told The New York Times in 2012, the year she married her husband: "I was standing near the door with my friends when he walked up and took my hand and said, 'I must know you.'"
Considering that Hilaria was a little-known yoga instructor and Alec was a bona fide celebrity, her reaction made sense: "You must know me?" she said, before the pair started chatting. Later in the evening, he gave Hilaria a card with his phone number on it, admitting he never asks women for their phone numbers. Hilaria wasn't sure if she should call, but she did and after a bit of phone tag back and forth, the two finally had their first date a few days later.
A chance meeting leads to a huge family for Alec and Hilaria Baldwin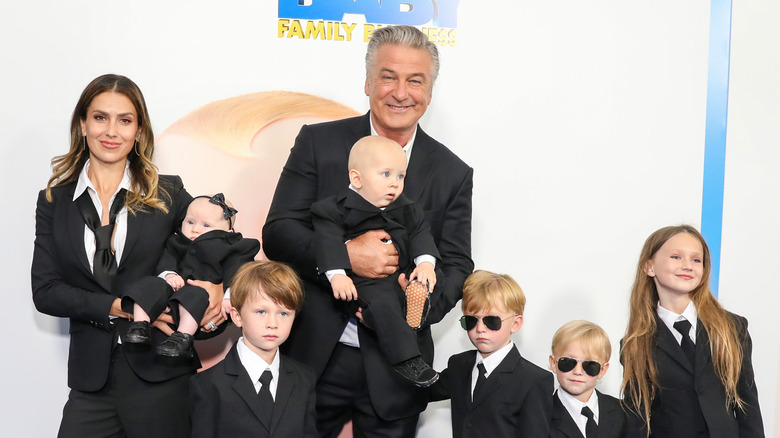 Monica Schipper/Getty Images
A decade, six children, and some controversy later, Alec and Hilaria Baldwin are still going strong. The pair welcomed Carmen Gabriella in 2013, Rafael Thomas in 2015, Leonardo Ángel Charles in 2016, Romeo Alejandro David in 2018, Eduardo Pau Lucas in 2020 (via Insider). María Lucía Victoria, the couple's sixth child together, was born just a few months later in March 2021 via a surrogate, according to People.
Hilaria was born in Boston, but spent most of her childhood in Spain, picking up much of the Spanish culture and prompting her and her husband to raise their children to be fluent in both English and Spanish, according to Insider. Baldwin told Elle Decor that their 26-year age difference has contributed to their differing parenting styles.
"It's a generational thing," Alex explained. "I'm a lot older, and when I grew up there was none of this bargaining and negotiating you do with kids now. Making them understand. My father was like 'Oh, I'll make you understand!' My mother used to hit us with a curtain rod, you know, people used to hit their kids with kitchen utensils. But [Hilaria] is the best mommy, she respects them, she honors them."