The Truth About Lea Michele And Dianna Agron's Time As Roommates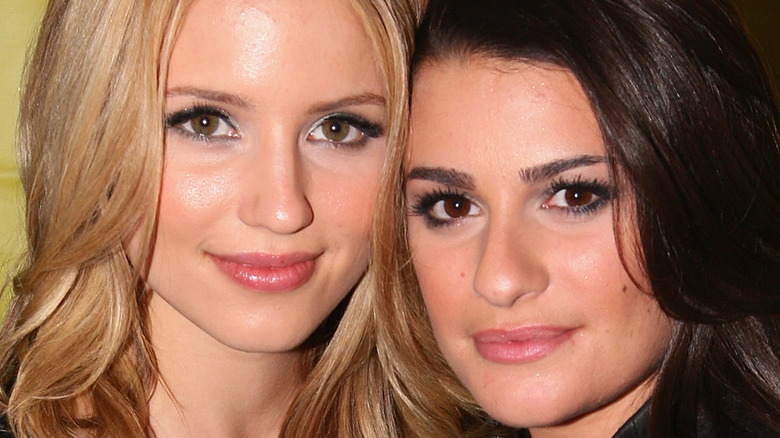 Theo Wargo/Getty Images
There is no denying "Glee" was a cultural juggernaut. The insanely popular show won a total of four Emmys and four Golden Globes over the course of its six-season run (via Us Weekly). Although the last episode aired more than five years ago, it still sparks conversations online (via Paste). One topic up for debate all these years later is the status of friendships and alleged feuds amongst the talented cast, which included the likes of Lea Michele, Dianna Agron, Naya Rivera, Amber Riley, and Heather Morris (via The Things). 
Rumors are still circulating about both on- and off-set drama related to "Glee." However, it is worth noting that Lea Michele (who played the show's lead Rachel Berry) referred to her cast-mates as "family in L.A." in a 2009 profile with Vulture. In fact, she revealed that she and Dianna Agron (who played cheerleader Quinn Fabray) lived together at the time. Although their characters were sometimes frenemies on screen, Michele made it clear that their living situation was always very friendly. 
"We have these smackdowns at work and come home and are like, 'Wasn't it so funny when we were fighting today? Let's make cookies,'" she said. The "Scream Queens" actress added that they bonded in the kitchen as they were both vegan — well, at least they were for a while. "It works out," Michele explained. "We're both vegans. Well, I was. I slowly dipped back into cheese. Don't tell her, though."
Dianna Agron also spoke about her friendship with Lea Michele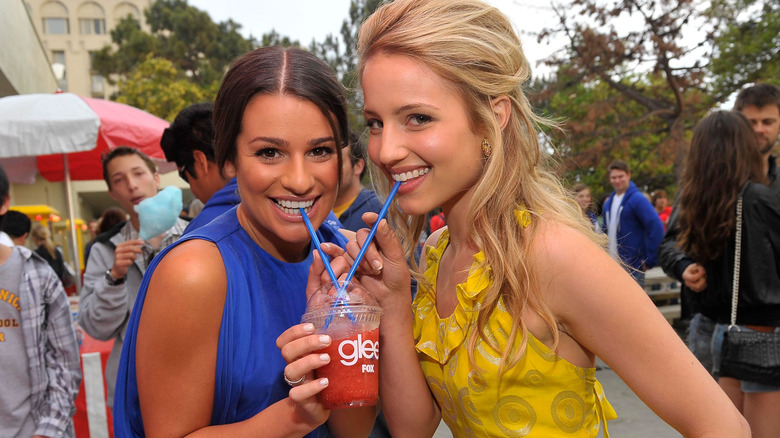 Charley Gallay/Getty Images
It seems like the actors really were close. Dianna Agron added more details about their shared living situation. The actress revealed that they lived together for about six months, and that they had a good time together. "Oh, it was so fun," she gushed. At the time, Agron added that Lea Michele was "very neat" (via Us Weekly).
She opened up further about their friendship in a 2011 profile for Marie Claire. In particular, Agron recounted some lessons she learned from her coworker. "Lea taught me how to stand up for myself more, like realizing that I can't be in 10 places at the same time," she said of her friend. Agron also commented on rumors at the time about the pair being romantically involved. "There are supposedly forums with photos of us hugging at work or events. It's funny, but flattering — Lea is beautiful. Since when can't you hug your friends?" 
The duo showcased their friendship and likely further fed into relationship rumors by appearing in a scintillating photoshoot for GQ Magazine with fellow "Glee" cast-mate Cory Monteith in 2010. Based on their interactions at the time, it's safe to say that Lea Michele and Dianna Agron could have been friends for life.
Are Lea Michele and Dianna Agron still close?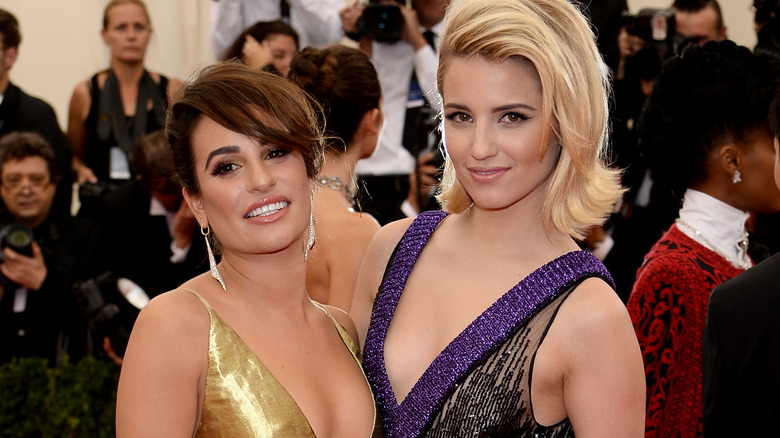 Dimitrios Kambouris/Getty Images
Although Lea Michele and Dianna Agron appeared to be extremely close during the early years of "Glee," rumors began circulating about cracks in their relationship as the years went on. Radar Online reported Agron was excluded from the 2013 tribute episode to Cory Monteith. An unnamed source from the show reported that her absence was in part due to Michele and co-creator Ryan Murphy "intensely" disliking her. 
Instead of feeding into the gossip, Agron dismissed it during a 2013 interview with On Demand Entertainment (via YouTube). She said that "of course" she was still friends with Michele. She also alluded to the difficulty of addressing the rumors without feeding into them. "It's unfortunate because every time we bring this up it just keeps going, you know? We could be talking about this for the next year." 
The duo later posed together at the 2014 Met Gala (via PopSugar). Does that mean they are still friends? We don't know for sure. When a list of "Glee" cast-mates lodged complaints against Michele over her on-set attitude in 2020 (via Us Weekly), Agron was silent and instead focused her attention on memorializing Naya Rivera following her tragic death (via Vulture). 
If they have nothing else in common, the pair presented a unified front in the face of Rivera's passing as Michele also mourned her on Instagram (via Vulture).