The Makeup And Hair Products Dianna Agron Used On The Glee Set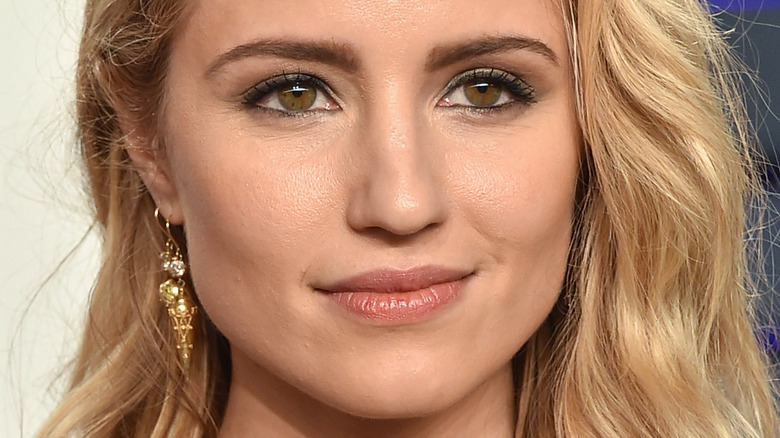 Shutterstock
It's no secret that if you're in glee club, your hair and makeup needs to be on point – especially under all those stage lights. If there was anything the catty, queen bee cheerleader Quinn Fabray (played by Dianna Agron) was known for on "Glee," it was being fabulous while still looking natural. In contrast to her character, Agron has admitted that she wasn't what one would consider "stylish" during her real-life high school days. "I knew nothing about makeup and hair," she told People."I wore all the wrong colors and plucked my eyebrows too much."
However, as an adult, Agron is a fan of getting dolled up, telling Teen Vogue, "A good lipstick or a good liner. That immediately changes your face so much. That's my go-to." In a 2014 interview with Teen Vogue, makeup artist Kelley Mitchell, who led the makeup team on the Fox show, revealed that "Julie Hewett's Kiki lipstick has always been one of [Agron's] favorites."
On "Glee," Agron struck an impressive balance between fierceness and subtlety. However, she didn't accomplish it all by herself. Mitchell and Tenita Parker Baker, who headed up the show's hair team, used their artistic expertise to finely craft Quinn's image as we know it today. The two used a combination of high-end and drugstore products to complete their looks, proving that you don't need to break the bank in order to look like a Hollywood star.
Dianna Agron went from girly to glam with these products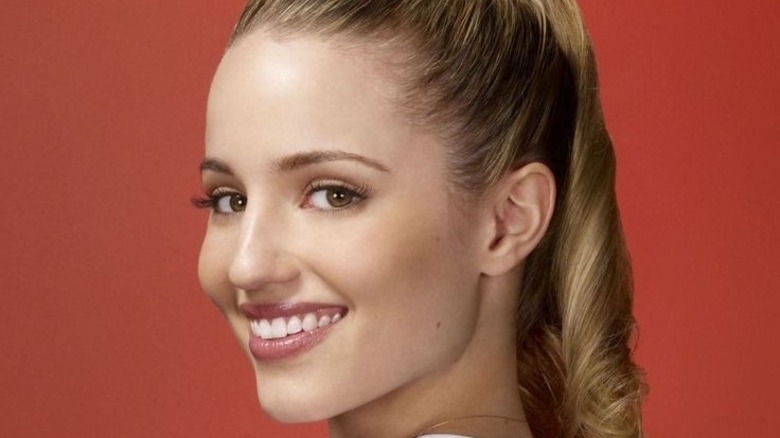 FOX/Getty Images
Over the course of her time on the show, Dianna Agron's Quinn Fabray underwent quite a transformation to represent the character's developing personality. "The look for Quinn has always been all-natural American cheerleader," makeup artist Kelley Mitchell told Teen Vogue. "We started off using a lot of girly pinks, but since she matured, we settled on neutral shades and a great black eyeliner."
Quinn always took pride in her physical appearance, and Tenita Parker Baker and Mitchell were tasked with finding the most effective products to capture Quinn's essence and her transformation. For anyone who envied Quinn's modern, peachy glow, look no further than the Make Up Forever Ultra HD Invisible Cover Foundation, which comes in a whopping 50 shades that will match your exact undertone. With this medium coverage foundation, you'll be able to emulate Quinn's poreless skin without looking too cakey.
Seemingly loyal to Make Up Forever products, Baker and Mitchell made Agron's hazel-green eyes pop with the brand's Aqua XL Ink Liner in black in the later seasons to rev up Quinn's older look. Per Teen Vogue, Mitchell would "[smudge] it with a matte black shadow 'for extra oomph.'" The Aqua XL Ink Liner is rich in pigment and smooth in texture for anyone who wishes to replicate Quinn's sexy flair.
Was Dianna Agron's 'do too good to be true?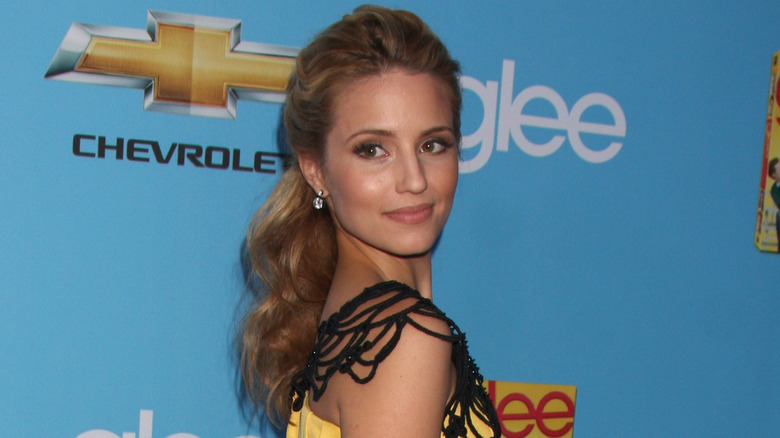 Shutterstock
At one point while filming the show, Dianna Agron chopped her signature blonde locks, opting for a shorter 'do. Because of that, Tenita Parker Baker and Kelley Mitchell had to shake up their tactics to keep her looking sophisticated yet young and girly, as her character was still in high school. "We actually have clip-in extensions to keep continuity in her character's length since Dianna chopped her hair," Baker told Teen Vogue. "But we like to shape her locks into soft curls that sort of flirt around the face!"
Hair extensions can start to look a little sad and limp if they are not maintained properly. In order to give the not-so natural locks a bit more oomph and volume, Mitchell and Baker opted for Michael O'Rourke Rock Your Hair volumizing spray. This spray is perfect for extensions because it is lightweight and won't drag extensions down while drowning the locks in chemicals. And if you're rocking your natural hair, it is also ideal for teasing your hair on oiler days for a healthy bounce. Oh, and it will also help you achieve a look that even Quinn Fabray would feel compelled to compliment.