The Truth About A'ja Wilson's Relationship With Josh Cunningham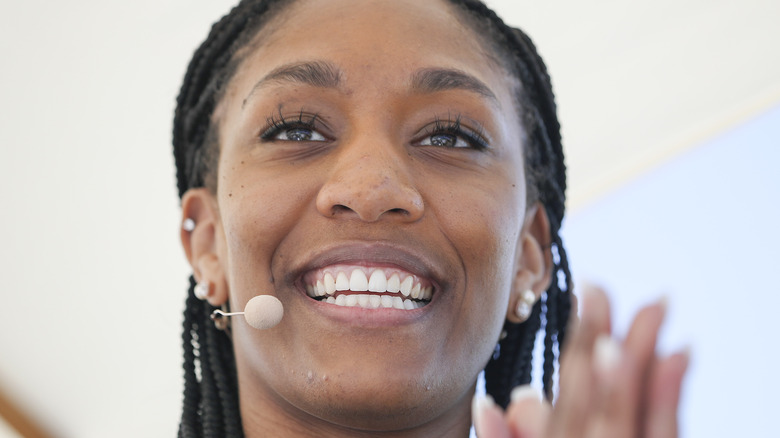 Meg Oliphant/Getty Images
A'Ja Wilson is a basketball player for the Las Vegas Aces. She entered the league three years ago, and was celebrated as the 2018 WNBA Rookie of the Year. Wilson's WNBA success was built in college; she was named the National Player of Year of the year during her senior year for South Carolina, helped her team win their first NCAA title, was named a first team All American three times, and entered the WNBA draft as the number one pick (via Dayton Daily News).
To say Wilson is an extraordinary player is an understatement. And if there's one person who really benefits from her immense skill and undeniable talent, it's Wilson's boyfriend, Josh Cunningham, a forward for the G League Westchester Knicks, per his bio. Wilson isn't shy about offering basketball advice to her boyfriend of at least three years; in 2020 she admitted that sometimes it might be too much.
When asked about recent free throw advice she dished out, Wilson acknowledged, "He's probably tired of hearing it from me. But that's the hard part of having a girlfriend who's a basketball player too" (via Dayton Daily News).
A'Ja Wilson and Josh Cunningham met while still in high school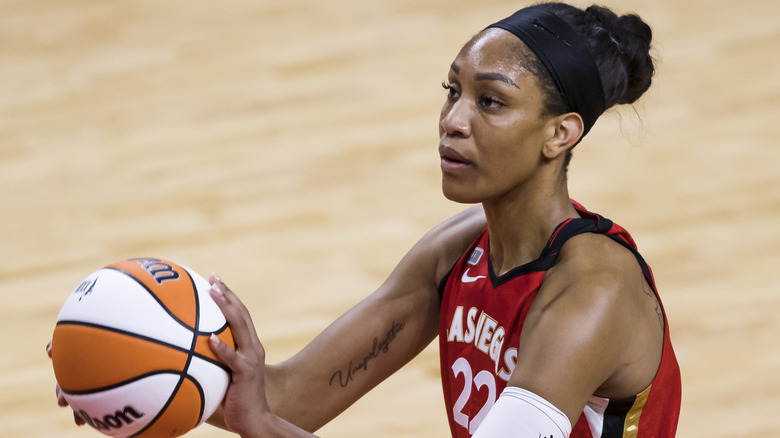 Scott Taetsch/Getty Images
A'Ja Wilson and Josh Cunningham met years ago when they were both still in high school; the pair ended up touring the same college, the University of South Carolina. Wilson reportedly messaged Cunningham asking him to strongly consider going to the school. He told the Dayton Daily News that her motivation was to build the school's program as a whole, "When you're going to be freshmen coming in, you just want to make the class as strong as it can be."
However, Wilson was quick to add that she also messaged him "just to find out a little bit about who he was." Unfortunately, "Josh is a man of few words though. So as we messaged back and forth and there were some awkward moments." The pair didn't end up attending the same school together but they did stay in touch, and one thing eventually lead to another. 
Wilson also added that there's something truly special about Cunningham. "Look I can't tell you how many people I meet in a day, how many people I run into and talk to. But there's just something about Josh. It's his personality and who he is as a man that I just really enjoy. I enjoy having him as a boyfriend."