The Truth About Lindsay Lohan's Relationship With Her Mother Dina Lohan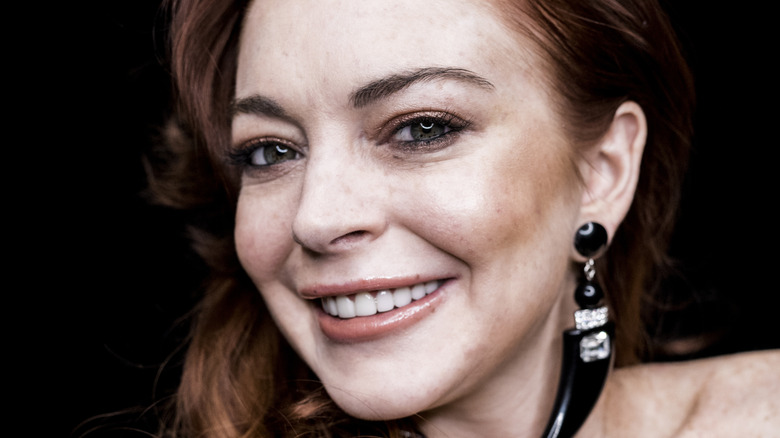 Gareth Cattermole/mtv 2018/Getty Images
Lindsay Lohan first stole our hearts at the age of 11 when she made her big screen debut playing the roles of twins Hallie Parker and Annie James in "The Parent Trap." In the following years she continued to enjoy major success with starring roles in instant classics like "Mean Girls" and "Freaky Friday."
Unfortunately, Lindsay's offscreen struggles with substance abuse and an eating disorder, according to Today, along with some serious family drama, took center stage in the tabloids by the time she was in her late teens and early 20s.
Lindsay's tumultuous relationship with her father, Michael Lohan, played out in the media, with Lindsay speaking about her father's domestic violence towards her mom, Dina Lohan, during their marriage and accusing her father of selling stories about her to the tabloids.
But what about the star's relationship with her mom? Overall, the mother-daughter relationship has seemed to be a close one — but it certainly hasn't been without its ups and downs.
Lindsay and Dina had a highly publicized fight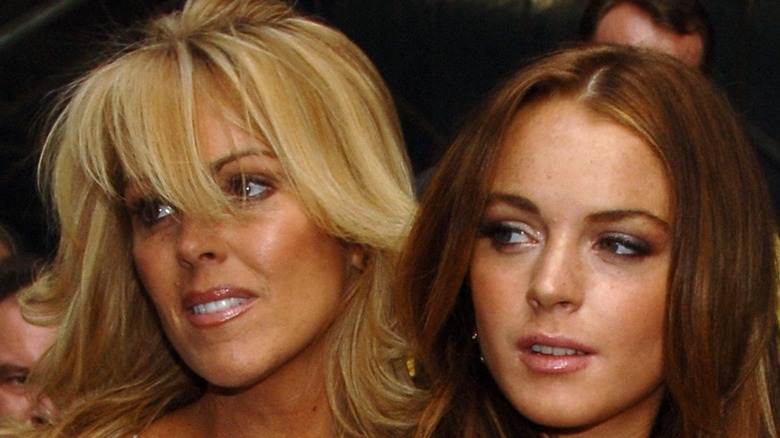 Shutterstock
For the most part, Lindsay and Dina Lohan put up a united front, especially when it came to discussing the impact Michael Lohan had on their lives. In 2010 Lindsay told The Irish Examiner that Michael put her and her family "through hell" due to his violent behavior and she credited Dina for attempt to "shield me from that as much as possible."
As Lindsay's series of legal woes began with a DUI arrest in 2007, Dina faced criticism for spending late nights out partying with her daughter (via The New York Times). But what really made headlines was a 4 a.m. argument between mother and daughter in 2012, which resulted in the police being called. Per TMZ, the fight occurred in a car as the pair headed back to Dina's home after a night out at a New York City club.
One audio obtained by TMZ, Lindsay called her father and claimed Dina was on cocaine. "She's saying disgusting things to me," the actress said. "I'm dead to her now." She also told Michael, "She's like the f**king devil right now." However, almost immediately after the argument, Lindsay downplayed it and expressed her anger that Michael had released audio of the altercation.
"Mothers and daughters fight. You know, I called my father and told him some really hurtful and untruthful lies about my mom," Lindsay said (via E! News). "My mom does not do cocaine, clearly. And that's a fact."
Lindsay and Dina are back on good terms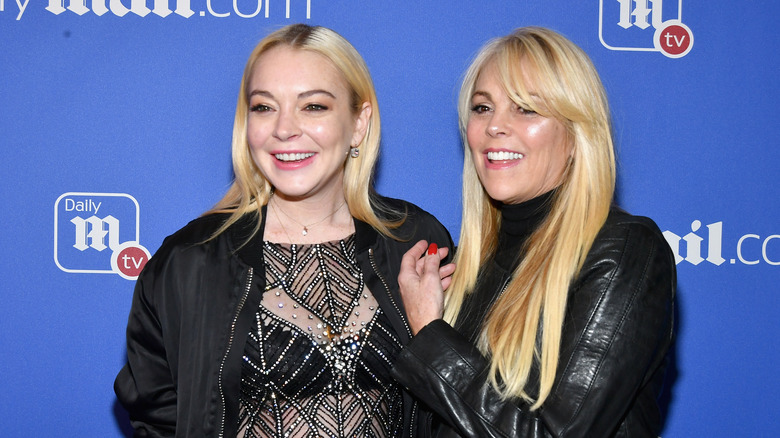 Slaven Vlasic/Getty Images
In 2016, Lindsay Logan posted a cryptic Instagram photo of a drawing of a woman dropping a phone, accompanied by the caption, "@dinalohan ... Sometimes it sucks when your mom isn't there for you" (via Page Six). She deleted it shortly thereafter but, of course, screenshots live forever and the speculation about what the post meant began immediately. 
Although Lindsay never clarified what prompted her to post the image and caption in the first place, Page Six noted that the argument appeared to be short-lived. Not only did Lindsay delete the post, but she posted a happy throwback photo of she and her mother later that week, indicating that they'd made up. 
In January 2018, Lindsay shared some good news: she said she was on good terms with both her parents and they'd even spent the holidays together along with Lindsay's three siblings (via US Weekly).
Lindsay and Dina have had their problems like any other mother and daughter, but they always seem to reconcile quickly – there have been no reports of drama between the pair since Lindsay's 2016 Instagram post. In 2020, Dina announced that she was engaged to her longtime boyfriend Jesse Nadler (via Vanity Fair) and added that Lindsay and her sister, Aliana, would be the maids of honor at the wedding, calling both of them "angels."