How To Replicate Adele's Makeup Routine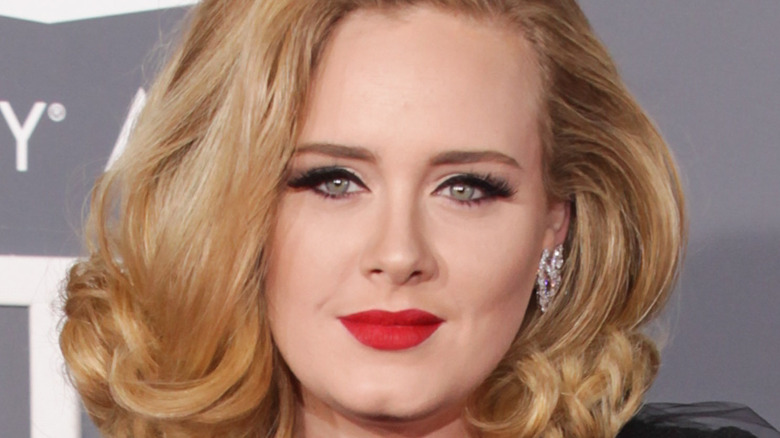 Shutterstock
Remember Adele's iconic song, "Hello?" Not only was the song a classic — who could ever forget her belting "Hello, from the other side ..." — but her song's art was pretty classy too. And by artwork, we mean the song's cover photo.
The cover featured the singer's signature cat-eyed makeup, which, we think, is downright gorgeous. So gorgeous that we bet many Adele fans would want to know how to replicate her eyeliner (as well as her makeup routine as a whole).
Well, luckily for you, Adele's makeup artist Michael Ashton has revealed his secrets in creating the "When We Were Young" singer's beautiful looks (via Harper's Bazaar). The outlet shared that the first step is practice. Practice, practice, practice. When it comes to the winged liner, begin by, "Start[ing] from the outside in," the artist said. "It makes the hand create a straighter line to the inner corner of the eye. If you go from inside to out, it creates a naturally downward stroke. So do the inner corner first, then move to the outside of the eye and go back to join the lines together, then do your flick." What else do you need to create Adele's signature makeup look? We've got you covered. 
How to replicate Adele's iconic eyeliner and full makeup look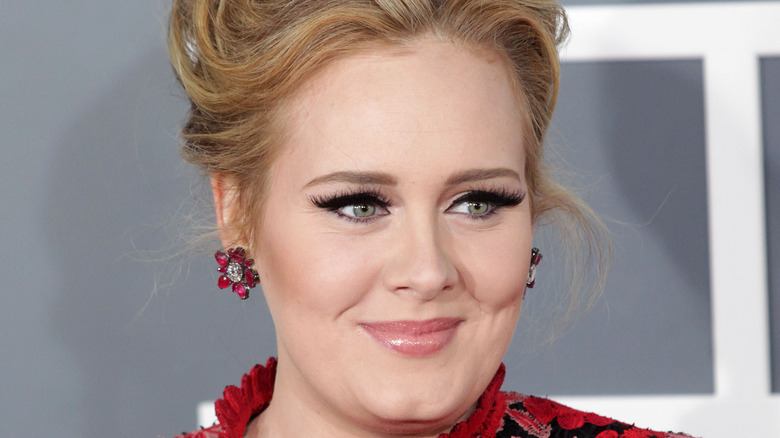 Shutterstock
When recreating a mega-star's makeup look, like the queen Adele, you're going to make mistakes — every newbie artist will do that. Thus, makeup artist Michael Ashton recommended using a cotton bud and some Bioderma to clean up any mistakes (and to sharpen up your Adele-inspired winged eyeliner to a 45 degree angle if needed), per Harper's Bazaar. As for the eyeliner you should use? Ashton recommended a black gel liner, preferably by Bobbi Brown, per The Cut.
So you've mastered the liner, and now it's time to finish off the eye look, so opt for your go-to mascara. "I always do mascara after liner. The trick when you're applying is to start at the root, wiggle it left to right and almost — it sounds painful but it isn't — push the mascara wand into the waterline," Ashton shared. "When you push the mascara right into the root of the lash, it creates a more seamless finish."
Want to know more of Adele's beauty secrets? Leave the clear lash glue behind — a black lash glue will blend in more seamlessly with the eyeliner (via The Cut). A perfect brow consists of brow gel following with an eye pencil, the outlet added. And, did we mention that two foundation brushes are a must if you want that flawless non-textured look?
You have all of the "Rolling in the Deep" singer's makeup secrets at your disposal. You're welcome.