The Truth About James Corden And Dominic Cooper's Time As Roommates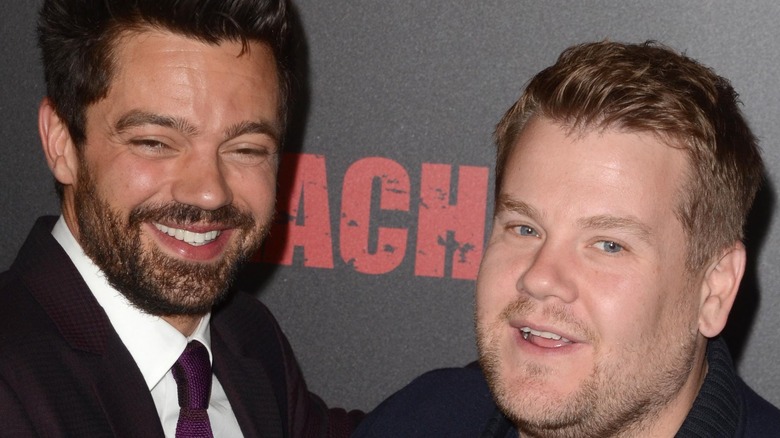 Shutterstock
Everyone starts from somewhere, including the many faces of Hollywood. Two of its most recognizable British stars, James Corden and Dominic Cooper, even lived with each other for a few years before making it big in their respective careers. Corden would go onto find success in television starting with his sitcom "Gavin & Stacey" while Cooper made it on the big screen in films like "Mamma Mia!," "An Education," and "Freefall," as well as a young Howard Stark in the Marvel universe.
Corden and Cooper first met in 2004, prior to their breakthrough roles in film and television, before becoming roommates in 2008. "Dominic and I are very, very old friends," Corden once said (via The Sun). Eventually, Cooper would play matchmaker for Corden and his now-wife Julia Carey. The actor invited Corden to an event he and Julia organized for a charity which is where the late night host instantly fell in love. Corden added, "Thank God he persuaded me."
But what about their time as roommates? Were they as close then as they are now?
James once caught Dominic eating baked beans with a spatula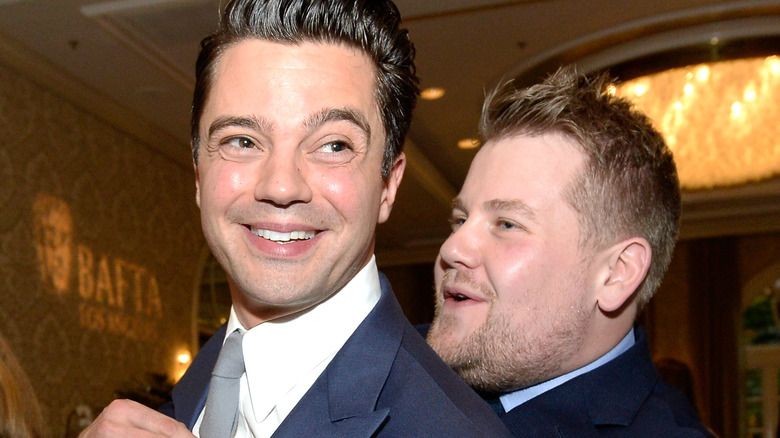 Kevork Djansezian/bafta La/Getty Images
While promoting his the first season of "Preacher" in 2017, Cooper appeared on "The Late Late Show with James Corden" where the late night host explained that they'd rented a furnished apartment at the top of a house – which they discovered didn't actually have furniture in it. 
"We only had one bed, and one piece of cutlery which was a spatula," Cooper recalled (via YouTube), adding, "And I remember a really depressing evening where he caught me – he came home and I was just eating baked beans with a spatula out of the can."
As for other bits of furniture, they decided drum kits were more necessary than another bed or a more comfortable sofa. Their neighbors weren't too pleased with the noise, with one sending the most British note to the pair stating that "Last night's noise was most unfair." Corden likened that feeling of guilt to "when your dad says, 'I'm not angry, I'm disappointed,"' adding, "It just cuts through you."