The Truth About Olympian Cat Osterman's Marriage To Joey Ashley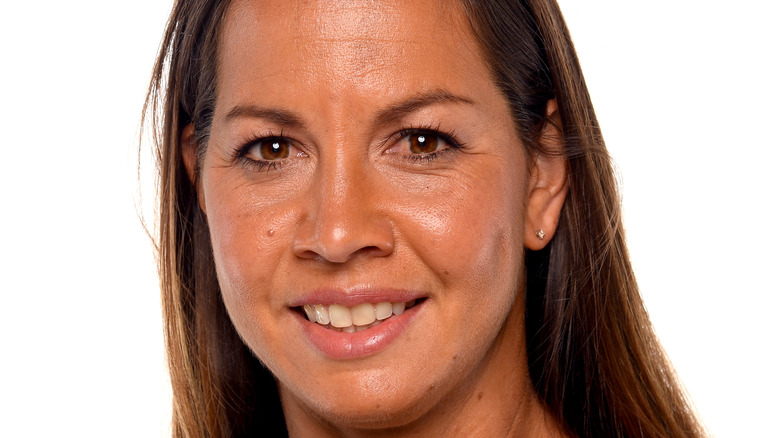 Harry How/Getty Images
Cat Osterman might be a professional softball player and coach with numerous athletic achievements to her name, but there's one person she relied on more than any other to help her prepare for her upcoming performance in the Tokyo Olympic Games.
Osterman, a two-time Olympic medalist and former assistant coach at Texas State University, told Fan Sided her husband Joey Ashley acted as a catcher in their backyard during the pandemic so she could hone her pitching skills. She explained, "I am very fortunate that he has stepped up to get behind the plate and allowed me to train especially with the pandemic cause there was a while where I wasn't sure how I was going to throw."
Married since 2016, the couple's relationship seemed to survive the intense at-home training, with Osterman telling the outlet, "Thankfully, the marriage hasn't been tested too much in those bullpens." Ashley, who is an assistant coach with the Texas State University golf program, is likely to be cheering for his wife alongside his 8-year-old daughter, Bracken, when Osterman competes in the upcoming summer Olympics.
Cat seems devoted to both her family and career
According to her official website, Cat Osterman pitched on the USA Women's Softball Team in two Olympics, helping win the gold medal in 2004 and silver in 2008. The left-handed pitcher retired from the USA National Team after 2010, largely because softball had been removed as an Olympic sport after the 2008 Olympics. "That stung, because the Olympic Committee voted softball wouldn't return in 2012," she told NBC affiliate NBC DFW. "It wasn't like we could train for 2012 and go win a gold medal back. For a long time, that dream was dead essentially."
In 2015, she joined the coaching staff at the Texas State University, and in 2016, she married her husband, Joey Ashley, who coached golf at the high school level at the time. While it's unclear how the two met, both are Texas natives who clearly love sports. Osterman often shares photos of the two on Instagram, along with her stepdaughter, Bracken. 
When softball was added back for the 2021 event, it prompted Osterman to come out of retirement to once again pitch for the USA National Team. She told NBC DFW one of the hardest parts of competing in these Olympics will be not having family in the stands; COVID-19 restrictions forbid foreign spectators. "It's staying in the mindset that once we get on the field," she explained, "we are there to compete and whatever we have to do to get on the field is going to be worth it."