How To Replicate Selena Gomez's Makeup Routine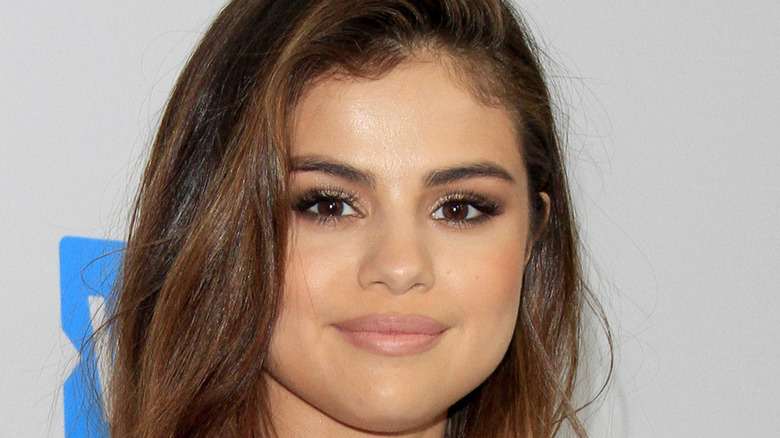 Shutterstock
We all know Selena Gomez for her Disney days and her adult pop star career, but what she doesn't get enough credit for is her versatility. Gomez is worth a lot of money and this comes from her always taking on new experiences and working on herself. After all, the coronavirus pandemic led to the HBO cooking series "Selena + Chef," where she, her family, and friends virtually cook with a different professional chef each episode. This was something entirely different and unique for Gomez, yet it's endlessly fun to watch. 
Gomez also likes to play with her look. Sometimes she switches up her hair color or her makeup, and she even went as far as creating her own makeup brand. In any case, she slays the world while looking fabulous, and now she's let the world in on her makeup routine so everyone can try it. Makeup in its purest form is an act of expression, so it's innately wonderful that Gomez would share this practice — and now you can look like Gomez for a day, too!
Follow these steps to get the full Selena Gomez makeup look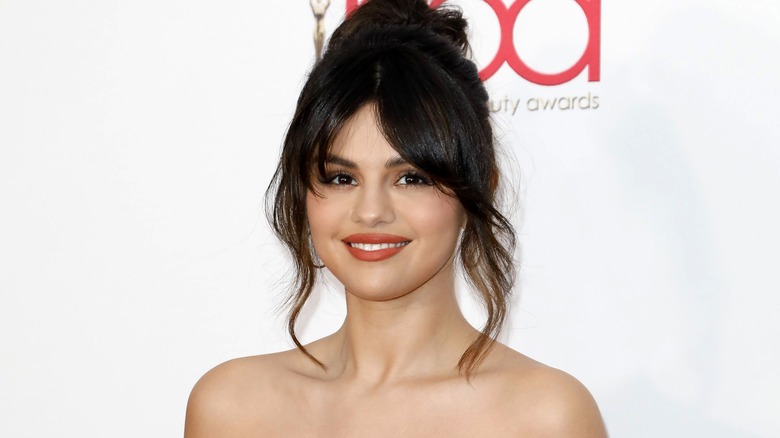 Tibrina Hobson/Getty Images
In a video posted to Allure's YouTube channel in September 2020, Selena Gomez walked viewers through a quick, easy, on-the-go makeup look perfect for every day appearances. Starting with a clean face, Gomez began her full routine by using Rare Beauty's Always an Optimist 4-in-1 Prime & Set Mist all over her face. She noted here that this spray is also great to use after you're done with your makeup to set it and make you moisturized and glowy. 
Then, Gomez used Rare Beauty's Liquid Touch Weightless Foundation in 180W. She dotted the foundation around her face before blending it in and shifting to concealer. Here, Gomez used Rare Beauty's Liquid Touch Brightening Concealer under her eyes and on her chin. She then employed Rare Beauty's Soft Pinch Liquid Blush in shade Bliss to add some color to her cheeks. 
After blush, Gomez used Rare Beauty's Positive Light Liquid Luminizer in shade Enchant to highlight above her blush. After this, she moved onto bronzing, where she used Benefit Cosmetics' Hoola Matte Bronzer to contour around her jaw, nose, and forehead. Then, she turned to her brows. She used Rare Beauty's Brow Harmony Pencil and Gel in shade Cool Brown to define her brows. 
After this, she focused on her eyes. She used Laura Mercier's Caviar Stick Eye Shadow in shade Cocoa to define her eyes before turning to her lips, where she used Rare Beauty's With Gratitude Dewy Lip Balm in shade Praise. She then used the same 4-in-1 spray from the beginning to set her makeup look. 
Gomez keeps her routine rather simple, but it's practical, cute, effective, and perfect for everyday use.