The Best Style Of Socks To Wear With Sandals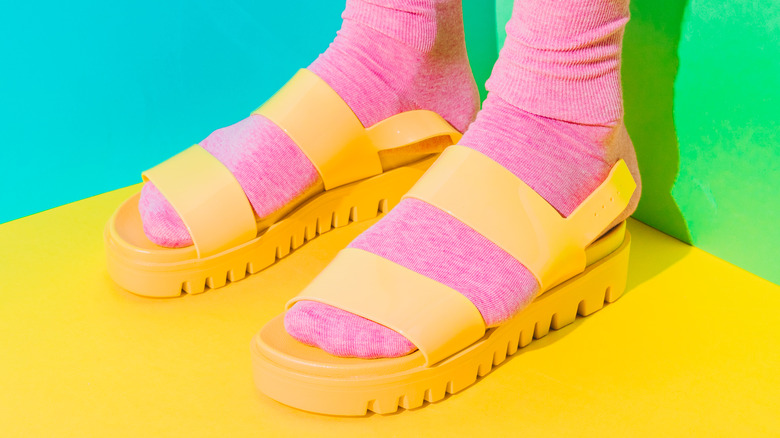 Shutterstock
Gone are the days of judging people for not going barefoot in their flip-flops. In a shocking turn of events, what used to be a go-to fashion insult has now become a staple in many a wardrobe (via GQ). If you're looking to get in on this newly acceptable (cool, yet divisive) layered look, here are the best socks to wear with sandals. 
During peak pandemic season, formal wear and all fashion rules for the most part went out the window, along with nights spent in bars and mouths not covered by masks. Sweatpants replaced slacks and slippers took their rightful place on our feet. And the age-old look of suburban dads out to check the mail — i.e., socks with sandals — became a comfortable look that was adopted by "hunker downers" of all ages.
Glamour predicted in early 2021 that the "snuggly style' will last long after the pandemic ends. And when moving that look from your living room to the outside world, there are a few things to keep in mind.
Choosing your socks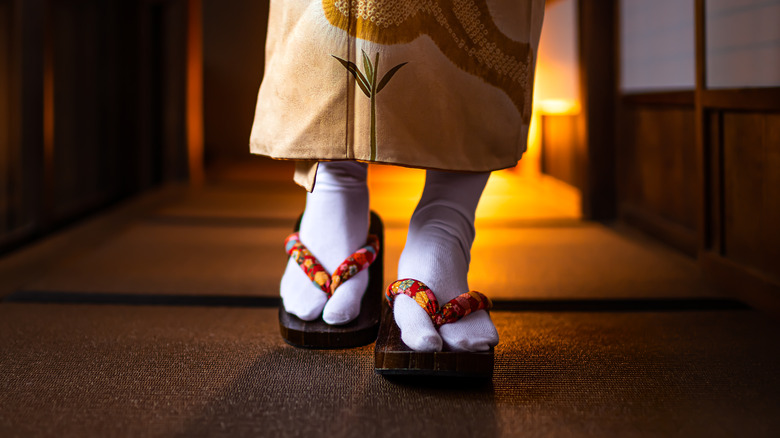 Shutterstock
The type of socks that you choose to wear with your sandals largely depends on what look you're going for. Footwear News recommends wearing sheer socks with dressier sandals to get a more elegant look. But if you're leaning toward a more athletic, casual look with a pair of Birkenstocks or slide sandals, tube socks are a great choice. If your socks are meant to be a focal point of the outfit, skip the sweatpants and opt for a pair of shorts that shows them off. Finally, if you're looking for a pop of color, consider going for a pair of bright socks with a more neutral pair of sandals. 
Overall, fashion trends like socks and sandals are all about self expression. So channel your favorite celeb who has rocked the look, and make socks and sandals your own. Big names like Justin Bieber and Kendall Jenner have shown off their socks (per Vogue), so you should have plenty of inspiration to get you going. Bust out your favorite pair of socks, slide on some sandals, and work it.