Meghan Markle And Prince Harry Just Made This Update To Their Website
Shutterstock
Meghan Markle and Prince Harry shared a message of compassion on their Archewell website. Shortly after welcoming their daughter, Lilibet, and honoring what would have been Princess Diana's 60th birthday, the couple added a post to their Archewell website about a cause dear to their heart: compassion.
Titled "What is Compassion," the post describes compassion's role in Archewell's projects and missions. "To us, compassion means more than the dictionary definition. It means listening with open ears to the suffering and celebrations of communities and people beyond ourselves," the post reads. "It means taking the time to understand their perspectives, experiences and needs based on what they say, rather than assuming what they need."
The post continues, "Each time someone conducts an act of compassion—whether it's mentoring a young woman or holding space for someone having a difficult day—our world becomes a better place. Compassion is at the core of everything we do. We hope you'll join us in building a better world, one act of compassion at a time."
Before ending the heartwarming post – which is signed "Team at Archewell" – the couple then asks for readers to share "an act of compassion you did or that someone did for you" with a chance for your story to be featured. You can share yours here.
Compassion is at the center of Meghan and Harry's work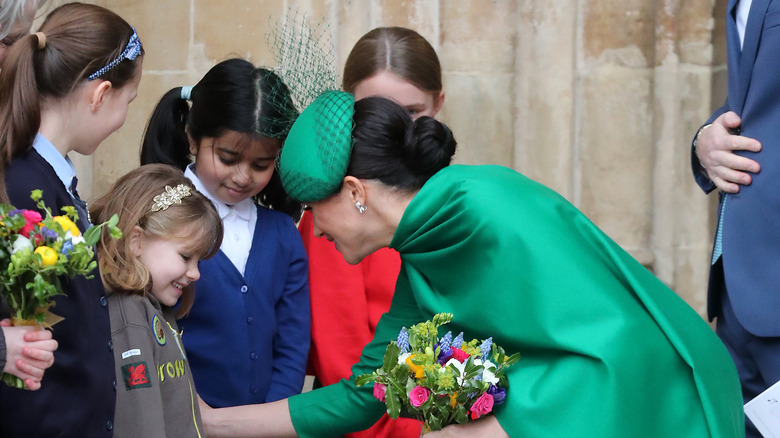 Chris Jackson/Getty Images
The Sussexes have made compassion and kindness key components in their growing legacy. Indeed, Archewell – the umbrella for Archewell Productions, Archewell Audio and the Archewell Foundation – seeks to "unleash the power of compassion to drive systemic cultural change," per its website.
Meghan Markle's author bio in her latest children's book "The Bench" also references the couple's work, reading "through the nonprofit work of the Archewell Foundation, she and her husband are committed to activating compassion in communities across the world," according to Marie Claire.
In alignment with the touching post on compassion, per Marie Claire, Prince Harry praised the winners of the Diana Humanitarian Award earlier this week for "inspiring us with your brilliance, your determination, and your compassion." The award has been presented every year since 1999 to celebrate over 300 youth honorees in their journeys creating and sustaining positive social change, and was presented this year ahead of Princess Diana's statue and memorial unveiling. 
The moving letter and message to readers comes a week after Harry traveled to the UK for the unveiling of Princess Diana's statue on what would have been her 60th birthday.