Lily Allen's Surprising Response To Husband David Harbour's Post-Black Widow Look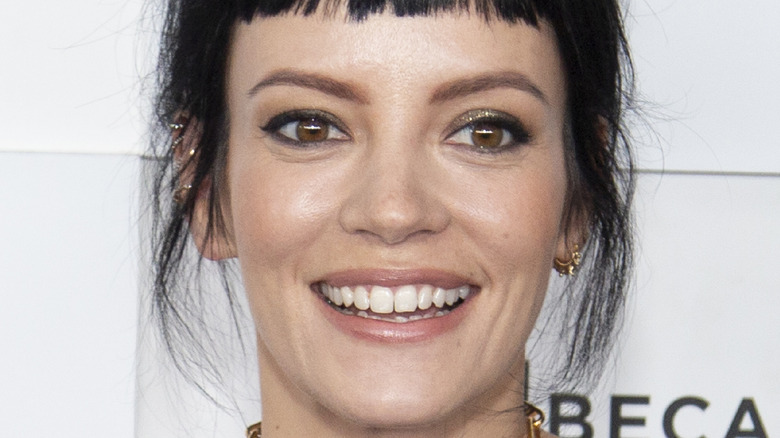 Santiago Felipe/Getty Images
Most wives would love when their husbands get into shape, but Lily Allen has some "mixed feelings" about her husband's recent weight loss. The singer wed "Stranger Things" star David Harbour in September 2020. The two connected on a celebrity dating app (per The Times) and eventually met up for dinner in London when Harbour was filming "Black Widow," for which he gained a significant amount of weight — and grew out his hair and beard — to portray Russian spy Alexei opposite Scarlett Johansson and Florence Pugh.
"It's a true testament to my undeniable charisma when I say that my wife met me at 280 pounds with this beard and this hair," Harbour told The New York Times. "She really fell for me at my worst, physically and hair-wise." But the 46 year-old actor admitted that it was beneficial to start the relationship when he was ... at the bottom, so to speak, "As opposed to being the young, handsome buck and watching yourself degenerate over the years," he explained.
Once Harbour wrapped filming on the Marvel movie, he started dropping his extra weight through diet and exercise, which his wife "honestly has some mixed feelings about it," Harbour admitted.
David Harbour's marriage to Lily Allen marked a turning point in his life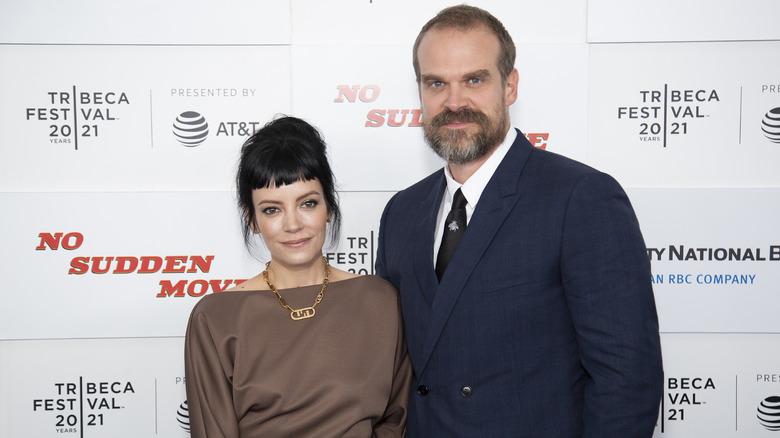 Santiago Felipe/Getty Images
While Lily Allen had reservations about her husband David Harbour's weight loss after filming "Black Widow," (per The New York Times) the two are set to celebrate their one year wedding anniversary in a few months (via Elle). After saying "I do" in September 2020, the actor also became stepdad to Allen's two daughters — Marnie Rose and Ethel Mary — from her first marriage.
"I'm in a relationship with three women who all have very different opinions of me at various times," Harbour told People. "Making that kind of a commitment, which I haven't for most of my life, was a huge thing for me. And it just makes you feel a little bit more like a man, to be honest. I just feel a little bit more like an adult."
And Allen is even open to having more children. "I think so," the 35 year-old singer-songwriter told The Times. "Especially now Marnie's getting so big. It's like, 'no, my babies!'... I miss little terrors running around the house." She added, however, that she isn't ready to add to the family just yet. "I'm in a really good place. I don't know if I'd mess with my hormones, at this particular point," she said.