Why An Upcoming Documentary About Anthony Bourdain Is Causing Controversy
Shutterstock
Anthony Bourdain was loved the world over, bringing smiles via television into homes across the globe. Unfortunately, the world lost this star in 2018, when he took his own life in his hotel room in France. According to CNN, Bourdain was a "gifted chef and storyteller" known for celebrating food, people, and cultures. He died aged 61.
Bourdain was born and raised in New York City, and he later went on to study at the Culinary Institute of America before kick-starting the food career that would take him around the world (via Britannica). He wrote cookbooks, columns, and more, and was a celebrated chef through and through. He was even an Emmy Award holder.
Now, a few years after his death, people still remember the world traveler for his heart and spirit, and tributes to him are being released. "Roadrunner: A Film About Anthony Bourdain" is the latest such project, releasing on Friday, July 16, 2021 (via the Daily Mail). We know some details about this film so far, but as it nears closer to release, its premise is drawing some controversy.
Here's how Bourdain's love life factors into the film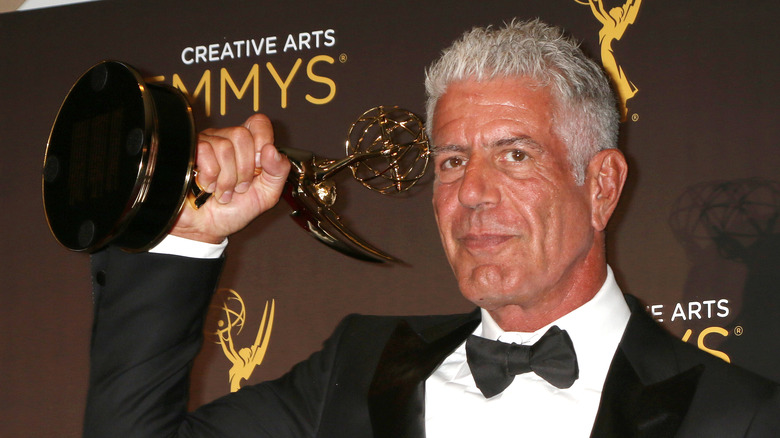 Shutterstock
"Roadrunner: A Film About Anthony Bourdain" is causing controversy because of its stance. According to the Daily Mail, Bourdain was dating Italian actor Asia Argento at the time of his death, and the documentary, while not directly blaming her for his death, implies that she caused him issues in the lead up to his suicide.
Argento joined Bourdain's "Parts Unknown" series in a director capacity for one episode, but Bourdain allegedly became "addicted" to her, with sources saying she "upended" the series' final season. Then, five days before Bourdain's death, Argento was photographed by paparazzi holding hands with another man in Rome. With these matters discussed in the film, some critics feel as though the documentary is attempting to blame Argento for her boyfriend's death.
However, the film's director, Morgan Neville, refutes this. "You can make a whole film just about that and that was not the film I wanted to make. It gets really complicated...," he told The Wall Street Journal of Argento and their relationship. He continued, "What I included was a fraction of what was there. So if people think there's a lot, let me tell you, there is very little compared to what's there," before finishing by saying, "I feel like I showed tremendous restraint, even though people may not know that. And I think I was very fair with having seen all the facts. I'm very comfortable with what I did."
Argento does not appear in the film, which features interviews with several of the people closest to Bourdain. 
If you or anyone you know is having suicidal thoughts, please call the National Suicide Prevention Lifeline​ at​ 1-800-273-TALK (8255)​.