Inside Braunwyn Windham-Burke's Relationship With Her Husband Today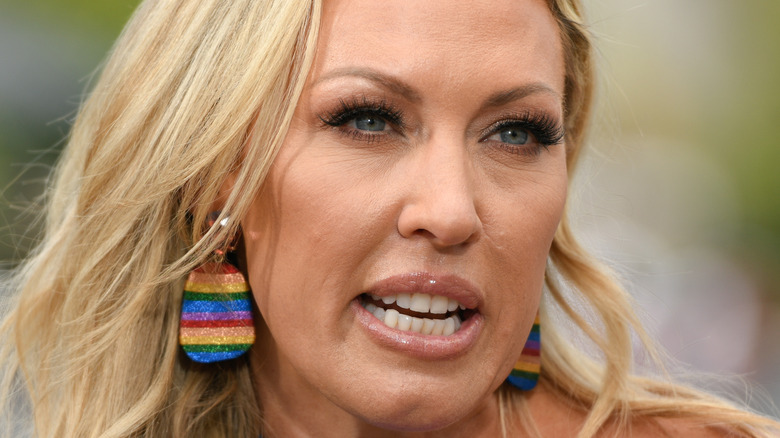 Noel Vasquez/Getty Images
On the most recent season of "The Real Housewives of Orange County," Braunwyn Windham-Burke and her husband, Sean Burke, had a 20-year vow renewal, per Bravo. Shortly after, though, Windham-Burke announced that she was gay, and recently, a separation was announced.
Here is a bit of history: The couple got married in 2000, separated for a bit, got back together, and then in October 2020, stated they were no longer living together. Additionally, Windham-Burke said there was someone special in her life (someone who was not her husband). But then, the next month, Burke moved back in with his wife and their seven children, and they said they would be trying an open marriage, as broken down by Us Weekly.
As of Monday night, there is another update to this dramatic story, as the two turned to Instagram to give a life update, answer questions, and discuss "what's next for The Burkie Bunch."
Braunwyn Windham-Burke will live in Hawaii, and her husband Burke will be in Newport Beach
Braunwyn Windham-Burke and Sean Burke went live on Instagram Monday night. During this time, they said they would be doing a "trial run separation." For about two months, Windham-Burke will live in Hawaii with the kids, while Burke will rent a home in Newport Beach.
Burke's rental is actually owned by a friend of Fernanda Rocha, who is Windham-Burke's girlfriend. Yes, the former "RHOC" star told Page Six last month that she is dating Rocha, who also used to be on this reality television show, as a friend to Tamra Judge. Between December 2020 and April 2021, Windham-Burke was with her first girlfriend, Kris.
June of this year was also when the news broke that Windham-Burke, along with Kelly Dodd and Elizabeth Lyn Vargas, would not be returning to "The Real Housewives of Orange County," which she told People is "incredibly sad."