The Best Waterproof Mascaras To Wear By The Pool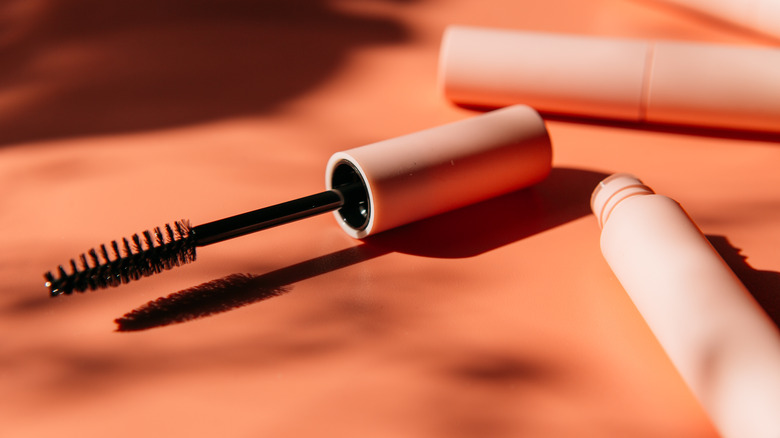 Shutterstock
We may receive a commission on purchases made from links.
When the weather warms up, the first thing we want to do is lounge by the pool. From getting a solid tan to going for an afternoon swim, everyone wants to be poolside when the weather is nice. But sometimes, we end up poolside while on vacation or even while attending parties for friends and family — in a full face of makeup. When we're going to be out and about with everyone, we definitely want to look our best. And, looking our best calls for some beauty TLC. 
Of course, everyone struggles with trying to find the perfect mascara for their lashes, and the hardest part is trying to find one that will withstand all that water and moisture by the pool. Whether you're on vacation lounging out or attending a friend's pool party, finding the right mascara to give your eyelashes that extra "wow" is totally on the mind. 
There are tons of waterproof mascaras on the market that swear to last through anything, but there are a few that are ideal for the pool and can guarantee you won't end up with total raccoon eyes (via Elle). Here are our favorites!
Here are the best mascaras for your pool days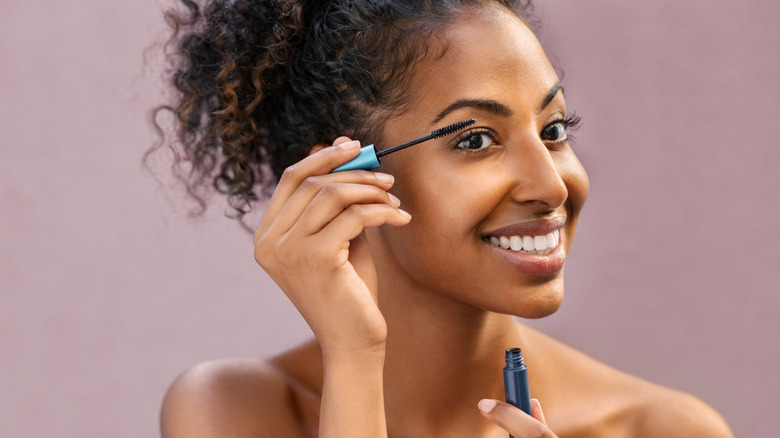 Shutterstock
First and foremost, let's start with Eyeko's Sport Brush Mascara. Eyeko's mascara is perfect for the pool because it's made for sports — including swimming. As we all sweat when we're playing sports, this mascara is made to hold up to all that salt and moisture. Not to mention, Eyeko's mascara is made with collagen and 12 fruit extracts to treat the lashes and make sure they remain hydrated (via Amazon). The best part is that it's totally affordable! At just $18 on Amazon, it's sure to be your best friend this summer. 
Next up is Almay's Hypoallergenic Extreme Length Waterproof Mascara. Almay is known to make makeup that is hypoallergenic, for anyone with sensitivities to makeup and chemicals (via Healthline). Therefore, if you're someone with sensitive skin and are prone to swelling or breakouts, Almay is perfect for you. Not to mention, Amazon customers say it's "great for water parks, and swimming" (via Amazon). 
More mascaras with that no-smudge guarantee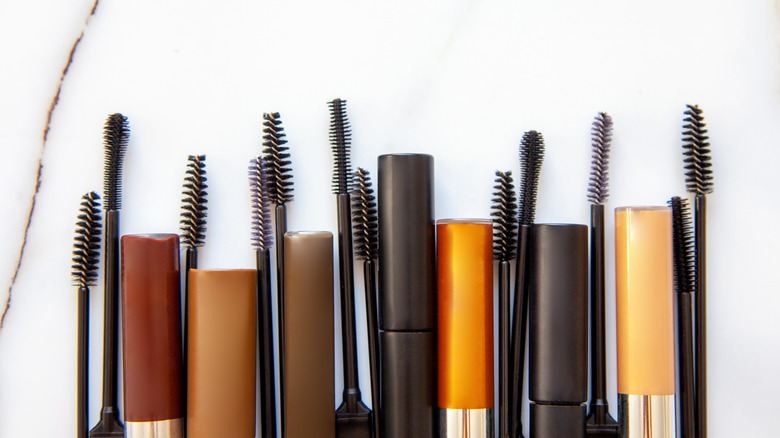 Shutterstock
Next up in the line for best waterproof mascaras is Pacifica Beauty's Aquarian Gaze Mascara. Pacific Beauty's mascara doesn't flake or transfer and has been water-tested to last. Not only this, but it's also free of any parabens, phthalates, silicone, mineral oil, and petrolatum (via Amazon). Their mascara is also cruelty free and 100% vegan. Customers say it even holds up against tears!
HEROINE MAKE's Long and Curl Mascara is a must have for people looking for long lashes. Their formula has some magic in it because this Japanese-based company has some tricks up their sleeves. Their waterproof mascara lasts for hours and is tested to work against water, tears, oil, you name it (via Amazon). One Amazon user said that she even swam laps in the pool with her mascara on and it didn't smudge or drip at all. Clearly, that's some impressive makeup! 
And finally, Maybelline's Lash Sensational Waterproof Mascara had to make our list. Maybelline has done it again — the mascara has over 66,000 Amazon reviews from customers and is an Amazon's choice product when it comes to waterproof mascaras (via Amazon). On top of this, customers say that it's also the best mascara to give your lashes that extra curl that we all want and need. It's not going to break the bank and it'll last through a long day poolside.