Here's Which The Ordinary Products To Use For Wrinkle Prevention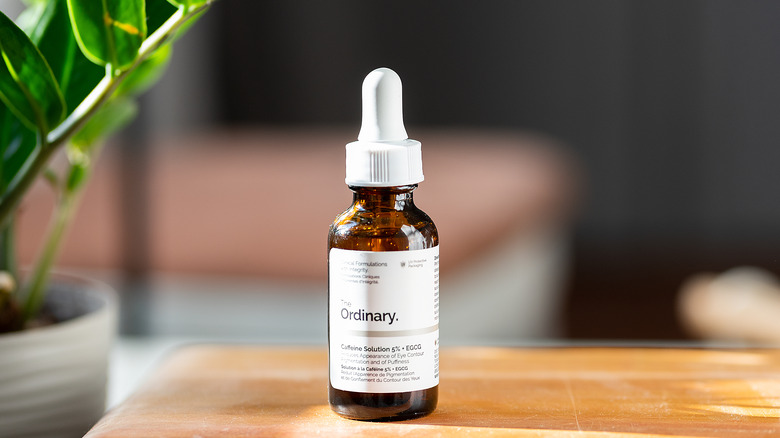 Shutterstock
It's no secret that The Ordinary is fast becoming one of the most popular skincare brands out there. Using high-quality ingredients and labeling its products with simple chemical terms is the kingpin of The Ordinary's brand ethos, and it has become known for its products that do exactly what they say on the bottle.
Every product is cruelty-free and free from parabens, sulphates, and mineral oils (via The Ordinary). It's no wonder then that the super-affordable skincare brand has amassed a cult-like following after parent company Deciem introduced it onto the skincare scene in 2016 (via Forbes) and revolutionized how the beauty industry viewed high-quality products at drugstore prices. 
Founded by the late Brandon Truaxe, an Iranian-Canadian computer scientist and entrepreneur, The Ordinary (under the Deciem umbrella) was acquired by Estée Lauder in February 2021 (via Forbes) and has now become the world's most popular skincare brand, according to Australia-based Lookfantasic's Skinfluencer Index. The Ordinary has garnered a staggering 37,060,000 global searches over the past 12 months, which is over four and a half times more searches than the second most popular brand, Neutrogena (via HypeBae).
The Ordinary's powerful ingredients target signs of aging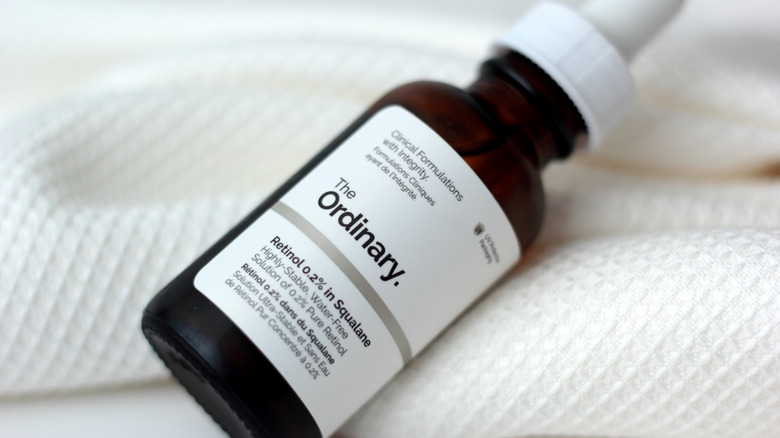 Shutterstock
There are a number of signs of aging, including wrinkles, and you'll find a The Ordinary product out there to target each of them. As we age, we lose elastin and collagen, so it's important to include topical peptides, retinoids, and acids to maintain skin firmness, elasticity, and texture (via Byrdie). Whilst you shouldn't necessarily use them all together in the same regimen and at the same time, the key ingredients from each will help to target signs of aging.
Retinol is one of skincare's super serums when it comes to preventing wrinkles. The vitamin A derivative speeds up cell turnover, whilst treating dark spots and acne, and brightens dull skin along the way (via Marie Claire). The Ordinary's selection of six different retinol products range in strength from a gentle 0.2% to a stronger 5%. Depending on your skin type, it's best to start with a low retinol content and allow your skin to get used to the strength before moving on to more potent formulas.
Maintaining skin hydration is essential to wrinkle prevention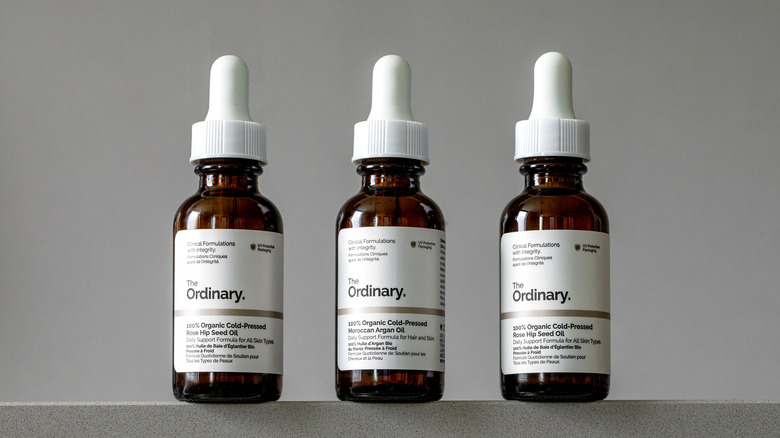 Shutterstock
The Ordinary's Buffet serum -– which contains a multi-peptide mix of hyaluronic acid, amino acids, and bio-derivatives –- targets signs of aging, as well as dryness, dullness, and uneven texture (via Byrdie). Hyaluronic acid is another miracle worker that can hold up to 1,000x its own weight in water, ideal for keeping skin supple and hydrated (via Byrdie). The Ordinary's Natural Moisturizing Factors + HA contains hyaluronic acid as well as 11 amino acids, and a number of other beneficial ingredients to offer " immediate hydration and lasting results with continued use."
A lightweight oil such as The Ordinary's Marula Oil or Rose Hip Oil is easily absorbed by the skin, restoring hydration and radiance. According to Byrdie, Marula Oil is rich in antioxidants vitamins E and C, and as such can help stave off free radicals from UV rays and pollution, too.