The Trendy Eyeliner Simone Biles Wore While Competing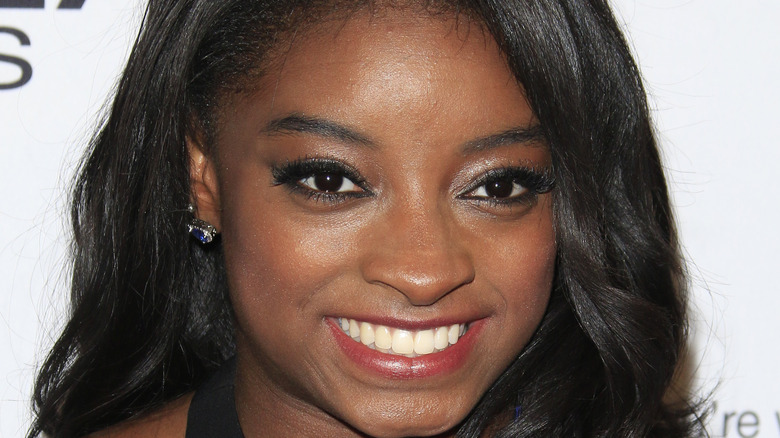 Shutterstock
Simone Biles is fast proving she's the GOAT in her chosen sport, gymnastics, by storming the boards in every competition in which she participates — to an extent judges aren't quite sure how to score her anymore. Biles is in a unique position as an Olympian, since she courts international attention for her makeup and fashion looks too, notably making a major statement with her goat-bedazzled leotard that apparently proclaimed her iconic status for the whole world to see. 
In a video for Vogue, the champion gymnast revealed she always does her own makeup for competitions, noting, "It's what I do out there on the floor that really, really matters." Biles opined, "For me, the importance of beauty in gymnastics does not matter what you look like. It's what you do on the mat." However, she admitted that good makeup does give her a little confidence boost, which explains her killer eyeliner while competing at the 2021 U.S. Gymnastics Championships. 
Simone Biles is just as accomplished at makeup application as gymnastics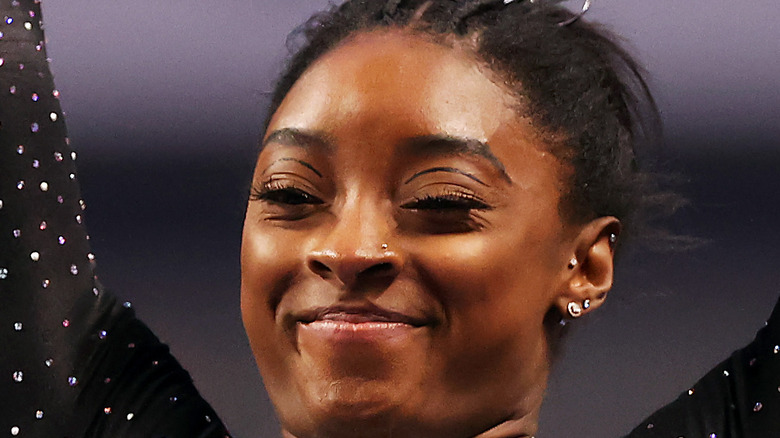 Jamie Squire/Getty Images
As PopSugar noted, when it came time to storm the floor at the 2021 U.S. Gymnastics Championships, all eyes were on Simone Biles' instantly iconic black-and-white, snakeskin-printed leotard, with a jazzy goat in a prominent position letting everybody know who she really was. However, her eyeliner was noteworthy too, since Biles opted for the trendy floating eyeliner that had been taking the beauty world by storm while, naturally, setting yet another record. One of the biggest and most eye-catching trends of 2019, celebrities including makeup maven Kylie Jenner herself were spotted rocking floating eyeliner which, as PopSugar explained, involves applying a slick above the eye rather than in the typical spots. 
Biles is well-known for her fun makeup looks on the mat, telling Vogue, "For competition, I usually go for a gold look," with some glittery shadow alongside a slick of eyeliner and the all-important mascara. However, it's all about the work in the end, with the Olympic star reasoning, "Going into a competition does makeup make me feel better? Yes. But it's what I do out there on the floor that really, really matters."