This Prince-Inspired Makeup Line Would Make Him Proud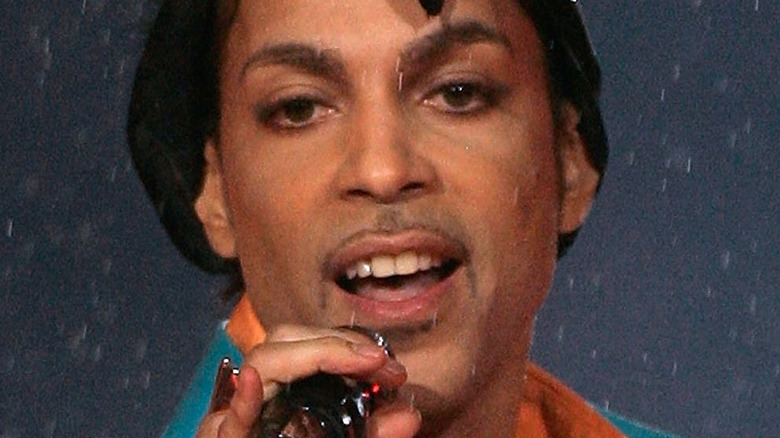 Donald Miralle/Getty Images
Prince Rogers Nelson was a Minnesota-born and -raised singer, songwriter, and multi-instrumentalist who is regarded as one of the most influential and innovative artists of his generation (via The New Yorker). He is best known for his critically acclaimed 1984 album "Purple Rain" — with hit songs such as "I Would Die 4 U" and "When Doves Cry" — which features an enchanting and unprecedented blend of rock, funk, gospel, techno, and new wave sounds.
Not only was his musical ability and songwriting ahead of his time, he was known as a fashion and beauty icon as well (via The Guardian). With his platform boots and frilly shirts, his bold androgynous style also helped normalize makeup for men in mainstream circles (via Byrdie).
That's why it's no surprise that Urban Decay would use someone like Prince as the inspiration for a highly creative makeup collection, titled Urban Decay X Prince. According to the official Urban Decay website, "Every shade was meticulously curated with The Prince Estate for absolute authenticity, featuring exclusive, never-before-seen essentials that give you total creative control," making it a beauty experience you surely won't want to miss out on.
The Urban Decay X Prince collection is a colorful delight
Urban Decay collaborated with those close to Prince in order to truly do the late singer justice with this capsule. As Prince was known for using beautiful women in his life as muses for his art (via Billboard), one of his touring dancers, Damaris Lewis, appears as the face of the collection. They also worked with Randee St. Nicholas, Prince's photographer for three decades (via InStyle). "We found his ethos of not asking permission to be who he was and owning it so boldly aligned with our values of breaking the mold and championing all forms of beauty," said Wende Zomnir, founding partner of Urban Decay.
The Let's Go Crazy and U Got the Look eyeshadow palettes contain matte and metallic shades from cream, violet, blue, gold, and black. The So Dark and When Doves Cry eyeliner pencils in both rich black and bright white are replicated after Prince's fierce eyeliner look. The liquid highlighter leaves a dewy finish in a shade that matches all skin tones, while the multitasker brush is perfect for blending the highlighter all over the face and body. Finally, the All Nighter waterproof mattifying setting powder is the essential finishing touch to keeping your look in place all day, just as Prince would've wanted.
All items except for the Let's Go Crazy palette and the liquid highlighter are vegan. The collection is limited edition, so get it before it's gone!