Are Big Changes Coming For The Cast Of RHONY?
Astrid Stawiarz/Getty Images
The current season of "Real Housewives of New York" isn't done airing yet, but there are already rumblings that a big cast shakeup is being planned for the next one, with reports that original cast member Ramona Singer is on the chopping block. "The only original New York cast member who has never left from day one is Ramona Singer but now her time is up," sources told Radar Online. "Ramona will not be invited back to the next season of the show, which is currently not in production for a couple of reasons. One, she is too expensive. She is the only lady that has been on the show from day one ... and her salary reflects it."
The rumors come as Singer has had difficulty getting along with Eboni K. Williams, RHONY's first African American cast member. The 64 year-old most recently came under fire for telling Williams she doesn't think she has faced challenges because of her race. "You said you've suffered. I said, 'Looking at you, I don't think you suffer," Singer said.
In addition, ratings for the show have fallen significantly this season. "...The basic premise of the show doesn't work anymore," the source explained. "A bunch of older white women behaving badly was fun a decade ago but not today. The world has changed and if the show wants to survive another decade it must change too and that starts with the cast."
Ramona Singer is reportedly being fired from RHONY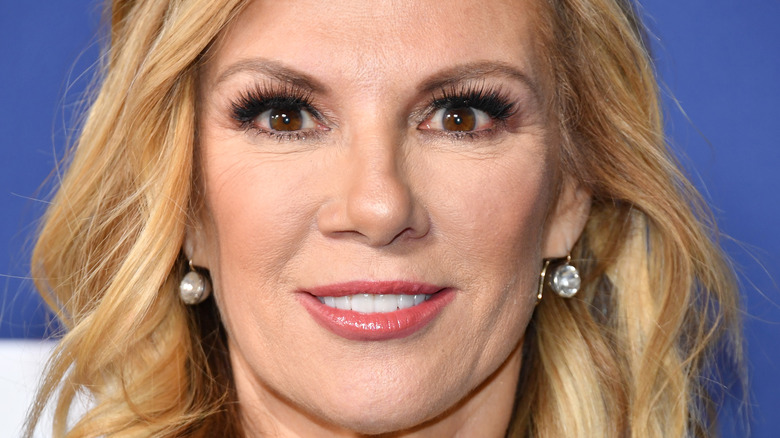 Dimitrios Kambouris/Getty Images
Rumors are swirling that Bravo producers are planning a major casting shakeup for the upcoming season of "Real Housewives of New York." But while there have been reports that Ramona Singer will be the first to be fired, one source claims that isn't true. 
"Ramona Singer ain't going anywhere. This story is complete rubbish," a network insider revealed (per Daily Mail), adding that "One Housewife in particular has it out for Ramona and she wants her off the show. This Housewife is leaking to news organizations that Ramona is fired in an attempt to push the network to get rid of her."
In addition to Singer, the rest of the current cast includes Sonja Morgan, Luann de Lesseps, Leah McSweeney, and newcomer Eboni K. Williams. Since Singer has clashed with all of them at one time or another, there's no telling which cast member could be allegedly targeting her. But the Bravo source points out that no decisions have been made yet for the show.
"We do not make casting decisions this early in the year, we decide after the reunion episodes have aired," the source said. "The production company Shed and the network Bravo really take into account what the fans say online and how they respond to the cast."