The Hottest Color For 2021 May Not Be What You Expected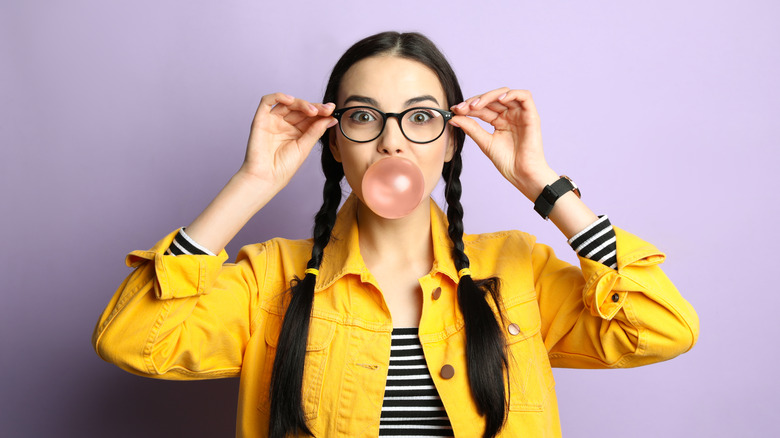 Shutterstock
It is true that the Pantone Color Of The Year is Ultimate Gray and Illuminating, a bright and cheery yellow, but there is another color that is making waves in 2021: bubblegum pink.
Now, this news may scare some people, as they are immediately reminded of little girls' dresses, or if they don't want to go around looking like a bottle of Pepto-Bismol. However, this color can be worn in so many stylish ways. It has been seen at the latest runway shows, by fashion brands like Valentino, Chanel, and Miu Miu (via Who What Wear). It is easily spotted when walking into a store or heading to a website for some shopping. And, in turn, it is seen all over social media, as people rock more and more pink clothes and accessories. There are so many fun options when it comes to rocking a bubblegum shade!
Many celebrities have been showing off this recent color trend
Celebrities have been getting in on this trend, as well, leading to even more instances of bubblegum pink ensembles; when fans see their favorite star wearing certain items, that increases the popularity.
For instance, Selena Gomez was recently spotted in a tracksuit boasting this color when heading to dinner, as reported by The Daily Mail. Rebel Wilson, as stated by Hello Magazine, donned a bodysuit in this fun and funky color. Photos of Karrueche Tran in Miami show that she, too, is a fan of this trend, with her pink bikini (via Hollywood Life). Oh, and with "Legally Blonde 3" coming out next year, according to Variety, there have been more reminders of Elle Woods' outfits, which usually feature this hot color.
So start slow by carrying a pink bag or bracelet, or go all in with a look that screams bubblegum from head to toe!