Why Rumors Are Swirling That Kourtney Kardashian And Travis Barker Secretly Got Married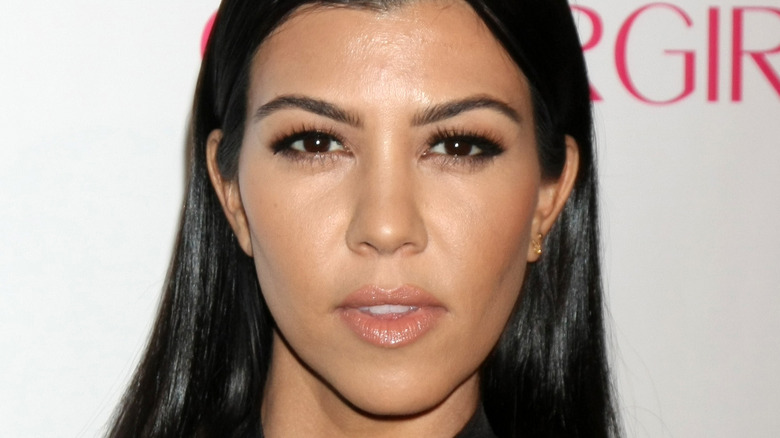 Shutterstock
Kourtney Kardashian and Travis Barker's relationship seems to be heating up. The couple, who went public with their romance back in February, is sparking marriage rumors. According to E! News, Kardashian and Barker are completely smitten with one another and couldn't be happier in their relationship. "They are head over heels and never experienced love like this. Kourtney is the happiest. Travis adores her and treats her so well. It's very different than her other relationships and all positive," a source told the outlet. The insider also admitted that the couple isn't "shy about talking about their future plans of being together," adding that, "It's a special love and they want to celebrate that and enjoy it."
Another source revealed to the outlet that things are so serious between Kardashian and Barker that they've been planning for the future. "Kourtney and Travis have talked about marriage. It was an instant connection and bond ever since they became romantically involved. They are in it for the long haul," the informant dished. In addition, Kardashian's family reportedly approves of the relationship, despite their warm feelings for her ex-boyfriend, Scott Disick, with whom she shares three children. "Everyone in the family adores Travis and their families mesh seamlessly," said the source. "Kourtney is so close with Travis's kids now and vice versa. They have become a family unit together and it's special." Recently, it was revealed that Kardashian had become close with Barker's children. Now, rumors that she may be their stepmother are circulating.
Did Kourtney and Travis get married in Vegas?
Buzzfeed reported that Kourtney Kardashian and Travis Barker are sparking major speculation that they tied the knot during their trip to Las Vegas inn July 2021. The couple, who have been flaunting their PDA all over social media for months, shared a series of snaps of themselves looking happily in love during the trip. However, it was a post by Kardashian's hairstylist, Glen Oropeza, that really got fans talking. Oropeza shared pics of the happy couple and in the caption wrote, "...NOWWW I understand why people tie the knot in Vegas. There's nothing like love AND a good time," he wrote, adding a ring emoji and a chapel emoji. Of course, fans immediately began to question whether or not Kardashian and Barker eloped, but were given no answer. Oropeza later edited his caption and replaced his eyebrow-raising emoji with a simple black heart.
In addition, Barker's daughter, Alabama, also fueled marriage rumors when she took to Instagram to share a sweet snap of her father and Kardashian, captioning the post, "So happy for you guys." Meanwhile, the Daily Mail reported that Kardashian added more intrigue to the situation when she showed off a gorgeous bouquet of white roses that she was given by her sister, Khloé Kardashian, and some fans believed that the gift may have been in honor of Kardashian and Barker's rumored Vegas wedding. Currently, both Kardashian and Barker are staying mum on the marriage rumors, but fans will certainly be watching for more clues going forward.