How The Pandemic Is Changing Theme Parks Forever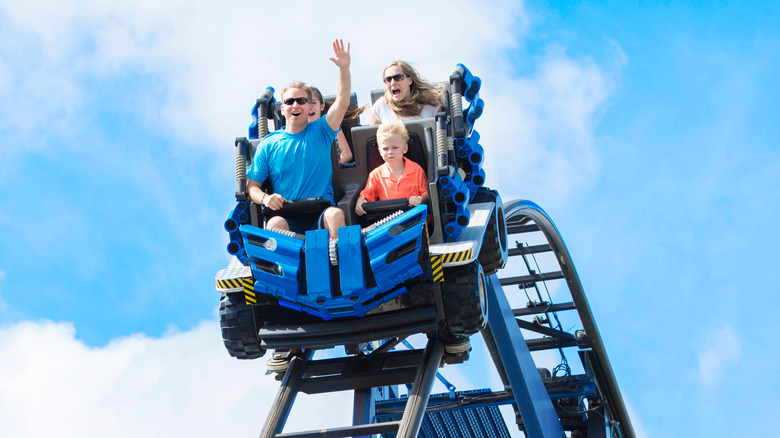 Shutterstock
If it hadn't been for a global pandemic, we might not have ever had reason to question the status quo of things. But now that we're nearly on the other side of a challenging year of lockdowns and isolation, people are beginning to reflect on some of the positives that the pandemic left us with. And one of the leftover messages? We actually have more control over the spread of germs than we might have ever thought. Indeed, as it turns out, wearing masks, social distancing, using hand sanitizer, and washing our hands proved to be incredibly effective at preventing the spread of the coronavirus and flattening the fatal curve. A study by UC Davis Health found that just wearing masks, alone, might have decreased the risk of infection by 65%. And these measures can be extended to other viruses, as well.
As we continue forward and the COVID-19 pandemic becomes a thing of the past, how will we approach potentially germ-infested activities? How will we keep places like theme parks safe and clean so that we never face another pandemic level virus, or even just to avoid picking up everyday viruses and colds? Experts suggest that COVID-19 has meant that theme parks might never be the same again — which might actually be exactly what we need.
Here are some of the high-touch surfaces at theme parks
Shutterstock
It's no secret that COVID-19 has changed the status quo of normal life forever. A global pandemic has made experts focus more on where the hot-spot germ spreaders come from, and in the case of theme parks, there are many different sources. And indeed, it's these particular sources that are being modified in order to decrease infection rates.
According to CheatSheet, some of the "germiest" areas of an amusement park are roller coaster seat belts, park benches, water fountains, water rides, picnic tables, and lockers. While germs will always exist in these high-touch surfaces, parks can help minimize the spread of germs by making hand sanitizer more readily available, wiping down areas more often, and reminding patrons via signs to sanitize their hands (via CNN).
Furthermore, The Sacramento Bee reported that some amusement parks are attempting to mitigate "screaming, shouting and hollering" on rides, as potential droplets can easily spread germs. Some parks have even suggested that visitors "scream inside your heart," while on rides. Like we haven't all been doing that since the pandemic started. 
These are the kinds of changes that patrons want at theme parks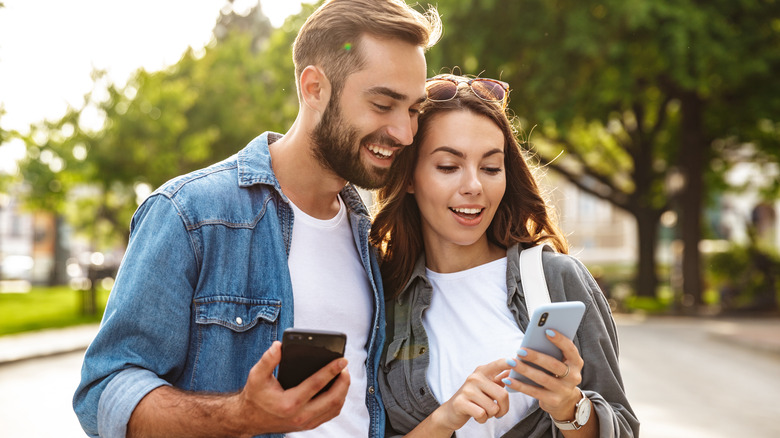 Shutterstock
A survey conducted by Oracle and Merlin Entertainments reported some very interesting responses that showed exactly what kind of safety measures park-goers are interested in. It found that 67% of people wanted to continue social distancing, 58% want to be informed of where the busiest spots are in order to plan accordingly, 54% would like to see pickup times and locations for refreshments, and finally, 53% want to be able to order food and drinks before their visit (via USA Today).
Some parks have begun implementing these suggestions, adding that one of their goals is to minimize the time that people are waiting in lines in order to reduce the spread of germs. According to Simon de Montfort Walker, the general manager of Oracle Food and Beverage, the best part of COVID-19 comes from the fact that it allowed for safety measures to become a top priority. "COVID is like the great accelerator," he said. "Trends that were very clear beforehand have just been like absolutely supercharged."
Legoland in Florida, for example, asserts that using phones for the most interactions will minimize waiting times, encourage social distancing, and reduce the spread of germs. "Your phone is kind of a portal into the park, but it's not an island," de Montfort Walker said. "It's really about integrated apps, integrated to all of the points of service you've got in the park and really enabling kind of that one-stop journey." So when you decide to go back to a theme park for the first time, you might have a very different experience.