The Real Reason Maisie Williams Almost Didn't Audition For Game Of Thrones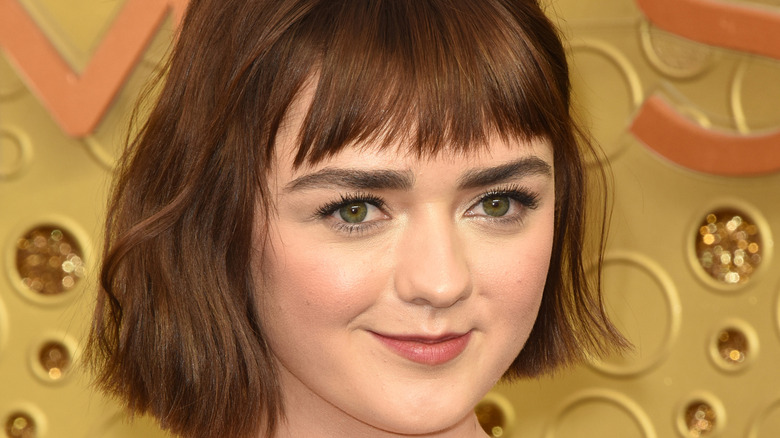 Shutterstock
If a girl was Arya Stark of Winterfell, and she wasn't "Game of Thrones" star Maisie Williams — Arya Stark would remain faceless. The award-winning actress played the role like no other, morphing into the admirably skilled Stark as her vengeful storyline played out in the show's eight seasons. The English actress has quickly risen to be an A-list celebrity and has since been casted in indie projects like "The Owners" and Marvel's "The New Mutants" (via The Hollywood Reporter).
However, the star revealed that auditioning for the role of "Game of Thrones" wasn't something she was entirely thrilled about as a 13-year-old. In an interview with Christine Lampard on British talk show "Lorraine," Williams said, "I desperately wanted to go on a school trip instead — good job I didn't! I wouldn't be here now." The school trip that could've changed the trajectory of Maisie's and Arya Stark's life forever, was a visit to a pig farm.
Pigs were more important to Maisie than Game of Thrones
When asked by Lampard, in that same interview, about whether she had recognized the potential for "Game of Thrones" to be as big as it did become, Maisie said, "I just had no idea." It was Maisie's mother's veto on the pig farm that brought Maisie to Westeros. In a short interview with BBC, Maisie reminisced: "I really wanted to go, because we were going to a pig farm ... Mum's like 'Oh no, you should go. Because you don't have anything to lose.'" But she asked the camera, "Who doesn't want to go to a pig farm when you're twelve years old?"
Can't contest that — and although she did miss out on seeing Peppa's friends, Maisie eventually found herself enjoying working on the hit fantasy show. When the show ended, she told InStyle magazine, "The hardest thing about the show ending is that I'll never get to be Arya again."
However, Maisie continues to be blessed with the best of both worlds, as she finds herself visiting her hometown Clutton often, "It's a lovely place to chill out where I'm just Maisie again, and not the girl off the telly or anything like that," she said (via BBC). We're grateful for her mother setting Maisie's priorities straight — because to us, she'll always be the girl who epically brought down the Night King.