Darcey & Stacey Silva Reveal All About Their Reality Show & Relationships - Exclusive Interview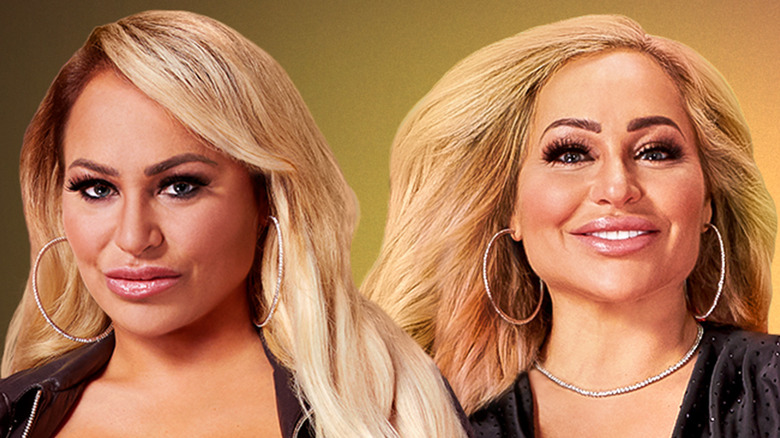 TLC
Darcey and Stacey Silva are living their best lives — together. And lucky for us, we get to experience it all with them because the lovable twins are back with Season 2 of their hit reality show "Darcey and Stacey." The fan favorites were gifted this TLC spinoff after Darcey appeared on "90 Day Fiancé: Before the 90 Days," where the reality starlet and hopeless romantic captured our hearts by always keeping it real and being vulnerable on her journey to finding love. And once viewers met her supportive sister, Stacey, who was always there by her side, they quickly realized that, for the Silva sisters, two is always better than one.
We sat down with the lovely and spunky duo — who literally finish each other's sentences — over Zoom while they were in Miami "getting glammed for Swim Week." The fun-loving pair gave us a behind-the-scenes look into their second season, which premieres on July 19. The two got pretty personal, dishing on everything from Stacey and husband Florian Sukaj's IVF journey, Darcey's meeting with beau Georgi Rusev's ex-wife, and the details of their "twin transformation." (They even gave us some online and long-distance dating tips that they've picked up along the way.)
The future is very bright for these shining stars, who — thankfully — have no plans of retiring from reality TV. They even have their hearts set on earning an Emmy for their work, and their loyal legion of fans is here for it all, every step of the way.
Their twin transformation made them 'a better version' of themselves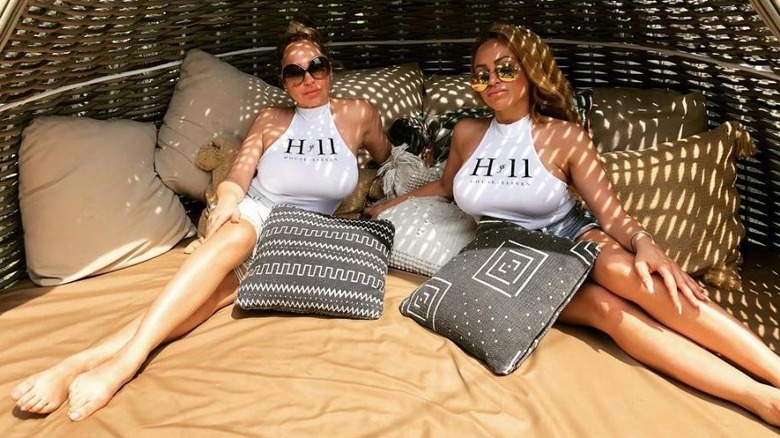 TLC
What can you tell us about the new season?
Darcey: Well, Stacey and I are so excited for Season 2. We're very grateful, and really just continue to appreciate the opportunity that we have to tell our story, because it is a journey. It's going to be a lot more this season — things that aren't easy to talk about, like Stacey's fertility journey, my ups and downs with Georgi [Rusev]. There's a lot of them. There was some lack of transparency there and openness, and I had to reach out to his ex-wife to get some clarity on some things. I don't regret doing that; I feel like I had every right to do that, and there were some things that upset me. I still don't know the full story, but when he reached out to you-know-who, the ex of mine, that was very hurtful to see. But I think that was a very wrong, manipulative move on both their parts, and a slap in the face. You're going to see ...
Stacey: A lot of good moments.
Darcey: ... good moments too.
Stacey: A lot of funny moments, a lot of comedic moments.
Darcey: Twin transformation!
Stacey: Yes, that's right.
So what did the twin transformation entail? What can you tell us?
Darcey: Well, Stacey, definitely, and I got snatched, to the gods.
Stacey: We got snatched; we had some lipo.
Darcey: A little lift, a little lift on the nose, the lips, the boobs. We had some buccal fat removal ... Some lipo in areas where we just felt like we wanted more of a lighter-on-our-feet kind of feel.
Stacey: Yes, I was very top-heavy before and needed a breast reduction, so I went ... Had to do that and do the lift at the same time, and I feel so much better. I feel lighter, feel like the best version of myself. It was the best decision that I ever made for myself. I know for us both ...
Darcey: Yeah, we talked about surgeries before, so it's not a new thing. But for us, we knew this would be the last round of surgeries, in a sense. I feel like we got all the nips and tucks we kind of need, and it's just maintenance at this point. Our nose is still healing a bit, so ... it's really cute. It's just really refined. I just feel like we're a younger, fresher, better version of ourselves. And we don't have any shame in that. The transformation ...
Stacey: We don't mind talking about it, and showing our journey [with] surgery ...
Darcey: I'm more excited to talk about Turkey and the whole experience we had on that transformation. That was the really exciting part.
Their strong 'twintuition' led them on a journey to Turkey this season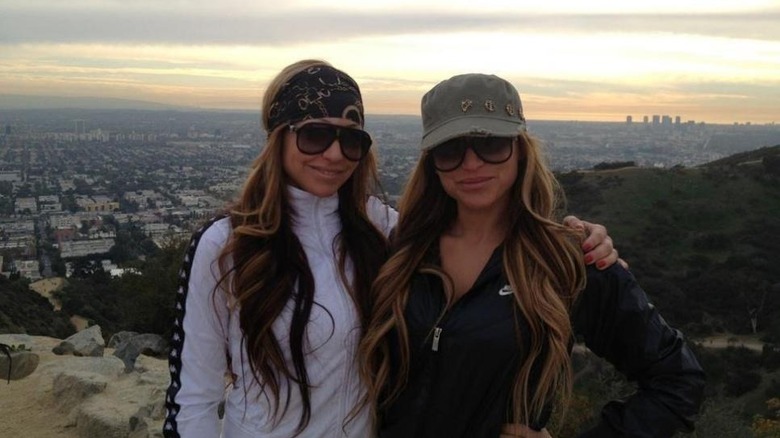 TLC
How did it come about that you traveled to Turkey?
Darcey: We, honestly, we were researching about a year ago. And we were texting one night from separate places, and we happened to be looking at different doctors in different countries. But we both were like, "I think Turkey's the place," and we both screenshotted the same ...
Stacey: The same doctor, the same clinic.
Darcey: Yes.
Really?
Darcey: On the same day! I was like, "Oh my God, I just followed them and liked their stuff too!" So, that's kind of how it started, and that's kind of how we knew that was the one. But we had so many consultations, so many meetings over the phone.
Stacey: I mean, it took us a while to get there, obviously, because of the pandemic, and we had to wait 'til the right time and finally ...
Darcey: We took all the precautions.
Stacey: Yes, we definitely went ... And obviously Turkey was open, and stuff, so we were safe. The crew was safe, and we took all the precautions behind the scenes as well. So, it was obviously a journey that was thoroughly thought out, but also something that we were destined to be. It was like ... You'll see ...
Darcey: Everything lined up, everything lined up. It's crazy; it's crazy.
Stacey: As soon as we got on that plane, even the producers, everybody was like, "Wow, wow, this is ... I get why you guys ..."
Darcey: "Are the way you are." We have this twintuition, and we just kept feeling like we were in the right place at the right time. Even though ...
Stacey: It was a spiritual journey.
Darcey: I was having problems in my relationship back home. It was like I didn't care, I let all that ... I cut the cord, I felt free. I finally felt free.
Stacey: We both did.
Darcey: We both did.
Stacey: We both felt free.
Darcey: It was great.
Stacey: We needed to go to Turkey at that time, it was like ...
Darcey: We were called.
Stacey: ... a calling. It was like a calling, and everybody who was ...
Darcey: You'll see it.
Stacey: ... around us felt that and saw that it was a lot of chilled-up moments. A lot of "OMG" moments, and ...
Darcey: Can't wait to share it with you guys.
Stacey: Yeah, it was amazing.
Darcey: We'll be watching it along with you guys again, because it's beautiful to relive.
These were the hardest scenes for the Silva twins to film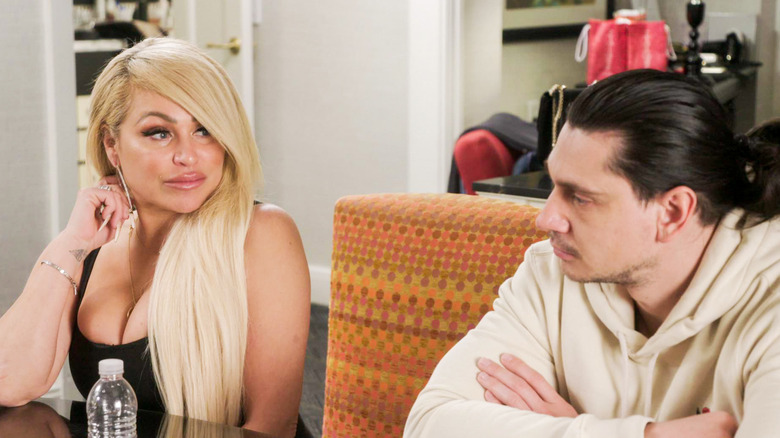 TLC
I did get to watch the first episode of the new season. What were the hardest scenes to film from Season 1 and Season 2­­?
Darcey: I think some of the hardest moments to film were some of the moments where there was trust issues with Georgi. I didn't want to have to feel like that in another relationship; I wanted to have strength in this relationship. It was new, it was still alive, it was still fresh, and there was still a lot of love there. And I just feel like I deserved so much more. In Season 2, you're going to see a little bit more where we dive a little deeper in why our relationship took a little bit of a turn.
And maybe there's hope, maybe there's not. We're still trying to figure out things. On my way to Turkey, there was just some moments where I just felt like I was being bombed with his love. One minute, I felt like he was loving me, and the next, it was just like ... I didn't feel like he did, and it was just this non-trust. I just feel like there was a lack of transparency and openness. Just, I had to realize for myself that I had to heal with me. I had to forgive myself about things, and set boundaries in relationships, and not be such a "yes" person all the time. So, there's a lot of growth that you'll see on this season, for sure.
Stacey: Yeah, I feel like the goodbye before we went to Turkey with the guys, that was very emotional and you guys will get to see a goodbye that was like ...
Darcey: No other.
Stacey: Like no other goodbye. So, just thinking about it now just makes me emotional.
Stacey, this season you discuss IVF. What can you tell us about that journey?
Stacey: Yeah, so Florian [Sukaj] and I have been together six years, long-distance relationship. Now we're married, we are happy, we are living in the moment, enjoying our marriage. We actually are stronger than ever, and it's the perfect time to try for a child of our own. But obviously, my age is a factor, and I had to do the fertility route. During that first doctor's visit, you'll see that I find out that I have a cyst, and it was a shock, and I try to process that. It was actually eye-opening, and I think it's gonna help a lot of women out there to make sure that they get their checkups, and with Darcey too ...
Darcey: Put your health first. It was one of those moments where it's like make sure you're healthy first, no matter what. I know I should get checked out too, because it's been a little bit of a time, and, you know, it's the right thing to do. You want to be healthy, be here for a long time for our kids. She's got sons as well.
Stacey: Yes, I have two teenage sons that are my world. And they're not on the show, but they're very private, and I respect that. They're my life; they're my everything, and I want to be here for a long time for them. Whether there's a biological child with me and Florian or not, you guys will get to see that, but it's ... In Florian's eyes, it's in God's hands. He's a man of faith, and he doesn't care what any doctor has to say. He just is a man of faith, and I am too, I'm a woman of faith, but at this age, we need the help of a doctor. So, we get to see that journey, and what kind of conspires with that, so ... It's emotional to talk about because it's still raw and it's real. And I think women in my shoes can relate. He's 17 years younger than me. I want him to be able to experience a biological child of his own. But how do you do that? You have to make sure that you're healthy and able to. So, it's emotional.
Darcey Silva revealed the advice she gives her daughters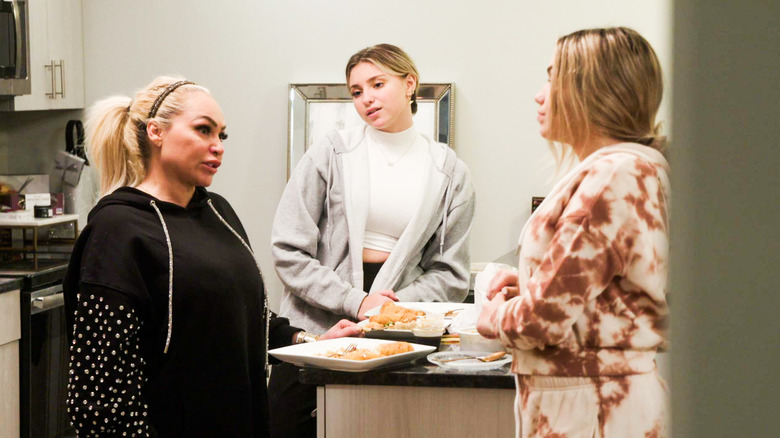 TLC
Good luck with that, and I hope everything works out. And Darcey, speaking about children, I saw the episode where you're speaking to your daughters about high school and dating. And I know you have said you were late bloomers ... so what advice do you give your daughters?
Darcey: Yeah, I mean, Stacey and I were definitely late bloomers, and you know what I feel like, you know, to give advice to my daughters is very important, because I want them to have good heads on their shoulders, and know their worth, and not let anyone take advantage of them. Wait as long as you can, because you're special, and honor yourself and your body. They are beautiful girls inside and out, and I just want them to know that I'll always be there for them, to protect them, and just know that they have a big future ahead of themselves. And I just want them to be with the right person later on in life, when they're older and can understand relationships for what they are as well. And to really gauge that, so they don't put themselves in a vulnerable situation, I would say. They're very smart kids.
Stacey: Very smart.
Darcey and Stacey opened up about ex-husbands and a possible twin wedding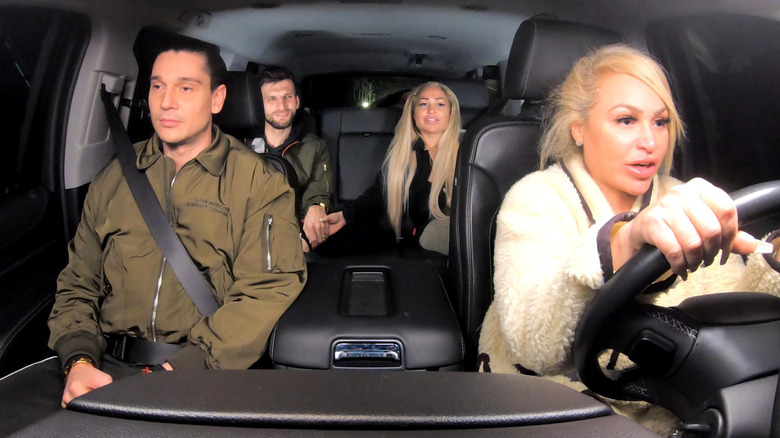 TLC
So, is it true that you guys got divorced on the same day?
Darcey: Oh, yeah.
Stacey: Yeah, we did. We got divorced in 2010 and ...
Darcey: Same day.
Stacey: ... happened ironically on the same day.
Darcey: Actually, our mediator had to prep the judge the day before, saying, "There's these two twins coming in, they're getting divorced on the same day. One has two boys; the other has two girls. They're planning on moving to L.A." And we come in, and he's like, "Oh my gosh, is this a reality TV show?" No, it wasn't.
Stacey: But I guess he was forewarning the future because who would've thought?
Will we ever see your ex-husbands on the show?
Darcey: You know what? I've asked my ex, and he's just ... It's not for him, but he doesn't mind the kids being a part of it. And there's no bad blood, we still co-parent. He's a great dad, and I respect him very much.
Stacey: Yeah, we all co-parent cordially, and everything's great. But as far as them being on the show, I think that ...
Darcey: If they wanted to, they could, but they just ... I don't think they really have an interest in it.
Stacey: They have their own thing going on.
Stacey, you had a quarantine wedding and you said you would plan another one. So what would your dream wedding entail?
Stacey: Yeah, well, I think Darcey and I — with her being engaged and me getting married in quarantine — I dream of that Cinderella wedding, whether it's on the beach or...
Darcey: Got to get to that moment.
Stacey: ... a castle. It would be really nice to do a twin wedding, or something.
That'd be nice.
Stacey: That would really be nice. But something romantic and beautiful, candlelight, just surrounded by family and friends, loved ones. Maybe by the water, or maybe in a castle in Italy. Definitely want to be around family and friends this time. I don't really think the destination matters. It's definitely going to be glamorous, oh yeah. But I think it's having all our loved ones around this time.
This is how Darcey Silva's stint on 90 Day Fiancé came about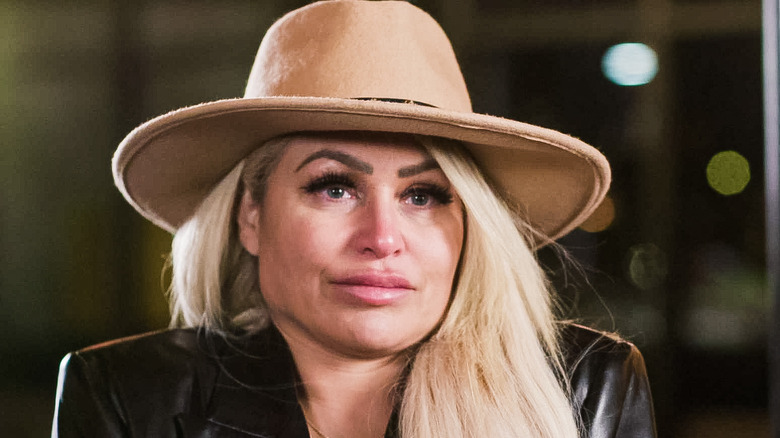 TLC
Darcey, how did your original stint on "90 Day" come about, and why did you want to share your story back at that time?
Darcey: When I was dating Jesse [Meester], we were talking for about four or five months at the time, and there was a casting call for "B90" ["90 Day Fiancé: Before the 90 Days"] Season 1. And I had seen "90 Day Fiancé." I think Stacey was talking about it at some point, because she was with Florian.
Stacey: I was with Florian, and I was in Italy, and I was like, "Oh, this show ..." I didn't have the K-1 visa at the time, so I didn't get casted on that show, but...
Darcey: So, there happened to be some random casting call for Season 1 of a new spinoff. But it was like ... it said something like, "For couples that haven't met in person yet, in hopes of future, a longer relationship, engagement, whatever." And I'm like, "Yeah, why not?" So, I wrote in a letter, and we got on it, and the rest is kind of you-know-what, so ...
Stacey: It was meant to happen that way.
Darcey: But we were already talking for about five months at that time. And I was planning on taking a trip to Amsterdam, but I waited until we were able to film and document that. And then that's when you saw the shoe get stuck in the escalator, and almost my hair. So, that was a huge sign and red flag. That guy.
Stacey: Yeah, I remember when she called me, [and said] "My new Christian Louboutin got stuck."
Darcey: I know.
Stacey: I was like, "Oh, that was a sign."
What is it like to go through breakups that are on camera and that the public can see?
Darcey: It's embarrassing. It's not the best, but you know what? I'm just showing my real, authentic self. I'm very open, I'm very honest, I'm very transparent. I just want the same in the relationship. And there's a lot of stuff that happens behind cameras. And I always try to say that side, whether it gets shown or not. There's only so much you can show on a one-hour show.
But I felt like I dealt with all the things I needed to deal with in those past relationships to say my piece and break free in a sense. I was just like, "This is not working." I was very strong-willed. She knows that. [Points] And I knew those relationships had to end, because they weren't right. I knew. I'm not desperate or dumb. I just felt like those relationships didn't serve me anymore, for whatever reasons. You love hard at times, but I knew when to walk away.
Darcey and Stacey both met their significant others on Instagram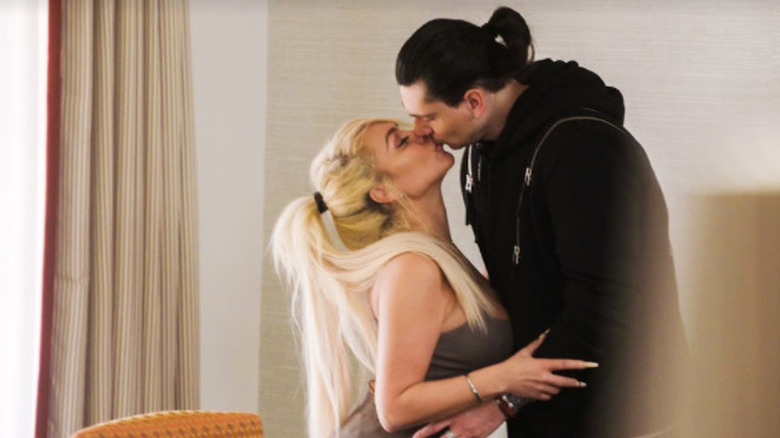 TLC
You both met Florian and Georgi on Instagram, right?
Darcey: Georgi reached out to me on Instagram. So yeah, he was following me for a while and messaging — very friendly, very sweet. I wasn't even looking towards anything. And then I was going to the Super Bowl, he saw on my page, and I was single at the time, kind of circular dating or whatever. And we met up, and that's how we connected. It was great when we met. We kind of were inseparable, at that point ever since until COVID, and him coming to Connecticut and everything. So yeah, on social media.
Stacey: Yeah, same here.
Darcey: Yeah, both Instagram actually.
Stacey: Yeah, we met ...
Darcey: But hers was what?
Stacey: ... way, way before 2015.
Darcey: Yeah, long time ago.
Stacey: Yeah, on Instagram, and then we just talked every day, and created that bond. And I flew out to Albania a few months after connecting and talking every day, and it was beautiful. We've been together ever since.
I'm dating online now and I met someone who's long distance. I live in New York City, and he lives in Buffalo. So, it's technically New York, but it's far, so we haven't met yet, so we FaceTime. What's your advice for dating online and long-distance relationships?
Darcey: Yeah, I think that's really great. I think nowadays it's a safe place to be — you can date from afar and get to know that person, and see if there's any red flags first and foremost. But the more you talk, the more you FaceTime, the better. You want to see the person face-to-face; you want to make sure they're who they say they are. Just ... be open to a point; don't give everything away. But just feel it out. Go with your gut. Women's intuition's very strong.
That's true.
Darcey: I think there's nothing wrong with online dating.
Stacey: People have connections from afar and love shows no boundaries, so when you feel love for someone or a connection, see where it goes. Don't have expectations. Just let it flow.
Darcey: And I think it's okay to have options, especially in the beginning. You want to see ... Try out a different couple of people online; see who you vibe with the most. That's what I was doing after Tom [Brooks]. I was like, "I'm not going to just settle on one person that I feel like ... Because I want to choose, I want to choose." Plus I was on my way to Miami ... he saw that story! He saw that Instagram story.
Stacey: He sucked you in.
Darcey: He's like, "I was thinking of coming too." I'm like, "Yeah, well, come on, come on, I'll see you ..." And there you go, I got sucked in.
This power duo does not have time for social media haters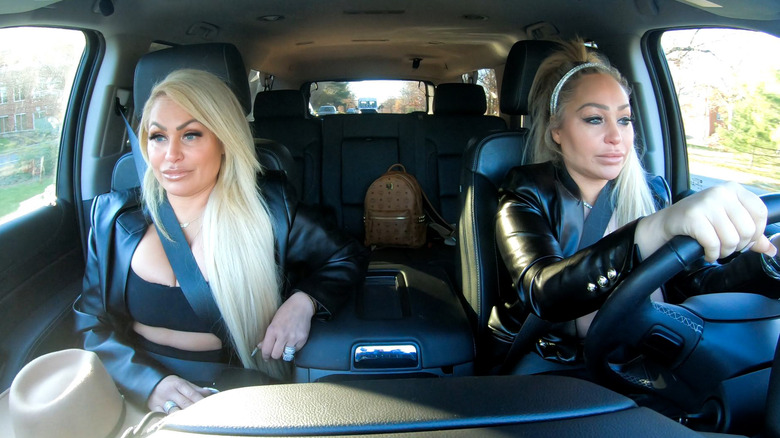 TLC
When I interviewed Loren and Alexei, we spoke about this. What is the hardest part about being in a relationship with someone from abroad?
Darcey: The timing, I think. Obviously the hours ... The difference in time.
Stacey: It's a lot of dedication, you know what I mean? It's not only time spent, trust ...
Darcey: Money.
Stacey: ... resources, money. It takes a lot of money to travel, especially long distance, overseas — someone's got to pay for it. You got to protect your heart too, because you just ... You don't know. You got to really get to know that person, and then their family, and get know their surroundings too. Make sure that they are who they are ...
Darcey: Who they introduce you to, if they include you in their world. That's important.
Stacey: Yes, whenever I would go to Albania, I was always included with Florian's family — his mother, father, sisters. And I even stayed with them in their home. It was like, I'm part of their family. His dad would cry every time I would go back home and leave, and we still ... It's still an amazing connection, and you have to experience that too. Then you know it's really real.
Exactly. So, I also interviewed David and Annie, and we spoke about the messages that they were receiving on social media, both good and bad. What are some messages that stand out that you've gotten?
Darcey: With social media it's a tough one, because Stacey and I always try to stay positive, and everything. Obviously, we have a lot of haters, and stuff like that, but we try to tune that out. Especially with the kids, and them having a following as well. We really just try to guard that a lot, we don't want ...
Stacey: We're busy, so a lot of the times we don't get to the really ...
Darcey: We'll post a picture ...
Stacey: ... nasty comments and if it's really ...
Yeah, exactly, you don't have time to read all that.
Darcey: We don't have time to read all that, to be honest with you. I'll see some people I recognize, comment, like, and then I'll DM people, message them back, "Thank you for your love and support," and stuff like that. But I ignore the nasty ones. I don't have time to ...
Stacey: We keep it positive.
Darcey: ... delete all day long. If someone sees something and brings it to my attention, I'll be like, "Oh, okay, I'll delete, because that's freaking nasty," ... and then block the person. But I don't have time for that. We're busy. When you're filming a show, it's all day. We got kids too, we've got a life.
Stacey: Yeah, and a company [House of Eleven] to run. We're multitasking.
The twins' goal is for their show to earn an Emmy Award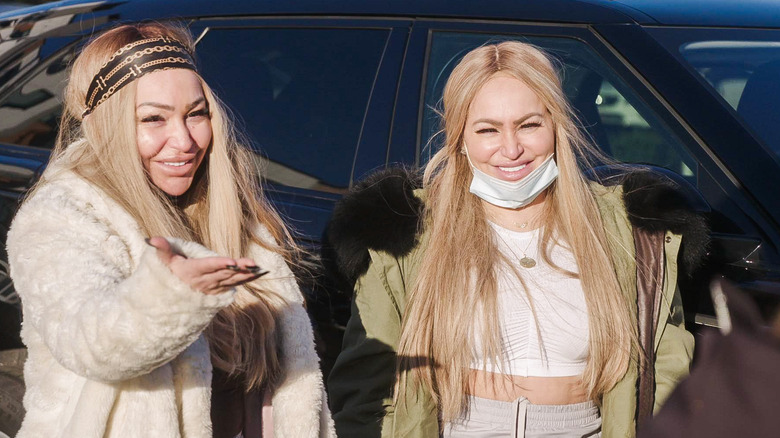 TLC
When you tape the show, what is your routine beforehand? How do you pick your outfits? What are your makeup and self-care regimens?
Stacey: Every scene's different ... Yeah, just depends on the day.
Darcey: Depends if it's a morning scene, or if it's ...
Stacey: We keep it real.
Darcey: ... or if we're going somewhere.
Stacey: We wake up sometimes with no lashes on, no makeup on, our hair in a bun. It's real and raw. Trust me, we love our glam.
Darcey: Of course, we're in Miami now, we're getting glammed for Swim Week. It's nice to have all this.
Stacey: We love the glam, we love to doll up, but we don't always get to do that when we film.
Darcey: But you can't do it every day.
Darcey: But that's okay. You get to see the real deal.
Stacey: You saw before surgery ...
Darcey: You saw it all. We bared it all.
Stacey: Darcey dancing in a diaper, no makeup on.
Darcey: I have a great twerk.
Stacey: Freeing the boob and everything else. We bared it all.
My last question is what are your future plans? Do you want to stay with the franchise? Would you want a Season 3?
Darcey: I think to stay with the franchise would be a blessing and amazing. We are very loyal to the network and production company. I feel we built a family altogether. We say the "Dream Team." We got that Emmy on our phones. We are going to manifest that, so bring it on, we'll take more.
Stacey: We're getting that Emmy and it's teamwork because I feel like ...
Darcey: Team effort.
Stacey: ... it's a family unit in the show, and the network, and everybody that we work with.
Darcey: Yeah, we're very grateful and blessed.
Stacey: It's our life, but I feel like we're making TV gold. And I feel like everybody deserves an Emmy, because you know what? They all work so hard, so hard.
Darcey: That's right.
Season 2 of "Darcey & Stacey" premieres Monday, July 19 at 8 p.m. ET/PT on TLC and is also available for streaming on discovery+.