The $5 Tool You Need To Wash Your Makeup Brushes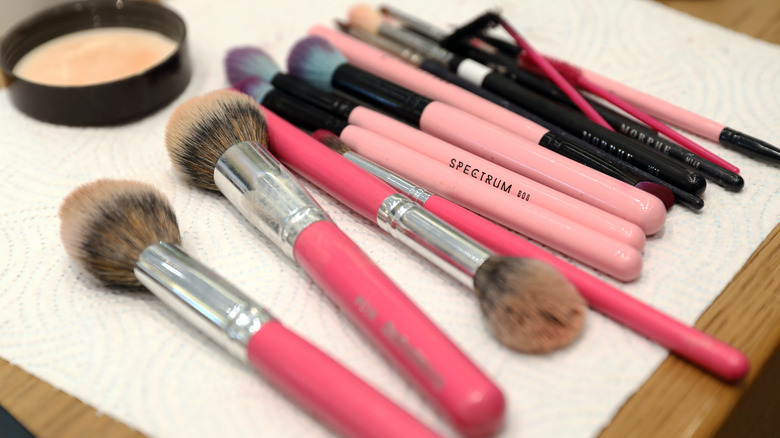 Tristan Fewings/Getty Images
Washing makeup brushes and sponges can feel like a chore. But there's a new tool that will make you want to wash your makeup applicators, and the best part is that it's only $5. Available at Five Below, the Makeup Brush Washing Machine claims to be "a fun way to clean your makeup sponges and brushes." The tool is a mini washing machine that requires two AAA batteries. According to Five Below, all you need to do is to fill the mini machine with water and brush cleanser, place your sponge or brush in the machine, and then press the button to start the wash cycle. There is even a hose attachment that will drain the water out after you're done cleansing your tools. Newsweek listed the product as one of 20 products that have sold out as a result of going viral on TikTok, and Teen Vogue has listed the product as a "TikTok-approved" product you need to buy. 
Videos on TikTok show the process of using the machine to clean makeup sponges under the hashtag, "#BeautyBlenderWashingMachine," which has over 12 million views (via Newsweek). Beauty guru Laura Lee tested the machine on her used sponges and brushes. She found that it worked well with her brushes, leaving them nearly spotless. "This works better as a brush cleaner than a Beautyblender cleaner," Laura said. According to Laura, the only downside is that you would have to rinse all the brushes as there is still soap residue on the bristles. 
How well does the machine work on sponges?
Kat and Hailey of Beauty News also reviewed the Makeup Brush Washing Machine, using dirty makeup sponges that had long-wear foundation and concealer on them. While the pair did not recommend the machine for cleaning sponges, they did find that the machine worked better than they expected, resulting in sponges that were visibly cleaner than before. "If you can get the propellers to be in contact with the dirty part of the sponge, it's going to clean it. It's mimicking the motion of when you would massage the sponge into your hand with a cleanser to break down the makeup and then loosen it under a tap to get the product out," said Hailey. 
The pair still enjoyed testing out the machine. Hailey added, "I wouldn't say that I believe this machine has washed sponges to perfection. I believe it can clean to some degree. And I think it's fun." Laura Lee also had a positive experience testing out the machine. "This was really fun. I enjoyed it. I had a good time playing with it," added Laura. So if you need something to motivate you to finally clean those makeup tools, it might be worth considering the $5 Makeup Brush Washing Machine to turn the normally mundane task into a fun experience.