The Grown-Up Way To Wear A Mini-Backpack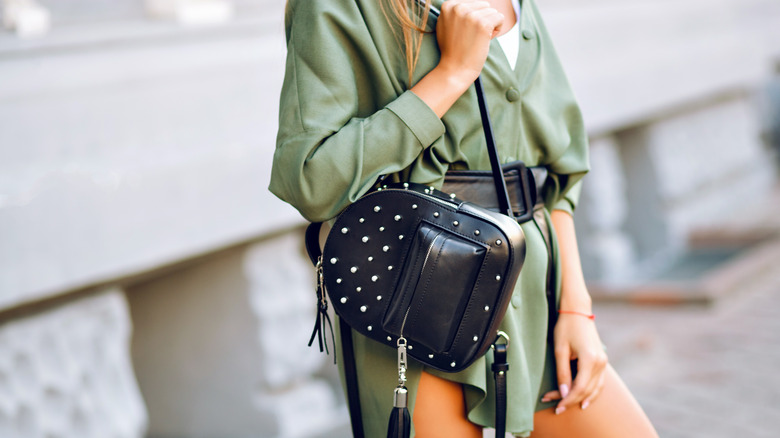 Shutterstock
'90s fashion never seems to go out of style, and TikTok's biggest influencers love cherry picking from its most nostalgic trends. At the beginning of summer 2021, oversized varsity jackets were having their moment on the video-sharing app (via Who What Wear), and high-waist boyfriend jeans knocked skinny jeans off of their fashion throne after Gen Z declared them cheugy (via ET). Mini-backpacks ruled the '90s, and now they're the latest trend to make a comeback. 
'90s favorite mini-backpacks are way more convenient than handbags since they're lighter, hands-free, and offer just enough space for your everyday essentials without weighing you down. But there's a fine line between loving the aesthetic of a mini-backpack and knowing how to wear one without it appearing as if you're trying to chase after your childhood memories. Here are the best ways to style your mini-backpack so you look like the put-together adult that you are.
How to make your mini-backpack look classy, mature, and cool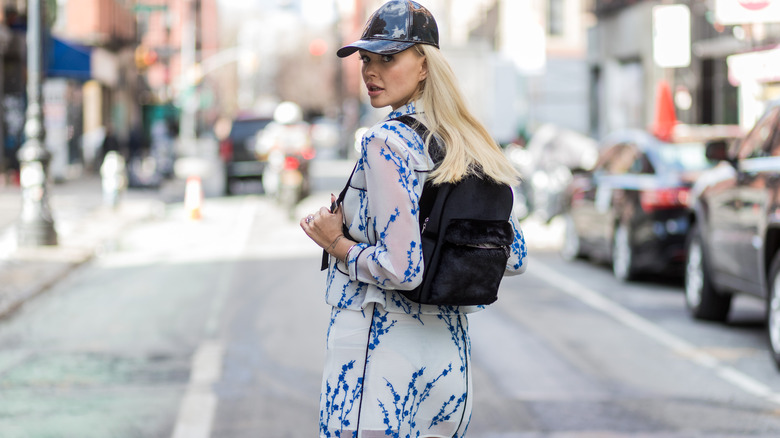 Christian Vierig/Getty Images
The first rule about wearing mini-backpacks that are grown-up friendly is finding ones made from high-quality material (via Fashion Magazine). Whether that means splurging on a designer bag or going thrift shopping for a one-of-a-kind piece is all up to your spending comfort zone. Per HuffPost, it's just as important to put a discerning eye to your outfit choice. Avoid any clothing that gives off back-to-school vibes like Cher from Clueless' iconic plaid skirt and blazer set, or makes you look a lot younger — lovers of the TikTok-favorite "soft girl" aesthetic, beware.
Instead of buying mini-backpacks in super busy prints, go for ones that play around with texture (via Fashion Magazine). Leather, canvas, and suede are always going to be in style and complement every look and age group, so definitely stock up on bags made from these materials (via HuffPost). Bonus if you snatch up a bag made from a combination of at least two of these. Also, for maximum use, your backpack should be big enough to carry your wallet, makeup bag, and the book you're currently reading, but small enough to throw over a shoulder or carry in your hand using its top handle.