The Ultimate Guide To Achieving A Trendy Soft Girl Aesthetic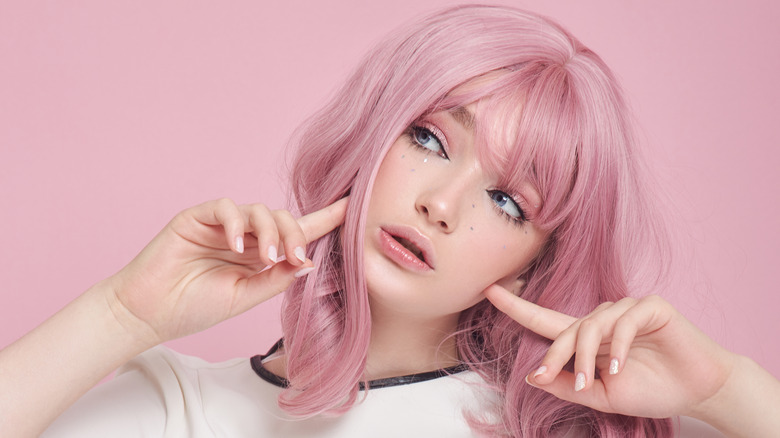 Shutterstock
If you love the TikTok-approved "soft girl" aesthetic, there are tons of ways to achieve the slightly-cottagecore, super-femme look. Delicate as a cloud, soft girls are defined by pastel colors, Instagrammable bags, and shimmer everything (via Aesthetically Chic Beauty). Probably listening to Olivia Rodrigo's "Sour" as they slip on pink Air Force 1's, soft girls are the epitome of sweet, yet bring edginess through accessories. Curious about how to achieve this style? Here's everything you need to know.
As per CNN, soft girls and their cotton candy look are the "antithesis" to beachy VSCO girls and gothic e-girls. Seen on TikTok videos the world over, and notably on Ariana Grande, soft girls are all about pigtails, hair clips, and '90s-style sparkly makeup. Even if you switch between moody e-girl and sugary-sweet soft girl, there are ways to nail this candy aesthetic in a heartbeat — you just need items you probably already have in your beauty arsenal and closet.
First off, it's important to think about your soft girl makeup, which should definitely include a whole lot of pink. According to Cosmopolitan, you should pile on the rosy blush on the apples of your cheeks, and don't be afraid of trying bold pastel eyeshadows. You can even try "drawing little freckle-like hearts on your face" which is everything we never knew we needed in a makeup look. CNN even recommends delicate tattoo stamps (maybe scattered along the cheekbones) and of course lots of Y2K glittery lip gloss and shimmery highlighter.
Everything to know about the soft girl aesthetic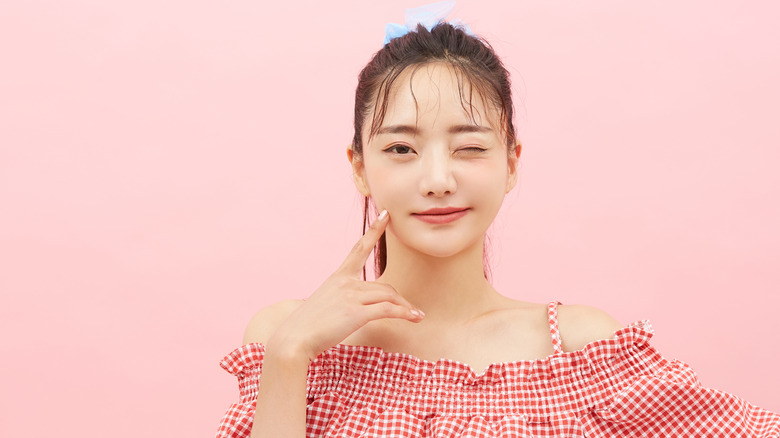 Shutterstock
For soft girl clothes and accessories, it's time to raid your closet for anything pink — but a few other unexpected items, too. As per CNN, your soft girl wardrobe should include oversized clothing: we're talking big sweaters that can be worn as dresses (à la Ariana Grande), baggy pants worn with tiny crop tops, big cloud-like sneakers, and trucker jackets worn over dresses. Not everything is pink either, with soft girls loving other pastels like buttery yellow, sky blue, pistachio green, and lilac.
Explained by Cosmopolitan, soft girls have a "dreamy and romantic vibe," with Instagram photos ranging from nostalgic picnics, to sparkly selfies, to pink sunset beach photos (even if still wearing baggy jeans and a crochet top). But this aesthetic is cut-up by chunky, surprising accessories so it's not too sugary either — this style is truly the mid-point between sweet and sour (and we love it!). Pair your cloudy-pink outfits with edgy, slightly goth items: chunky boots like signature platform Doc Martens, "Sex and the City"-style baguette bags in black or neon, or unique sunglasses to make your look stand out even more.
Soft girls are all about accessories, so try out gold chain necklaces with words like "babygirl" and "angel," or jewelry with butterflies, crosses, or locks (via Aesthetically Chic Beauty). Pile on all the barrettes, or try jelly chokers, scrunchies, or towel-material bucket hats. For prints, you need some plaid, and yes, lots of sweet florals.