The Mascara Hilary Duff Swears By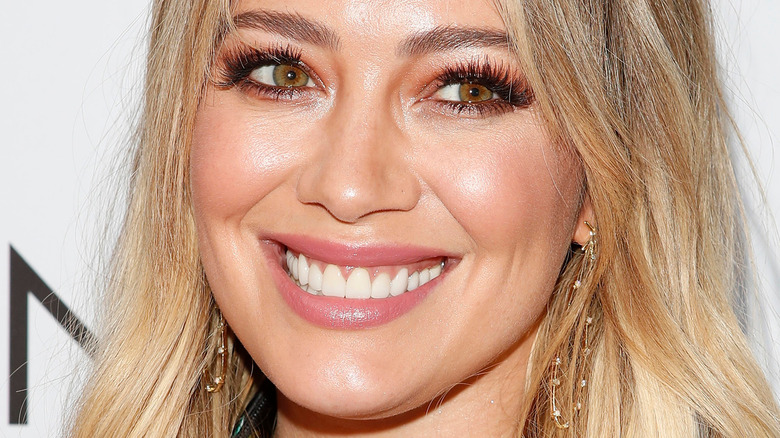 Shutterstock
Who could forget Hilary Duff's doe-eyed Lizzie McGuire when she finally leaned in to kiss her best friend Gordo in "The Lizzie Mcguire Movie?" Or how about Duff's soft, low-key lash situation against that iconic teal background of her 2003 album "Metamorphosis?"
As a mom of three, there's never a dull moment in Duff's house. "I love when everyone's full of energy and the house is buzzing. You never know what the day is going to bring or what your kid's going to say," she told People. Given her packed schedule, Duff knows the value of a simple but gorgeous makeup routine. In 2020, the former Disney Channel star teamed up with Vogue to share her routine. "I'm a busy mom. I don't have a ton of time to do my makeup, but ... on a day when I, like, have my kids, but I also have a couple meetings, I want to look like I've put some effort in.
A key product for achieving Duff's go-to look? Her fave mascara that is surprisingly affordable.
Hilary Duff is 'obsessed with' this product
Hilary Duff uses Grande Lash mascara, a product she is "obsessed with," to create her signature look. "I want to have an awake-looking eye," she said in her Vogue makeup routine video while applying extra mascara to the center of her top lash, avoiding cat-like longer outer lashes.
Going for about $25, Duff swears by Grande Lash. Containing a serum as well, this product will give even damaged lashes a boost. "I had eyelash extensions for, I don't know, six months, and my lashes are finally getting a little bit better," she revealed. "I never remember to do the serum, but this mascara has that serum in it, so it's like two-in-one. It's working for you during the day."
There you have it! Even if you're a busy mom on the go like Duff, you can still easily create an eye-catching look without breaking the bank.