The Real Meaning Behind Country Star Jana Kramer's Tattoos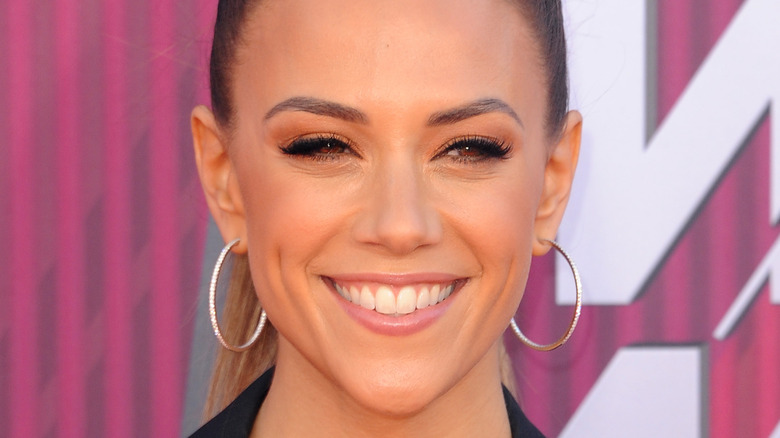 Shutterstock
In April 2021, E! News reported that "One Tree Hill" and country star Jana Kramer had filed for divorce from Mike Caussin after six years of marriage. And it'd seem that the singer has been moving on in her own ways. In fact, she got some new ink to commemorate the major life change. She's actually been sharing all of her ink news on her Instagram.
In regards to her divorce, Kramer has spoken openly about how it's affected her family, which includes the two children they share. People outlines that the eldest, Jolie Rae is five and their youngest, Jace Joesph is two. Speaking candidly on her podcast, "Whine Down" Kramer shared, "It's definitely hard and it's one of those things where sometimes, like, the process with us has been really challenging because there is that betrayal. He has so much resentment."
The Daily Mail reported that "inappropriate marital conduct, irreconcilable differences, and adultery" were the grounds of the divorce with Caussin admitting to cheating on Kramer with multiple women back in May. At this time, the singer has primary custody of their two children.
On Instagram, Kramer wrote, "The last few months would have been impossible if it wasn't for my tribe. They have been there to celebrate me at my highest and to lift me up at my lowest." She has shared the divorce process with her followers and some of the changes she's making to her appearance, including getting new tattoos.
Jana's tattoos have a deep family meaning
Jana Kramer took to Instagram a picture of herself with her two young children with her 2 million followers. In the third photo on the carousel, Kramer unveiled a new tattoo. In superfine line black calligraphy, Kramer had "Jolie Jace" tattooed to honor her children. She captioned the snapshot, "Movie bound! Heading to CT...where should I take the kids?!? Also swipe right to see my new tattoo for kiddos."
This isn't the first time that the country star has shown just how much family means to her by getting ink that represents those closest to her on her body. On June 29, People reported that Kramer was undergoing laser sessions to have a few tattoos removed from her arm. She had her daughter's birth date and her anniversary with Mike Caussin tattooed on her inner arm.
The publication outlined that Kramer explained that following her separation with Caussin, she planned on a fresh ink start. "What I'm getting removed is obviously the anniversary and then I am also getting the birth date removed because I'm gonna do a Jolie and Jace tattoo in a new area. I'm gonna dedicate a new area to Jolie and Jace, I'm excited."