Of All Princess Diana's Looks This One Stands Above The Rest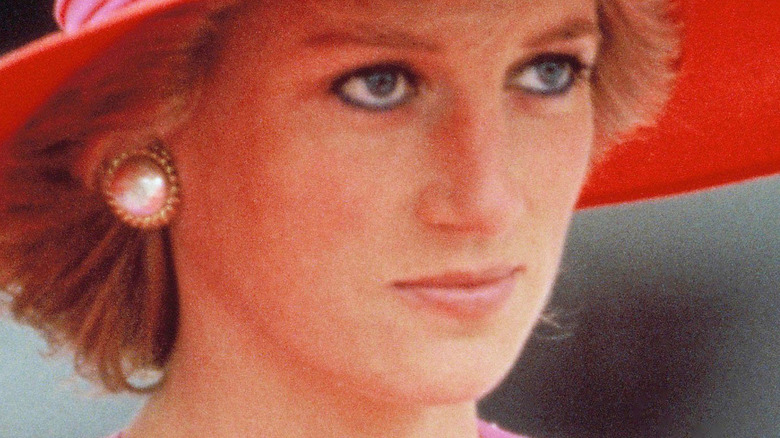 Georges De Keerle/Getty Images
Princess Diana wore many of her looks flawlessly, but it was her 1994 Christina Stambolian dress that caught the most attention. Known as Diana's "revenge dress" (via Vogue), the dress was one of the more revealing outfits that the princess wore and subsequently became the most talked about.
Attending a fundraiser hosted by Vanity Fair, Diana paired the dress with a sapphire diamond necklace given to her by the queen mother (via Oprah Daily), a sheer scarf, and heels. Diana had reportedly had this outfit in her wardrobe for three years, and was originally planning to wear Valentino for the event. But she changed her mind "last minute," according to Vogue, for some unknown reason.
However, many have attributed the sudden wardrobe change to her ex-husband Prince Charles, who just so happened to have a TV special airing that night where he publicly admitted to having an affair with Camilla Parker-Bowles.
Princess Diana's 'revenge dress' sold for $65,000 at auction in 1997
Prince Charles and Diana separated in 1992, and their divorce was finalized in 1996 (via History). While the princess had undertaken many public outings by that point, the "revenge dress" stood above the rest for it being so far from the usual royal fashion protocol. It's not so often to see a British royal in a dress with a plunging V-neckline and shorter hemlines as it goes against the usual rules of royal dress (via Cosmopolitan), but Diana had a penchant for straying from these guidelines occasionally (via Hello!) — which was especially noticeable with the dress in question.
"She decided she was going to fight back, and she decided she would choose a dress that she had previously rejected as being a little too much," William Ivey Long, costume designer for the Broadway musical "Diana," told People (via Yahoo). "And she would put that on and go out on the town."
Two months before Diana passed away, she put 79 of her dresses up for auction at Christie's in New York City to raise money for The Royal Marsden Hospital Cancer Fund and the AIDS Crisis Trust (via The New York Times). The "revenge dress" sold for $65,000, as reported by People.