Darcey And Stacey Silva Spill The Details On Their Twin Transformation - Exclusive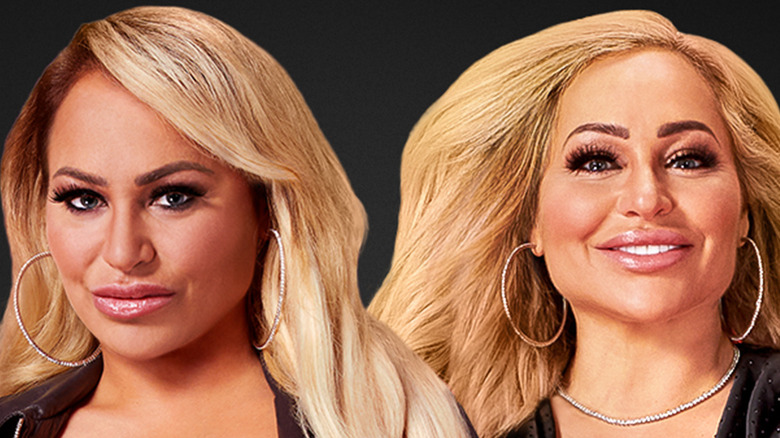 TLC
Reality TV's favorite twins, Darcey and Stacey Silva, are back and feeling like a "younger, fresher, better version" of themselves. And part of the reason for this is the "twin transformation" that the sisters recently underwent on Season 2 of their spinoff show, "Darcey and Stacey" (via YouTube).
The List sat down with the sweet and spicy sisters — who are so close they can finish each other's sentences — over Zoom to celebrate the premiere of their second season. The hit TLC series debuted in 2020 and quickly became a fan favorite amongst "90 Day Fiancé" viewers who first met Darcey when she and her Christian Louboutins appeared on Season 1 of "Before the 90 Days" (via YouTube).
The lovable pair opened up about their life-changing self-care journey, which they cannot wait to share with fans. "We'll be watching it along with you guys again, because it's beautiful to relive," Darcey said. The once-in-a-lifetime experience involved a trip to Turkey to get "snatched to the gods," which Stacey called "the best decision" they ever made. Darcey also teased that this will be their last round of surgeries. "I feel like we got all the nips and tucks we kind of need, and it's just maintenance at this point," she said. 
Twins Darcey and Stacey shared all the details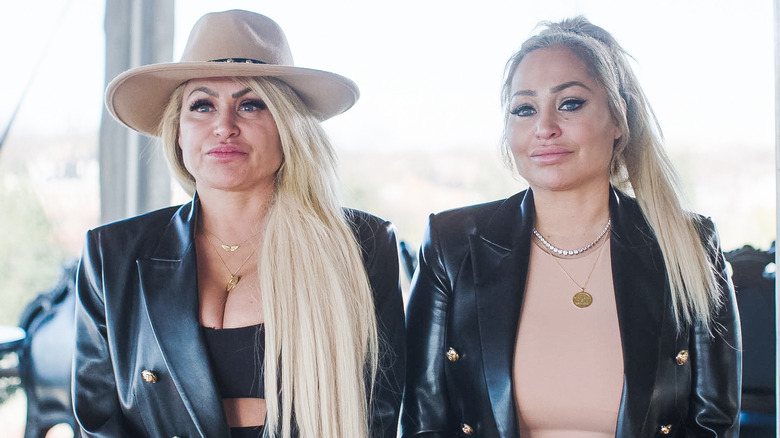 TLC
As devoted fans of "Darcey and Stacey" are well aware, the ladies do not hold back when it comes to baring it all and have no shame in sharing what they went through. So, needless to say, they did not hesitate to reveal all the details of their surgery. "A little lift, a little lift on the nose, the lips, the boobs, we had some buccal fat removal," Darcey Silva explained on what the procedures entailed. "Some lipo in areas where we just felt like we wanted more of a lighter-on-our-feet kind of feel."
As for her other half, Stacey Silva revealed that she felt lighter due to the breast reduction she gets this season. "Yes, I was very top-heavy before ... Had to do that and do the lift at the same time, and I feel so much better," she dished. The twins also had some reconstruction done on their matching noses this time around. "Our nose is still healing a bit, so ... it's really cute, it's just really refined," Darcey said.
The Silva sisters' 'twintuition' played a major role in this journey
When it came time to decide on the location for their joint transformation, Darcey and Stacey Silva's strong sense of "twintuition" came into play in a big way. A year ago, as they were researching separately and texting one another about their findings, they came to a major "aha" moment. It turns out that the women both screenshotted the exact same doctor and clinic in Turkey on the same day. (Given the fact that they also both got divorced on the same day, this doesn't surprise us in the least bit, but it does speak to their powerful sisterly bond.) "We have this twintuition, and we just kept feeling like we were in the right place at the right time," Darcey said. 
Since this all went down during the COVID-19 pandemic, the Silva sisters had a bunch of phone consultations before they took the leap and traveled to Turkey with the show's crew to document it all. The power duo told us that the trip, which Stacey referred to as "a spiritual journey," was "destined to be." "Everybody who was around us felt that and saw that it was a lot of chilled-up moments. A lot of 'OMG' moments," she said.
Season 2 of "Darcey & Stacey" airs on Mondays at 8PM ET/PT on TLC and is available for streaming on discovery+.