How To Dye Dark Hair Without Bleach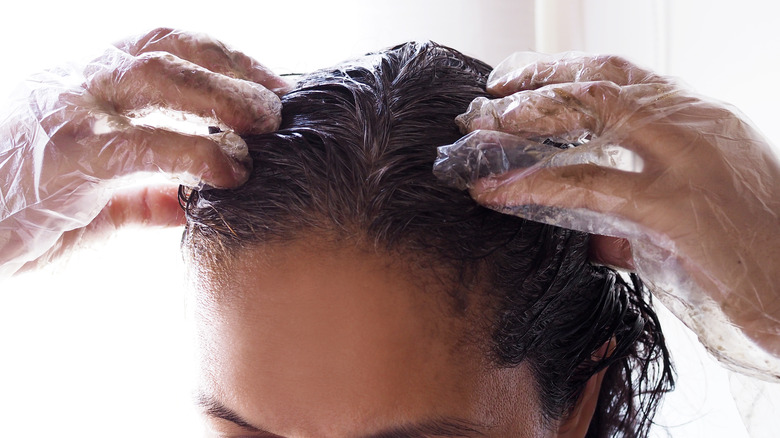 Shutterstock
Changing up your hairstyle and look can be a life-changing experience. For some people, their hair is one of their most prized accessories and their favorite part about themselves. Your cut and color can totally change your entire appearance, especially if you make a drastic change like going from one shade to a whole other. For those with dark hair, dreaming about going light and blond may be as far as they go (instead of actually doing it), due to the damage it can oftentimes cause. 
For darker hair, going blond is a very long process, according to PureWow. It typically involves a lot of bleach and a ton of sessions, which not everyone is always game for. There's no way to go lighter without consulting a professional, because using bleach products at home can cause irreversible damage and sometimes cause hair to break and burn. However, if you're looking to dye your dark hair another shade and want to avoid any bleach or damage, there are products on the market that can work for you from the comfort of your own home. 
How to dye dark hair without using bleach products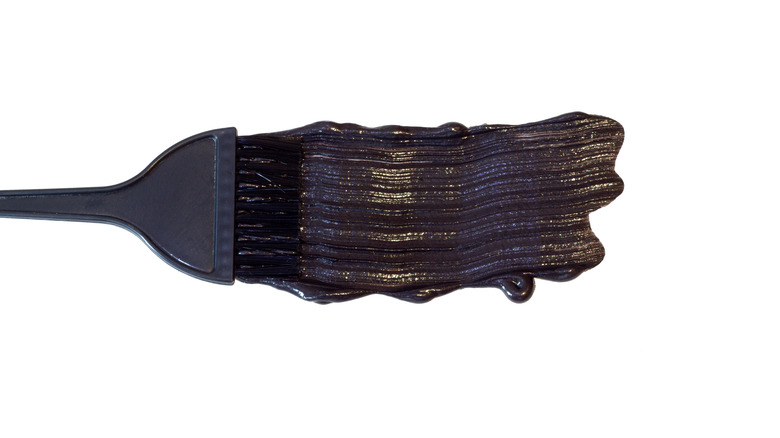 Shutterstock
The simple way to dye darker hair at home, without professional help (and without bleach), is to avoid doing any major and drastic changes. According to hairstylists, there are no ways to avoid using bleach if you are going to go from dark to blond. However, you can dye your hair darker or experiment with different tones at home, safely and effectively (via Byrdie). There are dozens of products on the market catered to darker shades and that are easy-to-use from the comfort of your own home. 
Hairstylists also suggest using either semi or demi permanent hair dyes to make sure your hair stays healthy, and recommend only using permanent if you are trying to cover 50% of grey or your existing color (via Byrdie). Semi and demi permanent colors last anywhere from six to 24 washes, but are also easier to re-dye later down the road should you decide you want to switch up your color again. Experts suggest that switching up your darker hair can be fun, such as going from warmer shades to cooler shades or adding a pop of color like violets, blues, or reds to your existing hair color. 
For those who are also looking to experiment with colors before actually reaching for the dye box, there are hair chalks and even daily hair colors/hair makeup that can be used to test out a new look. This way, you know before you decide to dye!