Why A Recent Photo Of Ice -T And Coco's Daughter Has Fans Doing A Double Take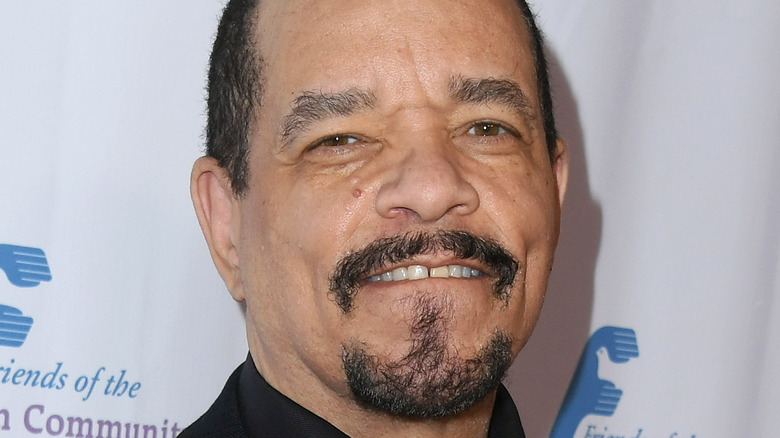 Jon Kopaloff/Getty Images
While Ice-T is a household name due to his role as Detective Finn Tutuola on "Law & Order: Special Victims Unit," his favorite part to play is dad. The rapper and actor has three children: 45-year-old daughter, Letesha' 29-year-old son, Tracy Jr, from a previous relationship; and 5 year-old Chanel Nicole, whom he shares with wife Coco Austin. After getting married in 2005, the couple decided to wait more than a decade before having a child. 
"There were a lot of things I wanted to complete before having a baby," Austin told People. Her husband agreed, explaining, "I am 20 years older than her. I didn't have a clock ticking. I said to Coco, 'When you are ready, let me know.'  "Just because I was finished with the clubbing and the partying doesn't mean she was," he added. "It's like Disneyland. I can't say, 'You don't want to go, all the rides suck.' You gotta go for the rides."
So when their daughter arrived in November 2015, Austin was more than ready to be a mom. "I'm 100 percent all-in," she explained. "I think motherhood was always my calling. I wish I had let it happen earlier, but this is perfect. I'm dedicating my whole life to molding this little nugget into a fabulous person."
In fact, Austin frequently posts photos with her and her daughter in matching outfits on her Instagram page. But a recent picture had fans marveling over how much Chanel looks like her dad!
Fans say Ice-T's daughter is his mini-me
While Coco Austin loves to dress up with her daughter in matching outfits, fans were blown away to see how much the little girl actually looks like her dad, Ice-T. Austin posted a series of photos on her Instagram page, including one with 5 year-old Chanel — and the resemblance between father and daughter is astounding.
"The way ice T copy and pasted his self... theme genes strong asf," one person tweeted. "Ice T's daughter looks just like him. Dimples and all," wrote another, while someone joked, "Ice-T don't need no paternity test" (via the Daily Mail)
And it seems like Chanel has also inherited her father's performance gene. "I see her personality. That's where it's kind of going automatically," Austin told InTouch. "She likes to perform. She likes to act out for you. She likes to be a comedian in your eyes. She likes to sing and dance. And that's kind of what 'star' entails, you know, they want to be that shining light."
In the meantime, Chanel enjoyed watching her dad compete in 2020 on "The Masked Dancer." "Now, my daughter watches 'The Masked Singer' because she likes the costumes, but when the heads come off, she doesn't know any of the people," Ice-T told Entertainment Weekly. "...So I said to myself, how about if I do this, and she watches 'The Masked Dancer,' and when the head comes off it's me? That'll blow her mind."