What Do Priyanka Chopra's Tattoos Mean?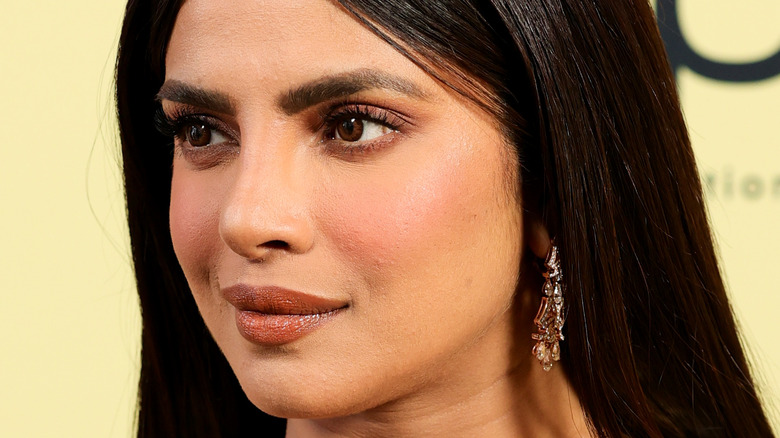 Rich Fury/Getty Images
Stigmas surrounding tattoos have (thankfully) changed dramatically over the years. Tattoos can be seen on nearly everyone and their mom these days, serving as a modern form of self-expression and assertion of personality. If you've got tattoos, you're probably used to the age-old question of being asked what meaning or significance your tattoos hold. But while you might have gotten some as a symbol of something significant in your life, maybe you chose others simply because they looked cool. In Priyanka Chopra's case, however, it would appear that each of her tattoos means something largely significant to her life.
While some people wear their tattoos on their sleeve (literally), others can easily hide them under their clothes. Chopra is the latter, with tattoos that, if you blink, you might miss them. But in a recent Instagram post in which the "Baywatch" star is rocking a stunning black, plunging bathing suit, her tattoos are out and proud — and we want to know about every single one of them.
Eagle-eyed fans spotted Priyanka Chopra's brand new tattoo
In the Instagram post, Priyanka Chopra is celebrating her birthday by sunbathing in an uncharacteristically hot London, and eagle-eyed fans spotted what looks like a brand new tattoo. A birthday gift, perhaps? A self-care treat? Either way, we love the look, and it totally suits her. The tattoo in question appears to be of a map of the world, placed on her left upper arm, per Daily Mail. 
Chopra recently shared that she had gotten three paw print tattoos in honor of the three dogs that she shares with husband Nick Jonas. The dogs consist of Chihuahua Diana, German shepherd Gino, and Husky Australian Shepherd mix rescue Panda, per Today. She also has dedicated Instagram accounts for each of her furry friends. Husband Nick shared an Instagram photo of the small tattoos, which are on his wife's right ankle, per Page Six.
Priyanka Chopra's tribute to her dad
Jason Merritt/term/Getty Images
As for some of her other ink, Priyanka Chopra's got the words "Daddy's Little Girl" in her father Ashok's handwriting tatted on her right wrist and forearm. Chopra was famously close with her father, and in her memoir, "Unfinished," she wrote about how much she misses her dad. Per an appearance on "The Tonight Show with Jimmy Fallon," she shared how that special tattoo came about.
"I got this tattoo about a year or two before my dad passed, and I lied to him, and I told him I needed to write (his name) down because I wanted it for artwork for my album," she revealed. "He wrote it in his handwriting, and now I have it here with me" (via The Indian Express). Afterward, she was in Malibu for an album shoot and got the tattoo then, a lasting homage to the special relationship she had with her father.