The Truth About Maisie Williams And Kit Harrington's Friendship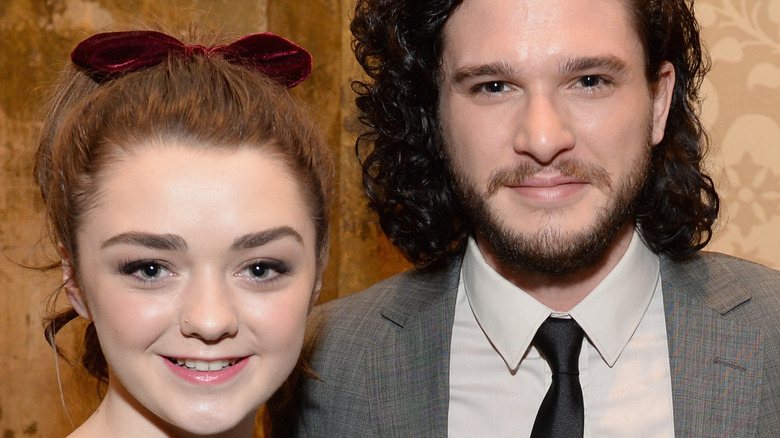 Michael Kovac/Getty Images
HBO's blockbuster hit series "Game of Thrones" lasted for eight seasons, launched a thousand memes, and gave new meaning to the words "Winter is coming." And while there are certainly some that would call the series "life-changing," no one more so than the show's cast, who were launched into super-stardom as soon as the much-anticipated series premiered.
And while many of the show's characters were sworn mortal enemies, in real life, the cast grew very close, often posting pictures to Instagram of themselves joking around on-set or getting glammed up for awards shows (via Harper's Bazaar).
One particularly heart-warming friendship is that of Maisie Williams, who played Arya Stark, and Kit Harington, of Jon Snow fame. Although onscreen the two were separated early on in the "GOT" trajectory, when Jon Snow joined the Night Watch in season one, Williams and Harington remained tight.
In fact, back in 2016, during Harington's appearance on BBC Radio 1, Williams called in and proceeded to make plans with Harington live on the air (via Refinery29).
"I love this, I'm just having a chat with Maisie," Harington said. "This is just saving me all the texts I would have to do," as the two arranged for Williams to attend Harington's West End show "Doctor Faustus" and for her to bring "Soph," aka Sophie Turner, who played Sansa Stark.
Williams even recently revealed that as of 2020 she and Harington are neighbors, living just two streets down from him in London (via Extra, Metro).
The end of an eight-season party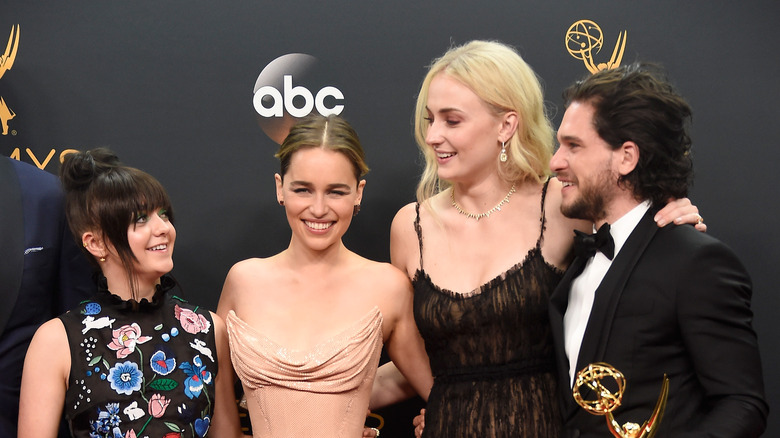 Frazer Harrison/Getty Images
In addition to Harington and Williams being close, each share a strong friendship with co-star Sophie Turner. "I love that girl to my very bones," Harington once said of Turner (via Harper's Bazaar).
And as for Williams and Turner — the pair, who were 12 and 13 respectively when "Game of Thrones" started — bonded immediately. "We were pretty much best friends from that second on," Turner told Rolling Stone.
However, towards the end of the show's marathon run, the cast understandably needed a break from each other. "It's like when you're at a party, and the party's getting better and better. Then you reach this point of the party where you're like, it's peaked. I don't know what I could find more from this," Harington told Variety (via Insider).
"You have these in-jokes, and these relationships that thrive for eight years ... That's a long time for those jokes to be going, and they never felt old or tired. In the last season, I was like, these are getting tired now," Harington said, but noted that things between the cast were on the upswing.
"And I think they got tired because we could see the end coming. That's a way of emotionally detaching from something: relationships very slightly starting to strain, just on the edges, just frayed. Now everyone loves each other again."