The Truth About Whether Or Not Scrunchies Are Back In Style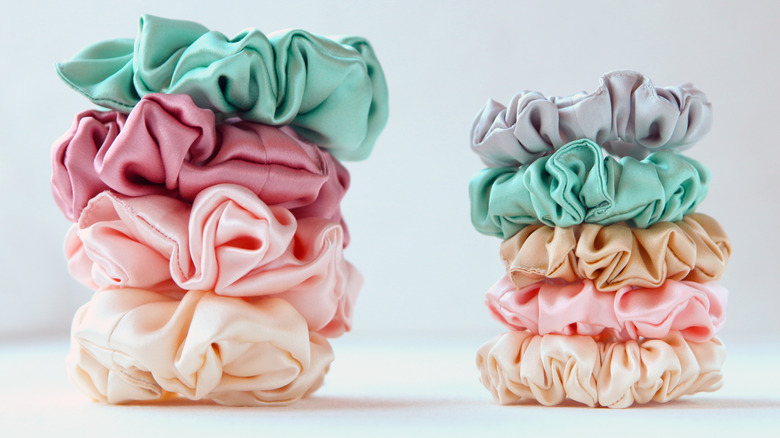 Shutterstock
We all remember growing up and having our parents put our hair in big, colorful scrunchies. Throughout the 1980s and 1990s, scrunchies were the go-to hair accessory for young girls. Even adults got in on the trend, throwing up their hair during those hot summer days while they were carrying their kids on their hip. The trend was synonymous with the "it" girls of the former years, with everyone on our favorite television shows rocking scrunchies. 
Scrunchies first appeared on the market in 1986 when nightclub singer Rommy Revson wanted an easier, less painful way to throw her hair up. She created the scrunchie by using the waistband of her pajama pants as inspiration (via PureWow). She patented the hair product in 1987, naming it Scrunchie after her toy poodle with the same name. After the product hit the market, everyone was wearing them from Rachel on "Friends" to even pop icon Madonna. However, in the late 1990s and early 2000s, it seemed that the scrunchie became less popular — so much so, that Carrie Bradshaw herself called them out in "Sex and the City" (via NPR).
After years of falling off and a decrease in sales, it seems as though, however, scrunchies have made a huge comeback in a very big way. 
Are scrunchies officially back?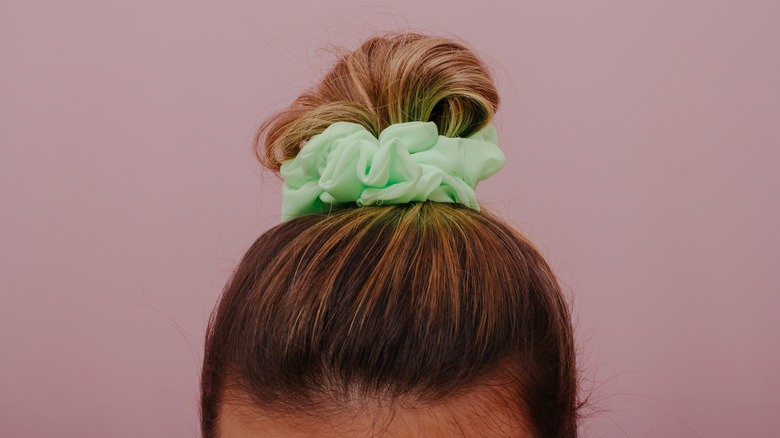 Shutterstock
While scrunchies fell off the radar for a brief time due to millennials feeling they were "out of touch" with the modern fashion world, the hair accessory has made a triumphant comeback among Gen-Z. According to NPR, "Scrunchies sold eight times faster than the overall category of hair accessories and styling products." The sales data proves that people are buying scrunchies more now than they were in the early 2000s, but why?
It seems that Gen-Z and social media has a huge part in the return of the scrunchie. As journalist Amanda Mull pointed out, the VSCO girl aesthetic had a lot to do with the hair band's comeback. Young teens and tweens who embraced this trend, filled with oversized t-shirts and specific Instagram filters, always ended their outfit with an "arm full of scrunchies" (via The Atlantic). And, while Gen-Z is bringing the scrunchies out of the closet and back into the spotlight, millennials have begun to embrace them too, for their nostalgia factor. 
We've seen that most trends from the 1980s and 1990s have been coming full circle, like fanny packs and grunge, baggy jeans with distressed flannel shirts. Now, millennials are looking at scrunchies as a way to look back on their own youth, as they wore them as just wee children. It's almost a way to remember the "simpler times" when everything was carefree and less messy (via NPR).
So, while they may have been a lost art, scrunchies are definitely back and here to stay.