Here's The Right Way To Wear A Denim Skirt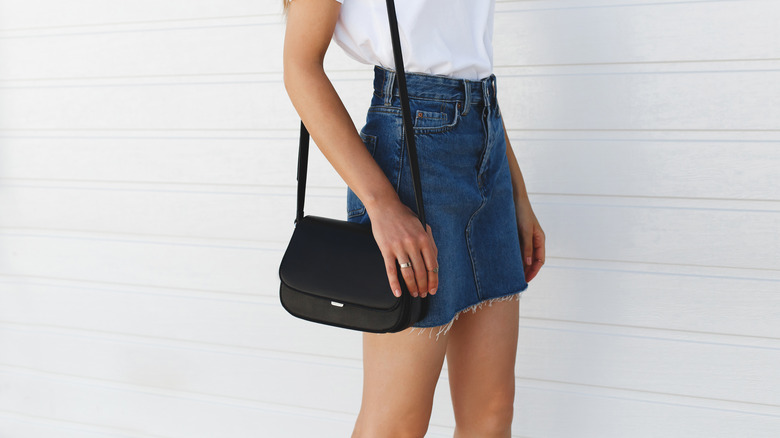 Shutterstock
Some say the jean skirt fell off, but we say it never left. It's a fashion staple, no matter the decade. However, that doesn't mean people don't struggle to style the go-to skirt.
First, before we can give all the know-hows on styling a jean skirt, it's important to determine which denim skirt you're going to wear. Per Elle, there are many different types of jean skirts, from light wash denim to Y2K path denim skirts. You can't style each skirt the same, either — that's a big fashion no-no. With light wash denim, you're going to need some pop of color (via Elle). A bright pink or golden yellow should pair nicely with a light wash jean skirt, the outlet added.
Or, if you're into more of a longer look, you can try the A-line silhouette, which is the classic, according to Byrdie. Pair this longer jean skirt with some fitted tank top and a loose scarf (work it on your head or neck), the outlet recommended. Already feeling overwhelmed? Don't be, denim is pretty much fool proof and we're here to help. 
Different denim skirts require unique styling choices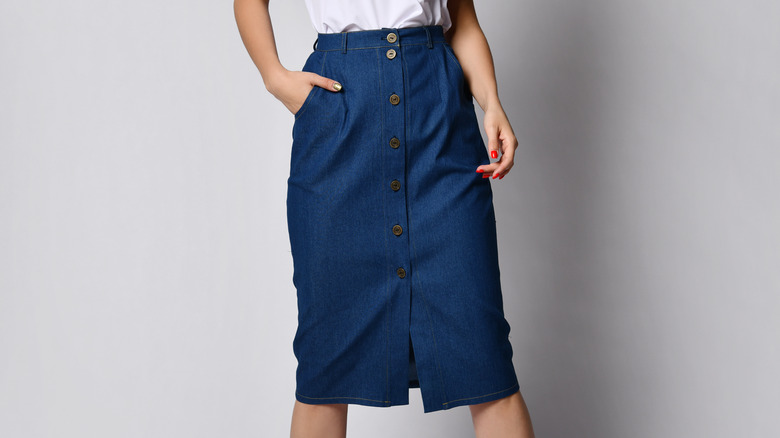 Shutterstock
If light wash and A-line styles are your favorites, then try a mini jean skirt. Remember those 2000s jean skirts that every celeb wore — think Ashley Tisdale at Disney Channel movie premieres? Yep, those are mini skirts. Though we've passed our Y2K fashion days, the mini jean skirts will always be a top-tier fashion item. And, it's just the perfect beach cover-up (via Byrdie). You can style it with your favorite swimsuit, and of course, you can't forget the accessories — beach sunglasses.
Aside from the mini jean skirt, the next best jean skirt you must try is the two colored jean skirt. Who said denim had to be one sole color? With the two colored denim skirt, you can wear two cohesive colors at once. Talk about originality and creativity! Byrdie recommended pairing this skirt with a mono-color blouse (that'll work with the two-tone colored skirt) and some gladiator sandals. The perfect summer look.
Your last option is the pencil skirt. Unlike the previous jean skirts, this type of denim is the casual look anyone can get behind. Don't want to wear sandals or kitten heels? No problem. This denim skirt works well with tennis shoes and a ruffled top, the outlet added. Whether it's for an evening out or a day in the office, this skirt is just right, so jump to your nearest Anthropologie and get shopping.
No matter the type of denim skirt, they work well for any occasion (and they're always in style too).