How To Wear Low-Rise Jeans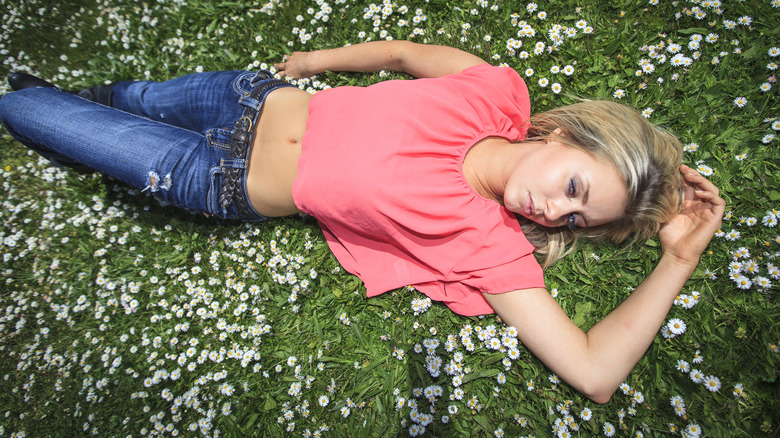 Shutterstock
If you lived through the 1990s and 2000s, you might feel a familiar sense of panic when you hear that low-rise jeans are back in style (via Refinery 29). Perhaps you thought you'd left the days of serious muffin tops and whale tails safely and forever in the past. However, according to Vox, as with a lot of turn-of-the-century fashion, the low-rise version of denim is stylish once more. With celebrities like Emily Ratajkowski and Bella Hadid sporting the style of the early aughts this year, it was only a matter of time before they became mainstream again.
After years of safe and secure high-rise waistlines, the journey to the low-rise pant might feel nearly impossible. Perhaps you've sworn off the jeans of your youth forever. However, if you're willing, you can enjoy the waistline again with a few changes to increase the comfort. At least, this time around, some people have learned a few things from the low-rise denim of the past, which could be a change that makes this style more functional in the '20s.
Tips for rocking lower waistlines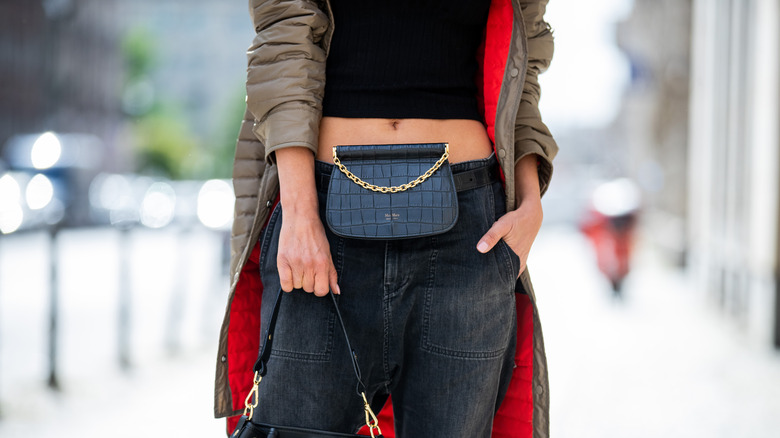 Christian Vierig/Getty Images
First things first, according to Vox, if you genuinely hate a fashionable item of clothing, you should not wear it no matter how popular it is. However, if you're ready to consider jumping into the newly trendy denim style, then you can take a few steps to make it work well for you this time around. Siena Filippi, a 22-year-old from the Boston suburbs who upcycles vintage clothing, shared a TikTok video about the fears women express regarding low-rise jeans. "The key is to wear something long enough that it meets the low waistline. It's honestly all about creating a uniform figure and not chopping your stomach at weird parts," she advised.
Filippi pointed out that often the lower stomach is the flattest part for people, so she suggested you wear something that meets that low waistline, which will keep that area of your tummy near your belly button covered. It's likely that this time around, the trend will be more accessible for more women without such super low-rise waists. According to Refinery 29, today's fits aren't quite as tight or as low as the earlier iteration of the trend. Instead, the silhouettes involve baggier pants with a lower waist. If you want to try them out, look for pairs that suit your needs instead of pieces that terrify you or give you flashbacks.