How To Replicate Lorde's Makeup Routine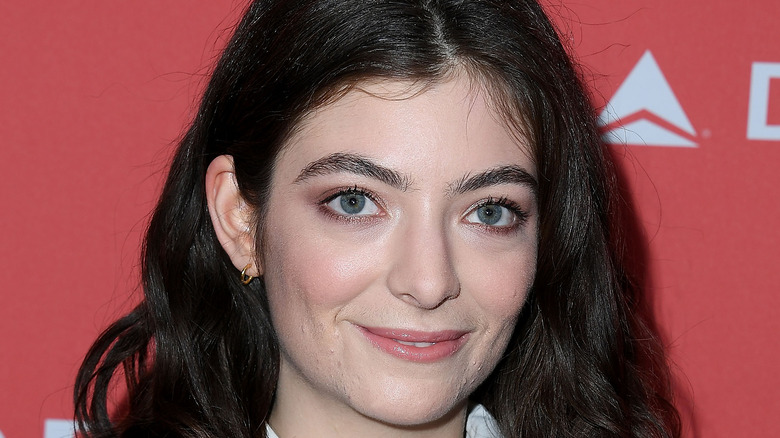 Steve Granitz/Getty Images
Acclaimed singer Lorde isn't quite known for her makeup, but that doesn't mean she can't serve looks. As Teen Vogue reported, she first entered the music industry scene in 2013, sporting curls and a natural makeup look — dewy lips, cat eyes, etc. But in recent times, the "Royals" singer has been spotted with subtle but gorgeous looks, including her signature purple lipstick, according to the outlet.
According to Fashion, Lorde has been outspoken about the beauty industry's reliance on photoshopping and airbrushing. So, it's no wonder that the popular singer keeps her face simple and natural. Her makeup artist, Amber Dreadon, spoke to the outlet and revealed her go-to makeup routine. "Lorde loves natural makeup so we keep things as minimal as possible most of the time, with the obvious bold lip every now and then," Dreadon said. "We've been changing [her look] a lot as we go along. The bold lip was such a statement and really had such an impact on beauty at the time that people always tend to think of the dark lip first!"
To get Lorde's look yourself, start off by lining your lips with a corresponding lipstick (per USA Today). In this case, use purple lipstick. Next, use the Rapidblack liner, which, according to Dreadon, is the go-to liner for getting Lorde's eye look, the outlet added. And that's it! But pro tip: make sure the eyeliner is thin, so your eyes don't look too overdone.
If you want to copy Lorde's look, remember that she's all about being natural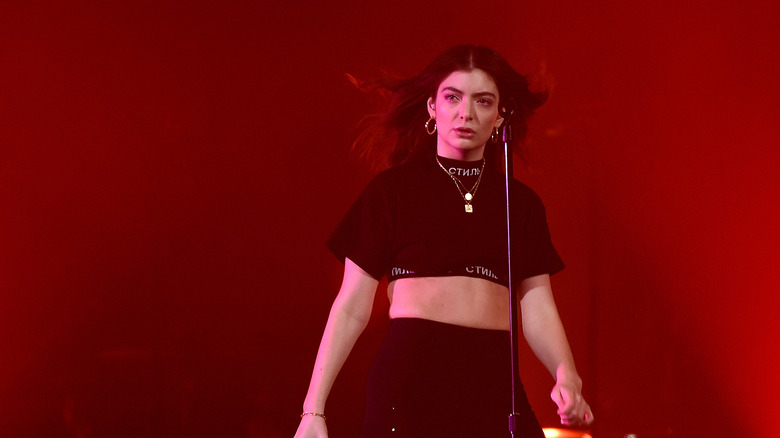 Nicholas Hunt/Getty Images
Per Fashion, since the "Green Light" singer is into natural looks, it's not that much of a surprise that her next go-to lip color (aside from purple) is nude. In addition to her bolder products, she also uses "M.A.C Extended Play mascara and ... Chanel Vitalumiere foundation for a sheer base, [which] always applied with a Beauty Blender," her makeup stylist, Amber Dreadon, said.
But you know what the singer really loves, other than makeup? It's skincare, and Dreadon shared Lorde's go-to products. "I love Caudalie [Beauty Elixir] Face Mist, Estée Lauder Advanced Repair Eye Cream and Estée Lauder Idealist Skin Tone Illuminator," Dreadon explained.
And while she's fully dedicated to caring for her skin, Lorde still experiences breakouts, which she is 100% okay with, Refinery29 reported. The singer has been working on her skin for years, and if she experiences a flare of pimples every now and then, she'll bear it with pride, the outlet added. And, don't think of running toward her comments and offering unsolicited acne advice. Lorde has made it clear that she doesn't need any skincare tips — she knows how to moisturize, tone, clean, and more, Refinery29 reported.