The Truth About Olympian Janja Garnbret's Relationship With Domen Skofic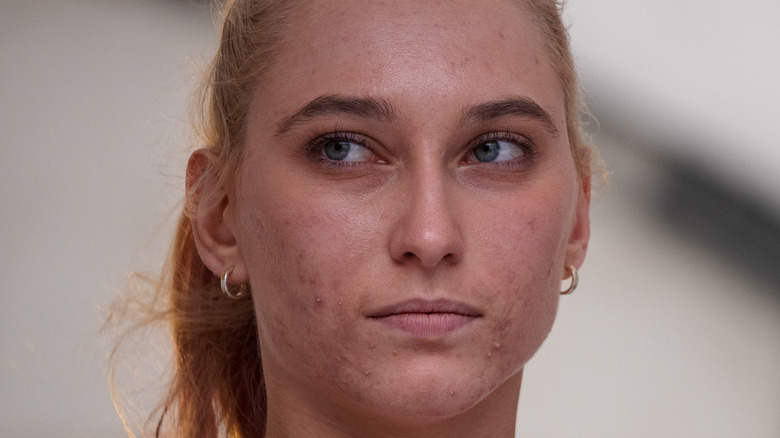 Marco Kost/Getty Images
Janja Garnbret and Domen Škofic are some of Slovenia's most famous and successful athletes, and also one of the country's sweetest power couples (via Red Bull). Both mountain climbers hold impressive resumes and met in 2013 as part of the Slovenian youth squad (via ISPO).
Many star athlete couples have either met or competed together at the Olympics, including Roger and Mirka Federer. While Škofic will not be attending the Tokyo Games after finishing 10th at the IFSC World Cup, longtime girlfriend Garnbret was named to the Slovenian team (via IFSC). Garnbret is predicted to perform extremely well at the international games. Ahead of the 2021 Olympic qualifying rounds, Garnbret went to win every single bouldering event at the ISFC World Cup in 2019, as well as winning gold in the combined event and silver in lead. It's no wonder that Garnbret was thus predicted to be "most likely to win" at the Olympics (via Climber News).
Škofic, the 2016 IFSC Climbing World Cup champion, continues to succeed at other international competitions. 
The mountain climbing Olympic power couple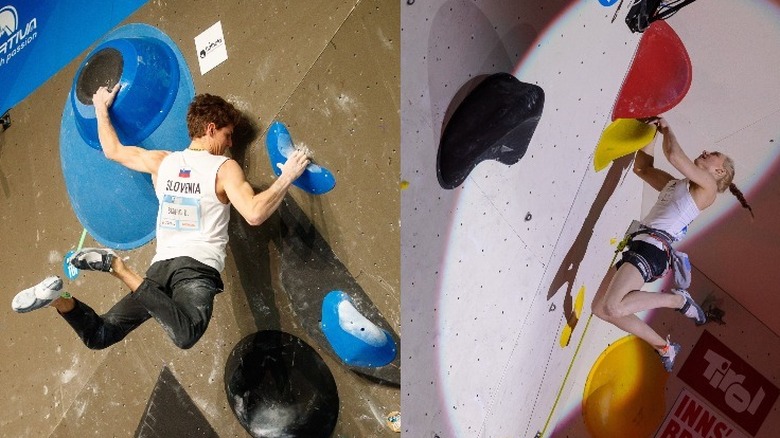 Marco Kost & Marco Kost/Getty
Sharing the same passion has helped Janja Garnbret and Domen Škofic build a rock-solid relationship. "It's great that we both climb because we can help each other that way," Garnbret told "Outdoor Magazine" (via ISPO).
The two even shared a sweet kiss on Škofic's Instagram celebrating his win in the 2016 World Lead Championship. Since then, they've celebrated both romantic and professional milestones together. While they don't post too many details of their relationship on social media, the occasional snap does get shared, such as a 2019 photo of the couple running together that was posted on Garnbret's Instagram. The mountain climbing couple also appeared together at a Red Bull challenge. Secretly filmed in October 2020, the two Red Bull-sponsored climbers climbed Europe's highest chimney (via Gym Climber). The couple has also been spotted traveling together on a well-deserved vacation after so much hard work. In 2018, the two took a three-week vacation in December, stopping in the Maldives for a good dose of tropical sun and beach waves "to rest the body and mind" (via Olympics.com).
Garnbret and Škofic work hard and play hard, and seem to have found a good balance between the two in their relationship. In fact, Škofic built "The Ranch" alongside his dad, the unique gym where both Garnbret and Škofic train (via Climbing Daily). With areas for lead, boulder, and speed climbing, Škofic hopes to open up the gym to the rising climbing talent in Slovenia.