The A-List Actor Who Was Fired From Practical Magic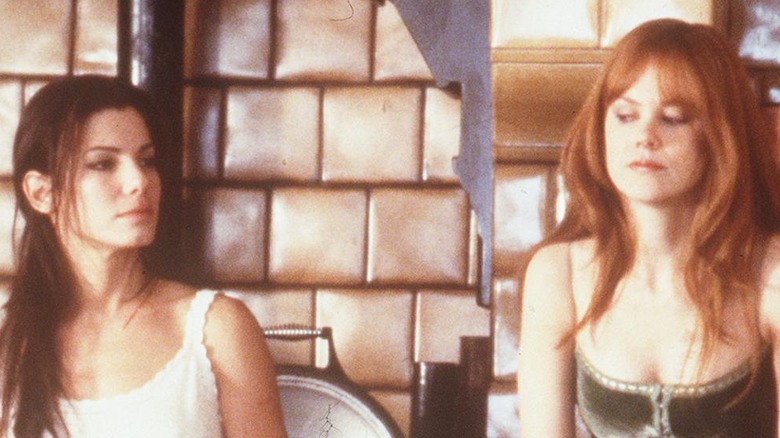 Getty Images/Getty Images
When "Practical Magic" premiered in 1998, the film was panned by critics, with Roger Ebert saying it was "too scary for children and too childish for adults" (via BuzzFeed). The film didn't perform well at the box office either, earning only $68.3 million against its budget of $75 million (via Insider).
And yet "Practical Magic" has had an enduring cultural legacy, with one critic calling it "the Thelma and Louise of witch movies" (via Vox). The film, starring Sandra Bullock, Nicole Kidman, Diane Wiest, and Stockard Channing, is based on the novel of the same name by Alice Hoffman, and it follows two witches/sisters (Bullock and Kidman) as one helps protect the other from her abusive boyfriend.
Although it might be hard to imagine the cast of "Practical Magic" with anyone other than the actors it stars, of course, the producers and directors considered others for the roles — and even fired one beloved, now A-list actor.
Not under his spell
Shutterstock
Today, actor Timothy Olyphant is beloved for his work in the popular HBO series "Deadwood." But six years before Olyphant would portray Seth Bullock on television, he was still a struggling actor, playing bit roles in "The First Wives Club" and "Sex and the City" (via GQ). His big break would come along when he was cast in the 1999 film "Go," after which he landed many high-profile roles (via IMDb) — but in an alternate universe, it might have come a little sooner with "Practical Magic."
As Olyphant explained during a 2013 appearance on "Late Night with Jimmy Fallon," Olyphant was initially set to play Officer Gary Hallet in the film, a cop and love interest to Sandra Bullock's character (via ET). While head honchos on the film allegedly had initially their sights set on George Clooney for the role (can you blame them?), they eventually hired — and then fired — Olyphant. Eventually, Aidan Quinn stepped into the part, and witchy cinematic history was made.
The career setback was rough on Olyphant, but it seems like everything worked out in his favor. "Dude, I've lived a blessed life," he told GQ in 2019. "You don't understand. I found a sweet spot. Nobody bugs me. I have it as good as it gets."