90 Day Fiancé's Larissa Lima Had A Stunning Plastic Surgery Transformation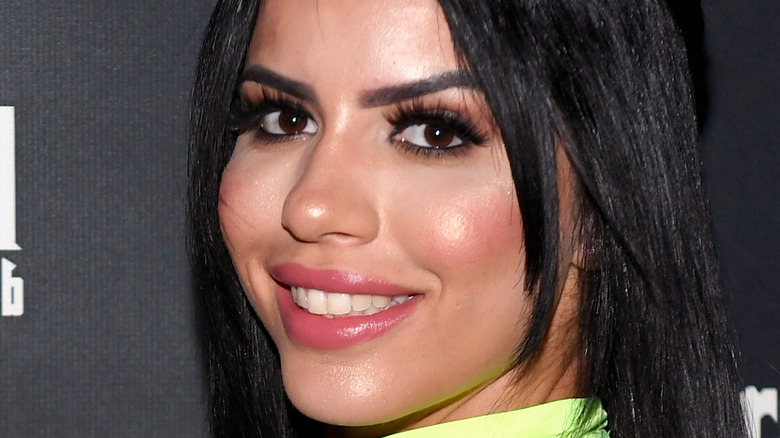 Bryan Steffy/Getty Images
TLC's hit reality show "90 Day Fiancé" has brought many memorable characters to our television screens. Few of these cast members have been as entertaining as Larissa Lima. She first made her appearance on season 6 of the show. The infamous reality tv star is now divorced from her husband, Colt Johnson, aka "Colty," but she hasn't faded from the spotlight (via InTouch Weekly). Lima's love of plastic surgery was frequently a storyline on "90 Day Fiancé," and now she has followed through with many of the surgeries she longed for while on the show. She has undergone a major transformation! She shared with Life & Style that she has gone under the knife for a total of five surgeries so far.
Lima looks completely different from her time on the reality show. She is not afraid to speak out to her fans about the work she has done. She even told Us Weekly that she has an addiction to plastic surgery and she is not done getting procedures just yet.
She went under the knife on TV
Lima has been candid about her lack of confidence while on the show. According to Screen Rant, Lima began losing weight naturally after Johnson filed for divorce. She then started getting lip fillers and botox. These procedures opened the door to her addiction, but plastic surgery was always her end goal. She ended up getting her first surgery in 2019. On an episode of the show, she shared, "I did butt to make it bigger. I did botox. I did my nose. I did my lips. I did my cheekbones. I did my chin. I am a new woman and I feel very happy," quotes InTouch Weekly.
The Brazil native has been passionate about getting plastic surgery since her time on "90 Day Fiancé," but it wasn't until her run on the show's spin-off "Happily Ever After" that we saw her go under the knife on TV. Fans watched as Lima got a breast augmentation and rhinoplasty. The episode was jarring and showed just how risky these surgeries are. She paid a total of $72,000 for her long list of procedures.
She's gotten more surgeries since
Those surgeries alone completely transformed Lima's appearance. Her goal was to look like a Kardashian, and her surgeon nailed her request. She looks great, but she isn't done getting surgeries yet. In January of 2021, she was back on the operating table. InTouch Weekly shared that the reality star underwent several surgeries then, including Vaser liposuction on her stomach and back, fat transfer to her hips, a correction to her areola from her previous breast augmentation, and a belly button correction. All of her surgeries have taken place at Smith Plastic Surgery in Las Vegas, Nevada.
All of this work to her body has paid off. According to the Daily Mail, she was offered a $100K deal with the webcam service CamSoda. Accepting this deal voided her contract with TLC, so the queen of "90 Day Fiancé" will no longer be part of the franchise.
Lima's transformation has made her nearly unrecognizable to those who watched her debut season on the show. She looks great and feels more confident than ever. While her newfound confidence may have lead to her contract termination with TLC, the reality star is still active on social media and doesn't seem to be leaving the spotlight any time soon. Good for you, Larissa!