The Best Protective Hair Masks For The Summer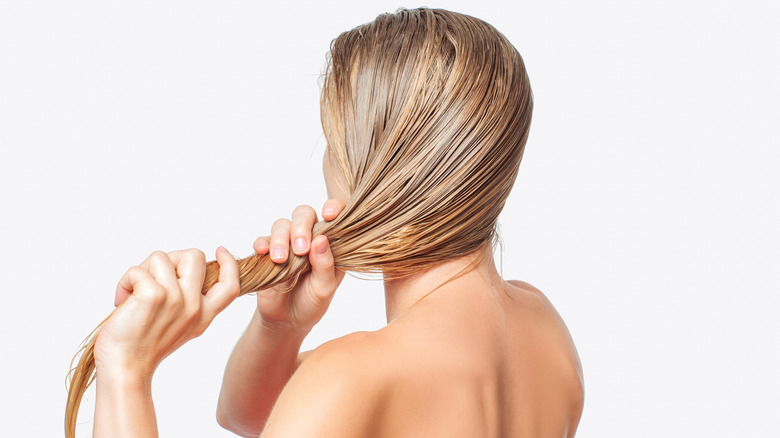 Shutterstock
We may receive a commission on purchases made from links.
When summer comes around, we're always ready for outdoor activities in the sun and sand. Whether we're lounging at the beach, swimming in pools with friends, or getting glammed up for an outdoor date night, we oftentimes don't consider how the summertime can impact our hair health. Let's face it — we're so excited to get out and about that we really don't think twice about how the sun, chlorine, humidity, and heat can impact our hair at all. 
As it turns out, summer can be harsh on our hair. The sun itself can cause dryness and brittleness, and can even distort color (via Cleveland Clinic). In addition, chlorine causes damage by sucking out the natural oils that our hair needs to stay healthy and shiny (via Hair Pros Edu). On top of this, humidity also impacts our hair health by breaking down hydrogen bonds, causing hair strands to swell and frizz (via The Sydney Morning Herald). 
While using protective hair masks is important year-round, it's even more important in the summer to ensure we're keeping our locks looking great! 
The best hair masks for summer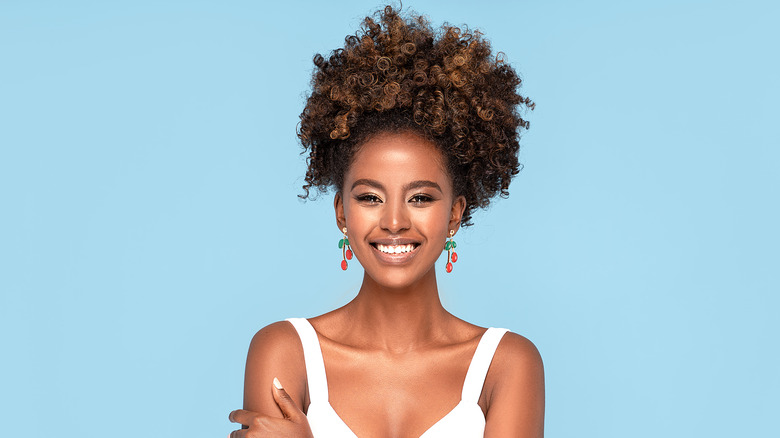 Shutterstock
Choosing the right hair mask can be hard, with the market saturated with dozens upon dozens of products. However, there are a few hair masks that stand out amongst the masses for being the best in protecting your hair from harsh summer weather.
According to Glamour, the best overall hair mask is Olaplex Hair Perfector No. 3. It's perfect to use on all different hair types and can also be used on color-treated hair, too. Olaplex makes a whole line of products for different needs, but their hair masks are known to turn dry, frizzy hair soft and luscious again. While it's a bit more expensive than others, it's worth the splurge. For curly hair, SheaMoisture Manuka Honey & Mafura Oil Hair Masque is recommended, while straight hair would benefit from R+Co Television Hair Masque for shine and luster.
If you're looking to save money and still save your hair, too, try Nexxus Vital 8 in 1 Deep Conditioning Masque.  Allure reports that the deep conditioning masque will "simultaneously smooth, moisturize, and nourish your hair." The best part? It's only $6 on Amazon. The Mane Choice Anti-Breakage & Repair Antidote Hair Mask is another great option for protecting your hair from damage, as it's "packed with nourishing and moisturizing ingredients like coconut oil, sunflower seed oil, and aloe vera juice."
You can even make hair masks at home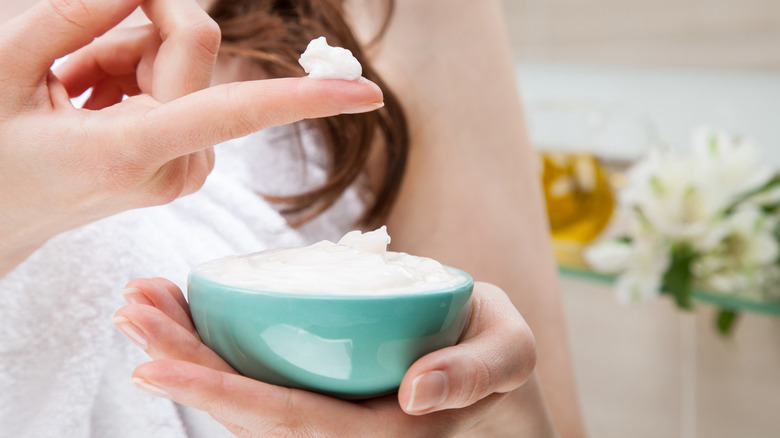 Shutterstock
The one thing that everyone struggles with during the summer is dryness. The sun and chlorine can dry out strands and leave your hair feeling brittle and dry. One DIY hair mask that can help you out contains egg, olive oil, and coconut milk mixed together for a moisturizing sealer. The protein in eggs helps with strength and shine, while the milk adds extra moisture (via Hello Glow). Combine three eggs in a bowl with milk and oil and whisk, apply on your hair from scalp to tip, leave on for 10 minutes, and then rinse, following with shampoo. 
Another easy DIY mask helps with faded color, due to the sun and chlorine exposure. A combo of castor oil and coconut oil can help retain your bright hair color. Mix 1 tablespoon of castor oil with 1 tablespoon of coconut oil and heat in the microwave until warm. Apply the hot oil to your hair, wrap in a scarf or towel, and leave on overnight before washing the following day (via Health Shots). 
One easy-to-use and easy-to-make hair mask comes from something rather simple — mayonnaise. Mayo is known to add softness and shine to hair, which can be helpful in the summer when we feel the heat stripping that away. Simply cover your hair from root to tip with mayo before you shower and let it sit for an hour. Then, shampoo and condition as usual (via Health Shots).