The Truth About Judy Garland's Iconic Dress From The Wizard Of Oz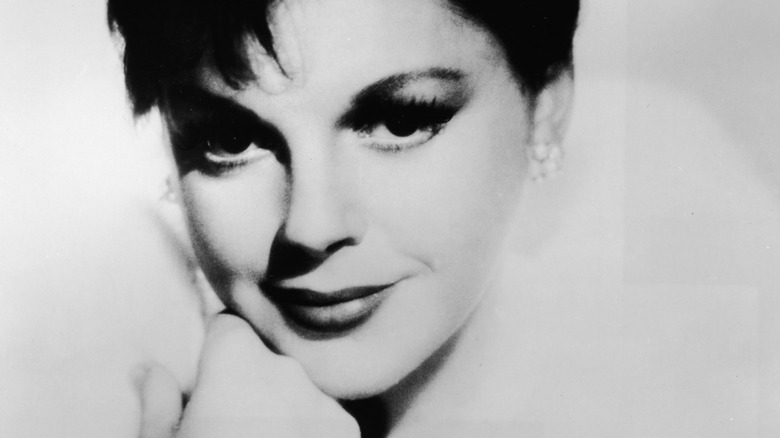 Hulton Archive/Getty Images
Another of Judy Garland's blue and white dress gingham dresses has been found. TBH, we'd place good money on Judy Garland not wanting to hold onto her "The Wizard of OZ" costumes. Keepsakes from the iconic set were probably not things that Garland was desperate to hang onto. Consider the fact that the then 16-year-old actress was bathed in asbestos snow during one movie scene (via Far Out). Were she alive today, the cinema legend might also remind you that to get through filming schedules, MGM hopped her up on amphetamines and then put her to bed on barbiturates (via Time).
Physical proof of just how slangry (yup, that's sleep-deprived and angry) Garland must have gotten while shooting the movie was paraded in from of the world in 2015. That's when another one of her other blue and white gingham Dorothy costumes was auctioned off (via CNN). The sweat-stained piece, designed by MGM's chief designer Gilbert Adrian, went for 1.56 million bucks. 
Now, another one's been found in a shoebox, in a trash bag. This one originally belonged to Oscar-winning actress Mercedes McCambridge, although McCambridge parted ways with the dress in the 1970s. Here's it's story. 
How Judy Garland's The Wizard of Oz ended up in a trash bag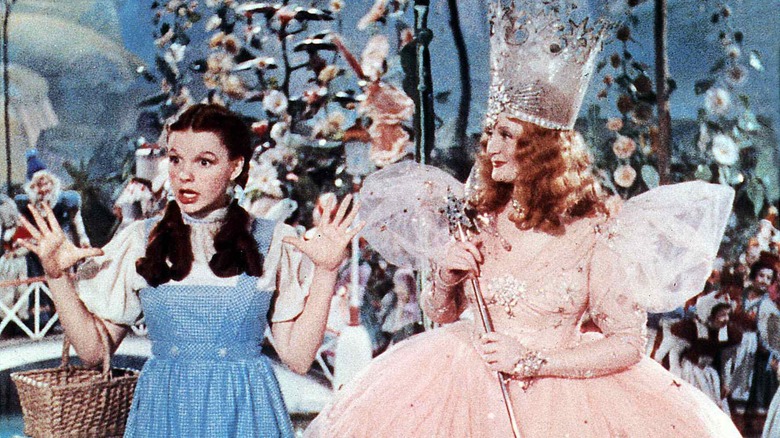 United Archives/Getty Images
Catholic University lecturer and operations coordinator for the drama department, Matt Ripa found Garland's famous dress in a shoebox in a trash bag on top of the faculty mailboxes (via People). "I saw that blue gingham and I just started laughing and laughing. I mean, I'm still laughing," Ripa told The Washington Post. "Because I was shocked, holding a piece of Hollywood history right in my hands."
The dress — complete with Dorothy's handkerchief sewn into its right-side, and Judy Garland's name and wardrobe number — is now one of six officially authenticated Dorothy costumes. Like the costume auctioned off in 2015, this one, too, has telltale signs of trying filming "The Wizard of Oz" must have been. According to Catholic University's Dr. Maria Mazzenga (via Catholic University of America University Libraries), the blouse was torn and re-sewn, because Garland often ripped the costume's thin fabric when taking it off after filming.
This is the first time that anyone at Catholic University has seen the dress since the 1970s. It went missing a year after actress Mercedes McCambridge (a rumored friend of Garland's) gifted it to the former drama department head, Father Gilbert Hartke. Ripa might well have discovered it earlier. Former professor, Thomas Donahue left it in the costume with a hand-written note — "I found this" — for him to uncover. Ripa, in turn, had set the box-in-a-trash-bag aside and forgotten about it.