Tulsi Gabbard Had Harsh Words For Jeff Bezos' Trip To Space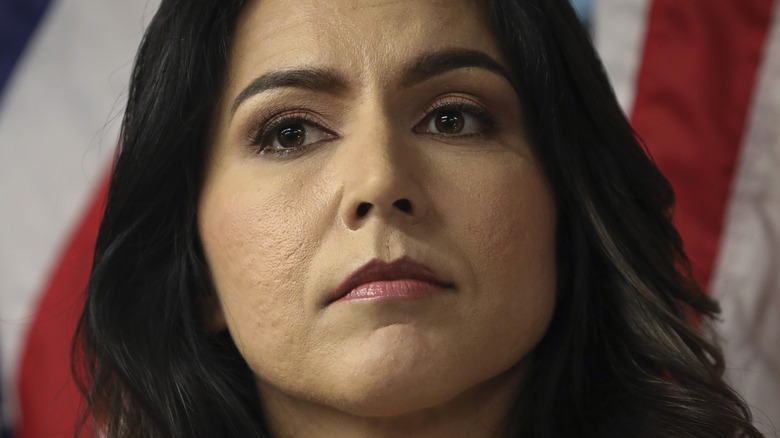 Drew Angerer/Getty Images
Former U.S. Representative Tulsi Gabbard had harsh words for Jeff Bezos ahead of his recent space excursion. According to The New York Post, Gabbard, a Democrat who previously represented Hawaii and ran for President back in 2020, took to social media to express her disdain for the Amazon founder's venture into space, telling the billionaire to "stay up there."
In the tweet posted on Tuesday, July 20, Gabbard wrote, "Bezos, please stay up there. Do the world a favor." Shortly afterwards, she added in a follow-up tweet, "The only problem I have with Bezos' Blue Origin space rocket ship into outer space is that it's going to come back."
The comments were shared just before Bezos, the current richest man in the world, blasted off into space on his very own rocket named New Shepard. The rocket was created by his intergalactic company Blue Origin and launched at 9:12 a.m. from a remote location in Texas. 
Tulsi wasn't the only person to criticize Bezos' mission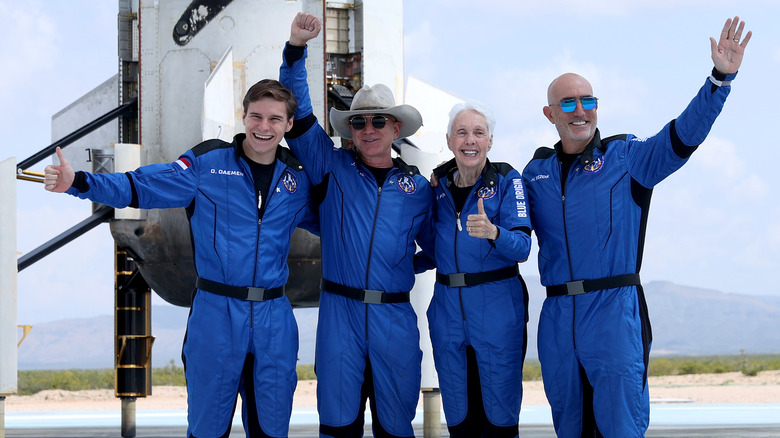 Joe Raedle/Getty Images
As the BBC reported, Jeff Bezos' mission lasted a total of 10 minutes and 10 seconds, and on the momentous flight, he was joined on board by his brother, Mark Bezos, an 82-year-old space pioneer, Wally Funk, and an 18-year-old student — who became the youngest person ever to launch into space.
Arriving back on Earth, the billionaire thanked "every Amazon employee and every Amazon customer, because you guys paid for all this." However, as The Independent reported, Bezos received a wave of further backlash for his comments.
Writing on social media, Democrat congresswoman Alexandria Ocasio-Cortez was one of the most prominent figures to criticize Bezos, accusing the Amazon founder of exploiting his staff in order to fund his mission into space. "Yes, Amazon workers did pay for this – with lower wages, union busting, a frenzied and inhumane workplace, and delivery drivers not having health insurance during a pandemic," Ocasio-Cortez said on Twitter. 
Speaking to MSNBC, Bezos defended his excursion, insisting that humans need to move "all polluting industry" into space. "It's going to take decades and decades to achieve, but you have to start, and big things start with small steps... that's what this sub-orbital tourism mission allows us to do, it allows us to practice over and over," he explained (via the BBC).