The Real Reason Why Bill Cosby's Wife Never Visited Him In Prison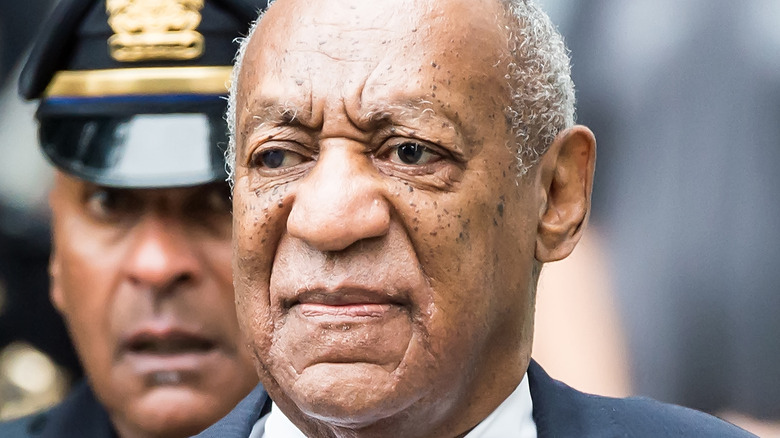 Gilbert Carrasquillo/Getty Images
In 2018, famed comedian Bill Cosby, who fashioned himself as an upstanding family man for decades, was convicted of sexual assault and sentenced to three to 10 years behind bars. In 2015, allegations that Cosby had drugged and sexually assaulted a multitude of women over the course of several years surfaced, and Cosby was eventually arrested. While one trial ended in a hung jury, a second one with new prosecutors resulted in a conviction (via CNN).
Cosby spent nearly three years in a Pennsylvania prison before his conviction was thrown out by the state's supreme court in June 2021. While there was no dispute with the jury's verdict, an earlier agreement Cosby entered into with Pennsylvania prosecutors stated that he would not be prosecuted if he offered cooperation with his accuser's lawsuit against him years earlier (via The Associated Press). During this time, his wife, Camille Cosby, remained loyal and came to her husband's defense, but never visited him in prison.
Camille Cosby offered her own explanation for Bill Cosby's conviction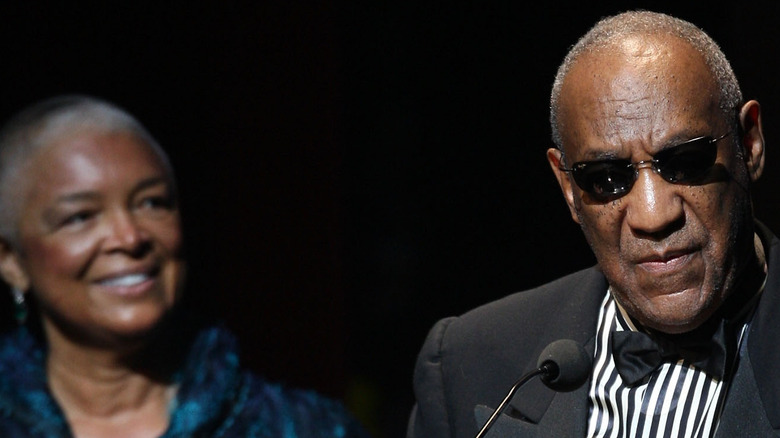 Bryan Bedder/Getty Images
Bill Cosby married Camille Cosby in 1964 and the pair raised five children together (via In Touch Weekly), with Cosby often using his family as fodder for his standup routine. Tragedy struck in 1997 when their only son, Ennis, was shot and killed while he was changing his tire on a California highway (via History). Despite losing a child, the Cosby marriage remained strong in the eyes of the public, and Camille accompanied Bill every day as he walked into court in 2018, according to In Touch.
In June 2020, one year before her husband was released, Camille opened up to ABC News about what she thought of his conviction and why she believed it happened. She also offered no sympathy toward the #MeToo movement.
"The #MeToo movement and movements like them have intentional ignorance pertaining to the history of particular white women — not all white women — but particular white women, who have from the very beginning, pertaining to the enslavement of African people, accused black males of sexual assault without any proof whatsoever, no proof, anywhere on the face of the earth," she said.
Camille Cosby refused to visit her husband during his time behind bars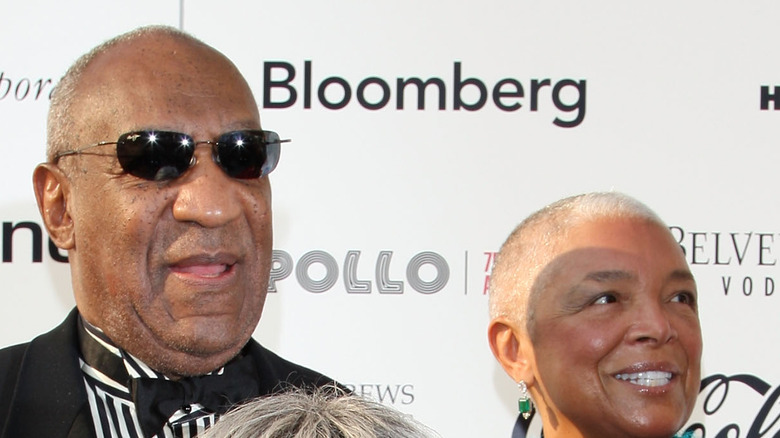 Bryan Bedder/Getty Images
Despite remaining supportive of her husband and believing he was falsely accused, Camille Cosby never made the trip to visit Bill Cosby during the nearly three years he spent in a state prison. She made it clear to ABC News it was because she couldn't bring herself to do it, not because she believed her husband was guilty.
"In terms of visiting him, no, I do not want to see my husband in that kind of an environment — and he doesn't want me to see him in that kind of environment," she said. "So we are in sync with that but I speak to him every single day."
When Cosby was released from prison in 2021, Camille was not there to greet him in Pennsylvania, as she was staying in their Massachusetts home when the surprise release was granted. However, they soon reunited (via the New York Post). Just a few weeks later, photographers spotted Camille without her wedding ring, sparking rumors the couple was divorcing. She denied that via a statement through her publicist that read, "It's hilarious because Mr. and Mrs. Cosby have been happily married for 57 years and counting. They have not worn wedding rings in almost 30 years," via The Guardian.