Inside Sexy Beasts' Ibrahim & Gabi's Relationship Today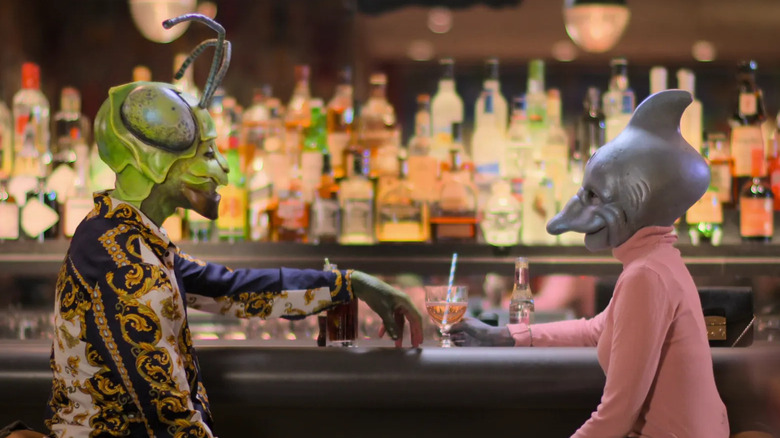 Netflix
The COVID-19 pandemic has necessitated more binge-worthy content than ever before, and after mainlining everything from "Love Island" to "Love Is Blind," viewers were hungry for another must-watch dating show with a twist. When the trailer (via YouTube) for Netflix's "Sexy Beasts" (no relation to the beloved, Ray Winstone-starring gangster movie "Sexy Beast", via IMDb) first dropped, the reaction was split between morbid curiosity and complete disbelief. In fact, The Guardian wondered whether it represented a new low for the format. 
The wild premise, such as it is, sees prospective daters concealing their (typically good) looks with elaborate prosthetics that make them look like giant insects or animals. It's slightly terrifying, but the results, according to Wired, are more boring than the setup suggests. Still, regardless of how ludicrous "Sexy Beasts" might appear on the surface, certain love matches were definitely made along the way. Of those, did Ibrahim and Gabi (the wolf and owl, respectively) manage to go the distance, once the show wrapped up? 
Ibrahim and Gabi might be better off as friends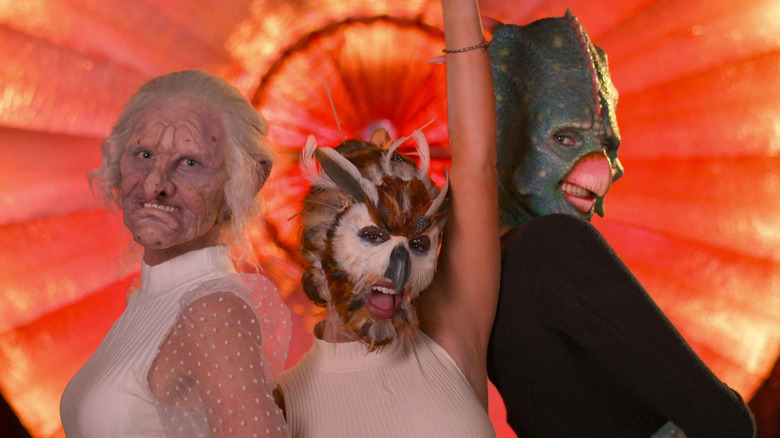 Netflix
As Newsweek notes, Ibrahim and Gabi met in Episode 4. He's a professional dancer and graffiti artist who hails from both New York and London, and typically lives a glamorous, jet-setting life. Dating someone without seeing her face didn't bother him since, as Ibrahim argued, "everyone is beautiful in their own way." Gabi was his third date, a veterinary student from West Virginia who currently resides in London and who shared an interesting anecdote about being hit on while in the middle of a stomach-churning medical procedure. As Decider notes, the one-time wolf isn't hugely active on social media, but Gabi is, frequently sharing shots of herself out and about with friends from university. There are no photos with Ibrahim, however, suggesting it wasn't a love match between these two.
It's a shame since, as The Cinemaholic reports, he definitely had more of a connection with Gabi even if the two disagreed over whether dogs should be allowed to sleep in bed with their owners. They seemed utterly at ease during their London date, and he did ultimately choose her over fellow contestant Bella. However, Gabi admitted to getting more of a "friend vibe" on the show, reasoning additional meet-ups might generate a romantic connection down the line. However, a recent Instagram shot of the West Virginia native snuggling up to another man suggests she's moved on entirely from Ibrahim, though hopefully the two have remained friends.